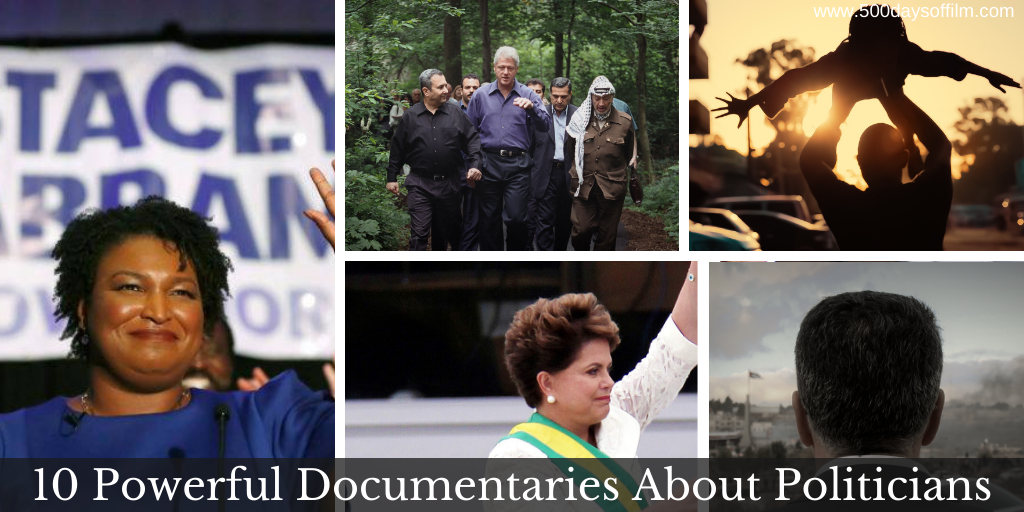 Documentaries give us a backstage pass to places that, without these films, we would never otherwise experience. Whether we are climbing El Capitan with Alex Honnold in Free Solo or collecting honey from the wild bees of North Macedonia with Hatidze Muratova in Honeyland, documentaries give us a window into another world.
Whatever you feel about politics and politicians, it is still fascinating (and important) to find out what goes on behind closed doors - how those in power go about making significant decisions about our lives. Here are 10 powerful documentaries that take us behind the scenes into the world of politics…
The Human Factor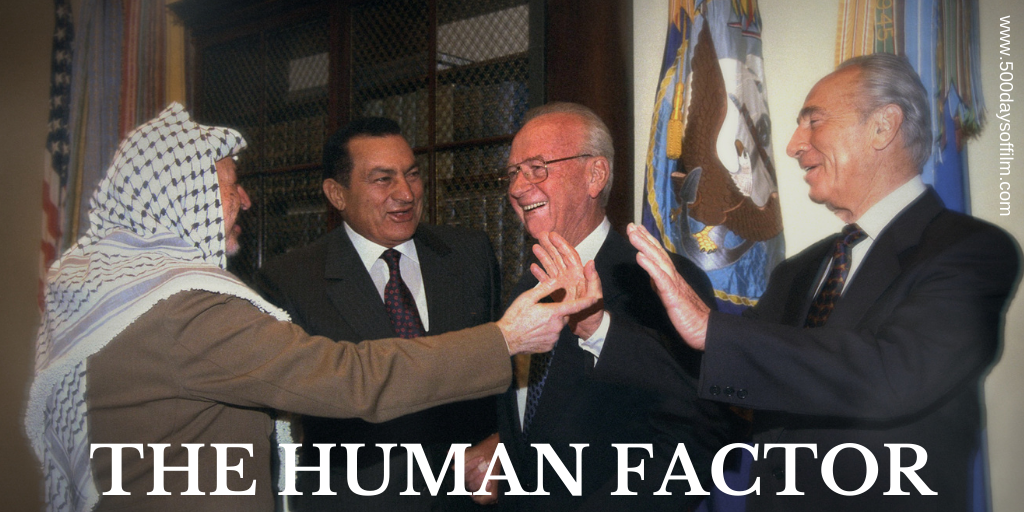 Some moments in history are so significant, so iconic and so, well, historic that it is easy to forget that they were negotiated by humans. Humans with strengths and weaknesses. Humans with agendas to pursue and legacies to protect. This is just what director Dror Moreh set out to explore in his timely and fascinating documentary, The Human Factor.
In his film, Moreh examines three decades of negotiations in the Israeli-Arab peace from the perspective of the key American mediators involved. The Human Factor features an impressive line-up of talking heads and they all speak remarkably candidly about their experiences.
Click here for my review of The Human Factor
All In: The Fight For Democracy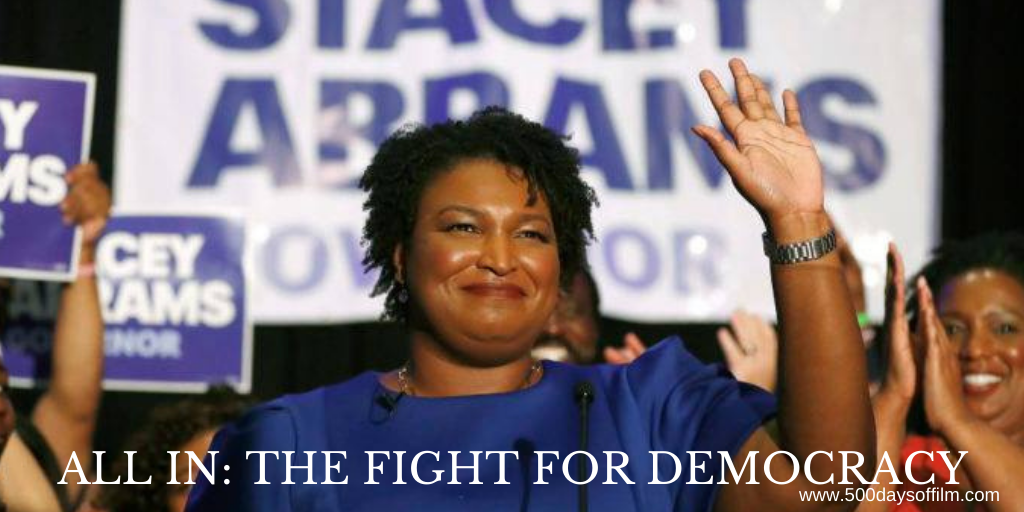 Liz Garbus and Lisa Cortés' powerful documentary charts the life and political career of Stacey Abrams, the former Minority Leader of the Georgia House of Representatives. All In uses her story as an example of the importance of democracy and the right to vote.
Abrams has an inspiring tale to tell and she is an inspiring figure. She was the US Democratic party's nominee in the 2018 Georgia gubernatorial election, becoming the country's first African-American female major-party gubernatorial nominee. She lost (albeit narrowly) to Brian Kemp in an election blighted by accusations that Kemp engaged in voter suppression. 
Her experience makes Abrams a perfect guide throughout All In. She is passionate, articulate and poised. "The fundamental power of democracy lies in our right to vote," she explains. "If you protect that right, you create possibilities for everything else."
Click here for my review of All In: The Fight For Democracy
Softie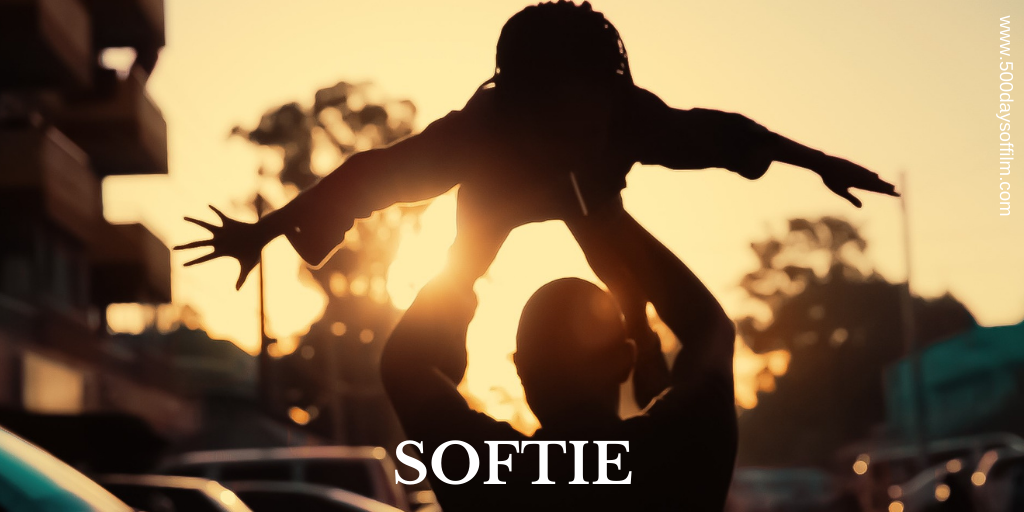 Beautifully shot and brilliantly edited, Softie examines corruption and politics in Kenya. With heart to spare, Sam Soko's powerful documentary also observes the conflict between the personal and the political following the birth of a new political party headed by award-winning photojournalist and activist, Boniface "Softie" Mwangi.
By entering politics, Boniface aims to inspire positive and lasting change in the country that he loves. However, the stakes involved in his election campaign couldn't be higher - for him, his wife Njeri and their young family. Softie is an intimate and compelling study of the wider impact of Boniface's actions. What are the consequences for him, Njeri and his three young children? What should come first - country or family?
Click here for my review of Softie
The Edge Of Democracy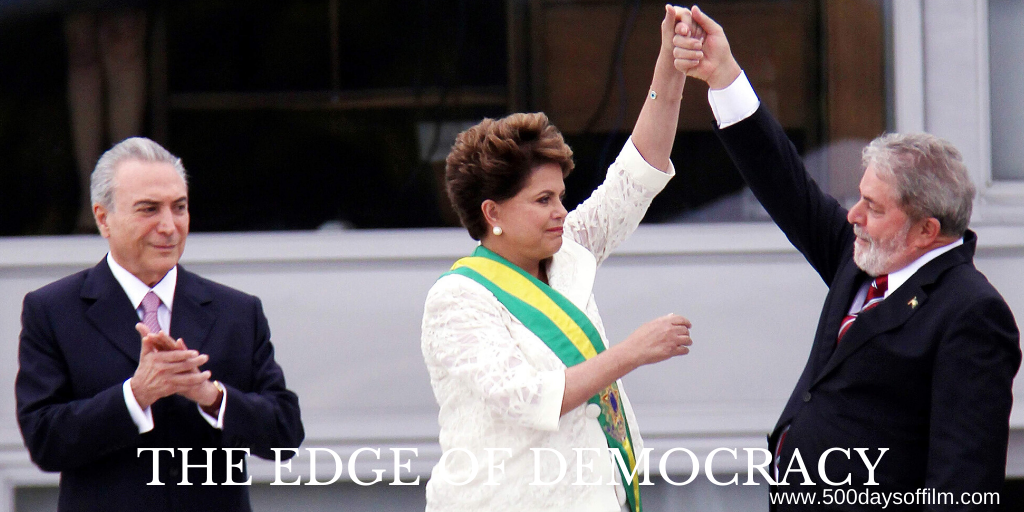 When director Petra Costa was a young girl, her mother would wear a t-shirt with a logo stating "Give Me Democracy Or Give Me Death". As a result, she grew up believing that democracy was her birthright - a precious political system achieved in Brazil thanks to a lifetime's fight against dictatorship by activists including her parents. 
In 2016, Costa started filming a protest calling for the impeachment of President Dilma (Brazil's first female president). She recorded thousands of people, dressed in the colours of the Brazilian flag, singing the national anthem. Some were asking for the return of the military, others wanted the imprisonment of anyone wearing the colour red.
Costa wasn't sure why she was filming, but instinctively she understood that this was a wake-up call - a warning about the ephemeral nature of democracy. Watching the crowds, a sentence came into her mind: "Brazilian democracy and I are almost the same age."
This sentence is repeated early on in The Edge Of Democracy - a film that explores the personal and the political and examines a citizen's relationship to their own democracy in a moment of political crisis.
Click here for my review of The Edge Of Democracy
Knock Down The House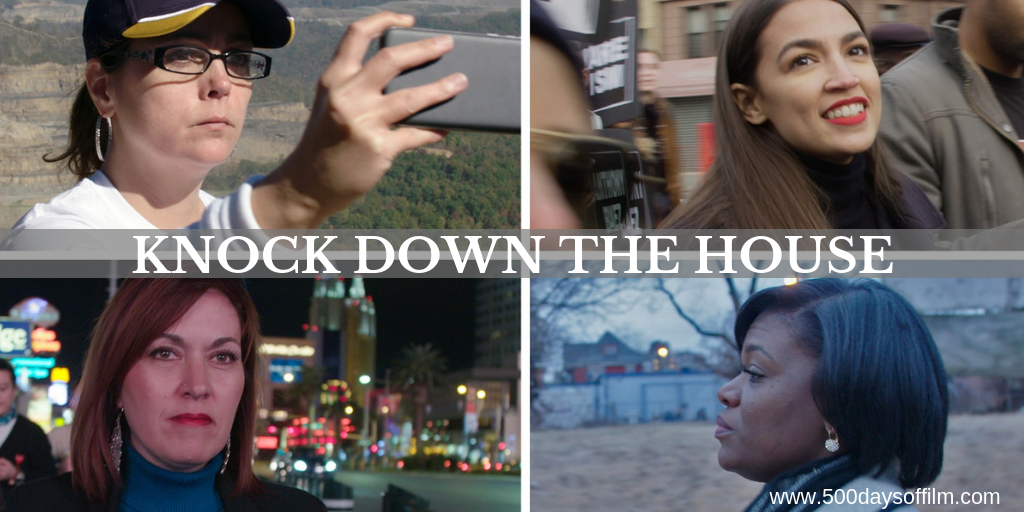 When tragedy struck her family in the midst of the financial crisis, Bronx-born Alexandria Ocasio-Cortez had to work double shifts in a restaurant to save her home from foreclosure. After losing a loved one to a preventable medical condition, Amy Vilela didn't know what to do with the anger she felt about America's broken health care system. 
Cori Bush was drawn into the streets when the police shooting of an unarmed black man brought protests and tanks into her neighbourhood. Paula Jean Swearengin was fed up with watching her friends and family suffer and die from the environmental effects of the coal industry.
At a moment of historic volatility in American politics, four women decide to fight back, setting themselves on a journey that will change their lives and their country forever. Without political experience or corporate money, they build a movement of insurgent candidates challenging powerful incumbents in Congress. Their efforts result in a legendary upset.
Click here for my review of Knock Down The House
Mayor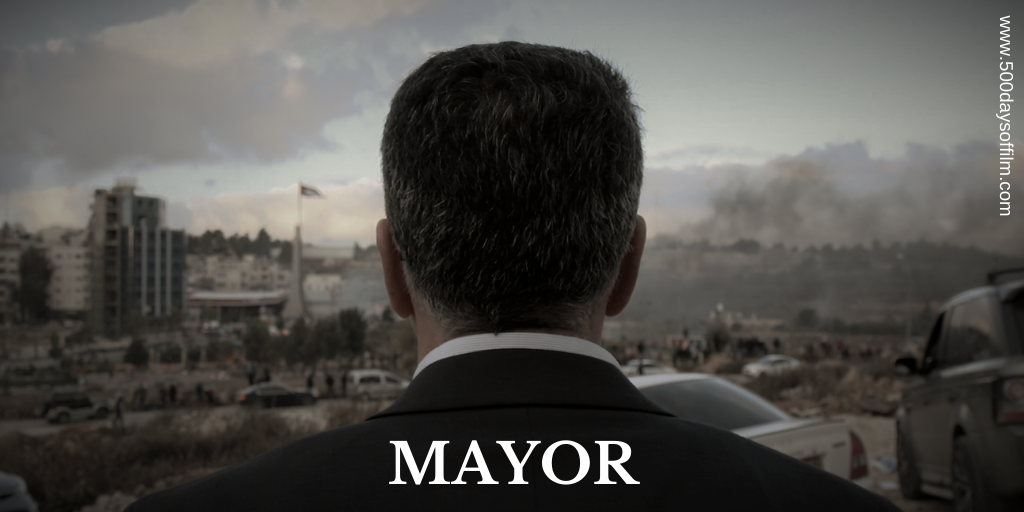 I am ashamed to admit that, before watching Mayor, I knew very little about the Palestinian city of Ramallah. What I did know came from headlines and news reports about conflict, violence and division. I was, therefore, eager to watch David Osit's film about Musa Hadid, the city's Christian mayor.
Osit's documentary begins with some helpful on-screen text informing/reminding us that the Palestinian territories of the West Bank and Jerusalem have been occupied by Israel since 1967. Jerusalem is a contested capital - claimed by both Israelis and Palestinians.
Ten miles away, the historically Christian city of Ramallah has become the seat of the Palestinian government. Surrounded on all sides by Israeli settlements and soldiers, the city faces many challenges. Most of the people who live in Ramallah will never have the chance to travel more than a few miles outside their home.
As a result, Mayor Hadid believes that it is his responsibility - and the role of local government - to enrich the lives of Ramallah's 35,000 residents. His passion for his city is both infectious and inspiring.  
Click here for my review of Mayor
John Lewis: Good Trouble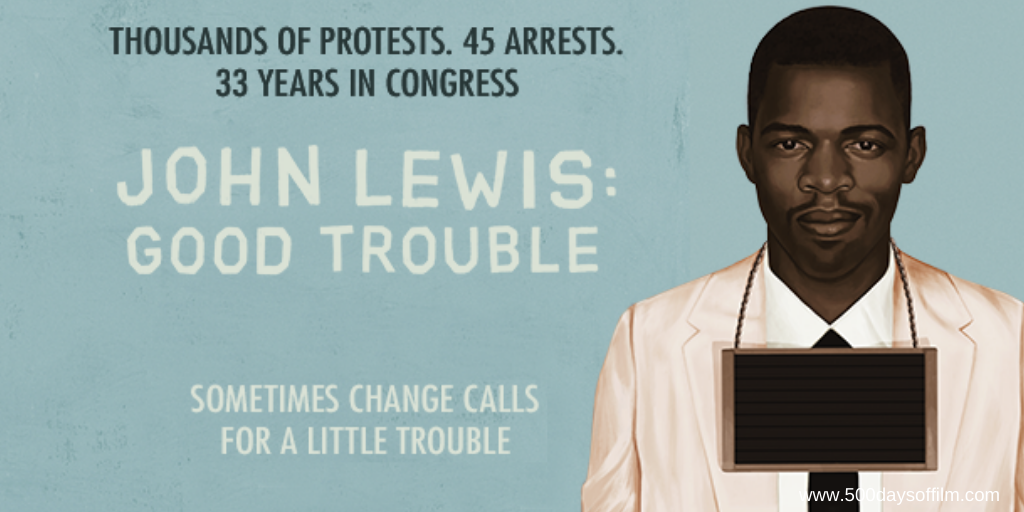 John Lewis: Good Trouble chronicles the life and career of the late John Lewis - the iconic civil rights activist and Democratic Representative from Georgia. Dawn Porter's timely and powerful film mixes stunning archive footage and fascinating interviews to explore the legacy of a man who spent over 60 years getting into good trouble over civil rights, voting rights, gun control, health-care reform and immigration.
The use of archive material puts John Lewis' story into historical context. The footage - some of it never seen before - is fascinating and, at times, extremely disturbing. In a move of filmmaking genius, we watch Lewis watch these scenes. The experience is both moving and compelling.
Click here for my review of John Lewis: Good Trouble
Collective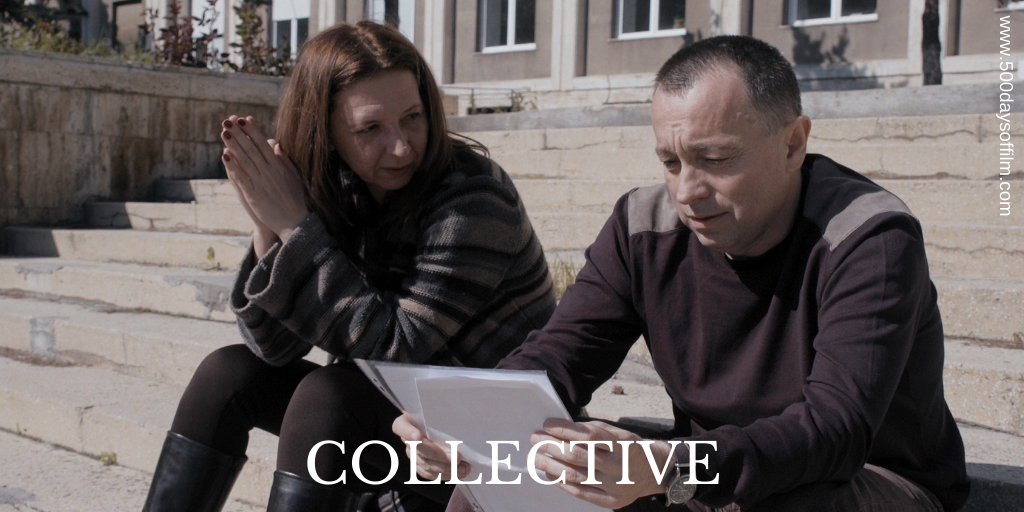 Powerful and disturbing, Collective examines the impact of a fire that devastated Bucharest's Colectiv nightclub in 2015. The horrific tragedy left 27 people dead and 180 injured and sparked massive nationwide protests. The unrest eventually forced Romania's ruling Social Democratic party to resign.
In an attempt to calm the country's anger, a politically independent government of technocrats was appointed and given a one-year mandate, until the next general election. Alexander Nanau's comprehensive and unflinching film documents the shocking revelations that were uncovered during that year.
Nanau invites us behind the scenes with Romania's new health minister, Vlad Voiculescu. Voiculescu allows the director to capture his attempts at reform and the many obstacles that he faces. "With the change of the Minister of Health, I took the chance to get my lens on the inner workings of the state government too," Nanau explains. "I was lucky to be trusted by an open-minded new Minister who gave me unprecedented access to the system from within." 
Click here for my review of Collective
The Final Year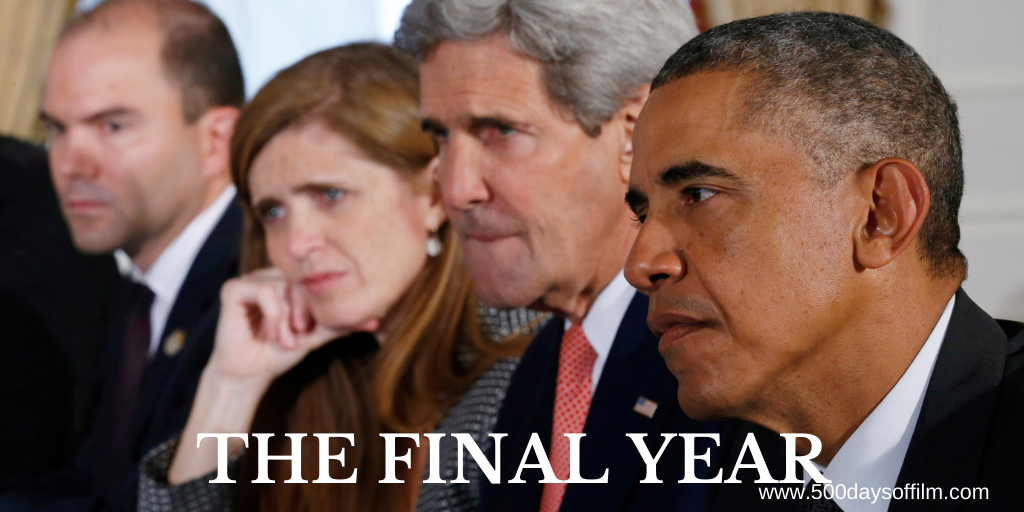 The Final Year explores the inner workings of the Obama administration as they prepare to establish a legacy when leaving power after eight years. The film focuses on Obama's foreign policy team: Secretary of State John Kerry, UN Ambassador Samantha Power, Deputy National Security Adviser and presidential confidant Ben Rhodes, as well as National Security Adviser Susan Rice and President Obama himself. 
Over the course of 2016, they travel the world attempting to solidify and "lock-in" policies that they believe will define their legacy as they prepare to hand over to a new administration.
Click here for my review of The Final Year
The Kingmaker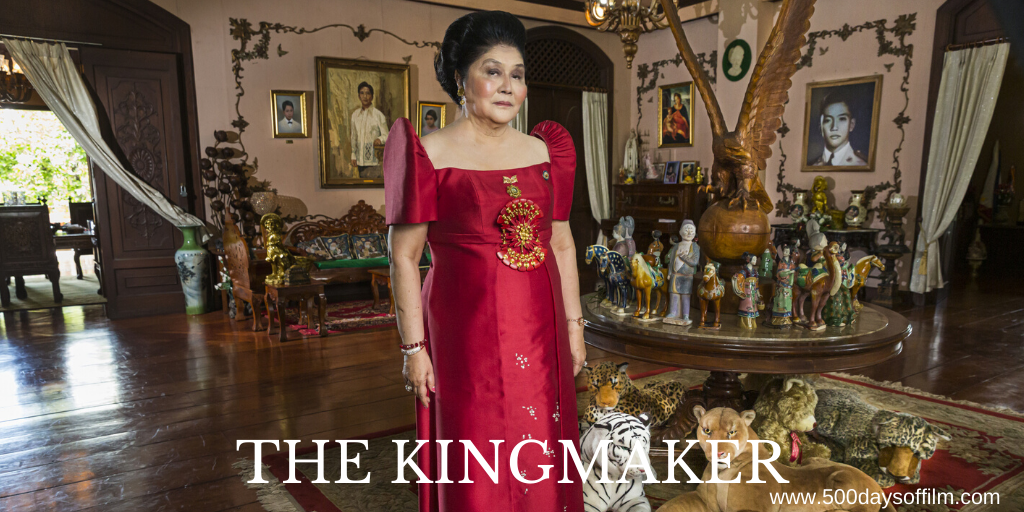 Featuring incredible access to Imelda Marcos, the former first lady of the Philippines, to many of the key figures in her life and to the players involved in contemporary Philippine politics, Lauren Greenfield's stunning documentary, The Kingmaker, is a dark fairytale. A fairytale told by the embodiment of an unreliable narrator. 
There's fake news and there's Imelda Marcos. At one point in the film, Imelda states that "perception is real and the truth is not". Her aim (and presumably why she consented to be interviewed for this documentary) is both to reframe the past and manipulate the future. 
Greenfield encourages Imelda to tell her own story - from her birth in Manilla in 1929, to her marriage, after an 11 day whirlwind courtship, to Ferdinand Marcos. Imelda is all too happy to recount her husband's rise to the presidency and, thereafter, her own meetings with powerful political figures around the world.
Imelda's global reach is undoubtedly impressive. She met the likes of Mao Zedong, Saddam Hussein, Muammar Gaddafi, Fidel Castro and a succession of US presidents. She believes that she was instrumental in ending the Cold War and that she could still bring about world peace.
However, at every turn, Greenfield is there to lift the curtain on Imelda's desire to rewrite Marcos history. The Kingmaker reveals that nothing is as Imelda describes - the opulence that she enjoyed then and still enjoys now was built on something rotten, something that is, to this day, incredibly toxic.