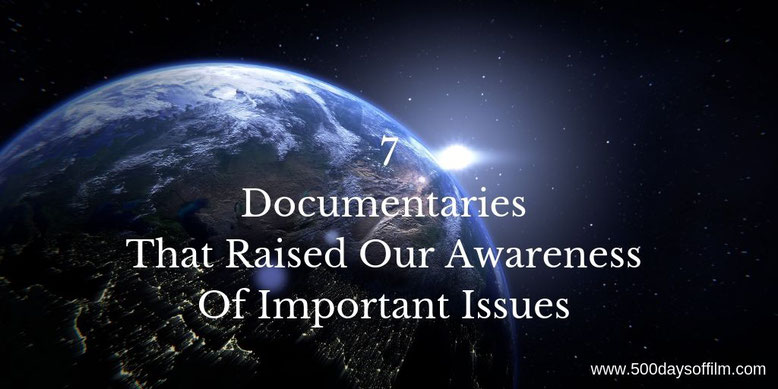 Can documentaries change the world? I would argue that, yes, they absolutely can. Documentaries have changed laws (Dear Zachary), altered the way we consider our environment (Gasland, Chasing Ice) and even released an innocent man on death row (The Thin Blue Line).
However, the challenge facing many "issue" based films is apathy. How can you encourage audiences to go on and demand change after the credits have rolled? How can you avoid the risk that your viewers will just shake their heads in dismay and then go on with their lives?
There are no easy answers, of course. There is no simple formula to explain why some documentaries grab the headlines and some struggle to gain our attention. However, the act of simply raising awareness should not be underestimated. 
Because you never know where that will lead…
Here are seven powerful documentaries that have played a crucial role in raising awareness about important issues facing the world today:
West Of Memphis - Raising Awareness About Justice
On 6 May, 1993 the naked and mutilated bodies of three eight year old boys - Stevie Branch, Michael Moore and Christopher Byers - were found in a watery ditch in West Memphis, Arkansas. 
Under significant pressure to solve the crime and in the midst of satanic panic hysteria, three local teenagers - Damien Echols, his friend Jason Baldwin, and Jesse Misskelley - were arrested, charged and then convicted of the brutal murders. 
Controversial from the start, the case came to the attention of filmmakers Fran Walsh and Peter Jackson. They believed that the convictions were a devastating miscarriage of justice and felt compelled to use their resources to help free the West Memphis Three.
Time was of the essence. Echols was 18 when he was convicted and, as a result, had been given the death penalty and was on death row. In 2006, Walsh and Jackson focused on DNA evidence to support a legal argument for a new trial.
Incredibly, the judge dismissed the evidence. Walsh and Jackson were devastated. What could they do? What stronger weapon was there to prove Echols, Baldwin and Misskelley's innocence than hard science? And then they realised what they had left in their arsonal - the ability to galvanise public opinion.
Walsh and Jackson decided that a documentary was needed to present their position and raise awareness about the West Memphis Three. After watching her film, Deliver Us From Evil (about sex abuse cases in the Roman Catholic Church), they approached director Amy Berg. They felt that she could handle both the sensitivities and the complexity of the case... and they were right.
Read more about West Of Memphis here!
Citizenfour - Raising Awareness About Government Surveillance
Filmmaker, Laura Poitras, had been working on a film about surveillance for two years when she was contacted by someone using the name "Citizenfour". Citizenfour revealed that he was a high level NSA analyst and that he could expose the massive amount of surveillance of Americans (and others). Poitras persuaded Citizenfour to let her film him.
He agreed and Poitras along with Guardian journalist, Glenn Greenwald, flew to Hong Kong to meet Citizenfour - otherwise known as Edward Snowden. 
As we all now know, Snowden had an extremely disturbing tale to tell. In the aftermath of the terrorist attacks of 11 September 2001, the US government used complex surveillance techniques to spy on the lives of ordinary American citizens. 
This film reveals just how much information was collected - via emails, texts, internet searches and telephone calls. It is extremely unsettling - to put it mildly. Citizenfour made us all aware of a range of disturbing issues concerning our right to privacy. 
Read more about Citizenfour here!
An Inconvenient Truth - Raising Awareness About The Environment
On paper, An Inconvenient Truth shouldn't work… let alone become one of the best known environmental documentaries ever made. Based on a powerpoint presentation delivered by former vice president Al Gore, the film is "talk" heavy, statistic heavy and peppered with rather cheesy "dad" jokes.
However, the reason why An Inconvenient Truth works, why Davis Guggenheim's film won an Oscar and why it is as powerful now as when it was released in 2006, is down to the power of its message and the passion of its messenger.
In addition to the barrage of sobering statistics, we also get a fascinating insight into Gore's childhood, his ill fated presidential run and what inspired him to raise our awareness about environmental concerns.
Read more about An Inconvenient Truth and An Inconvienent Sequel here!
Blackfish - Raising Awareness About Animal Welfare
Gabriella Cowperthwaite's documentary, Blackfish, explores why, in the summer of 2010, Dawn Brancheau was killed at Orlando's SeaWorld marine park by the 12,000 pound orca called Tilikum that she  - an extremely experienced trainer - had helped train and had performed with for years.
Blackfish raised public awareness about the treatment of orcas in captivity. The Blackfish effect was and still is a worldwide phenomenon. A year after the documentary was released, SeaWorld stock dropped 30 percent. Audiences were voting with their feet and choosing not to visit the park. 
Unfortunately, SeaWorld did not recognise that the tide of public oppinion was changing. The park thought it could simply discredit Blackfish and weather the storm. However, in August 2015, SeaWorld recorded an 84 percent drop in profits. By November of that same year, the Blackfish effect finally prompted SeaWorld to change its orca strategy. 
Read more about the Blackfish effect here!
13th - Raising Awareness About Racism
In 13th, director Ava DuVernay explores the issue of mass incarceration in the United States and the insidious evolution of slavery. The documentary begins by raising our awareness of a truly shocking statistic. The US - often called the land of the free - has the highest incarceration rate in the world.
Even more disturbing is the fact that one in three black males in America will go to prison at some point during their lives. That's compared to one in 17 white men.  
DuVernay's film looks at what lies behind this discrepancy. A series of fascinating experts and academics explain how, after years of fighting for freedom and equality, black communities are still waiting for change.
Reversing Roe - Raising Awareness About Women's Rights
In Reversing Roe, filmmakers Ricki Stern and Annie Sundberg, present a deeply unsettling look at the state of abortion and women's rights in America. Drawing from a wealth of historical footage, the film charts the period leading up to the Roe decision - and documents the opposition that has followed ever since. 
Stern and Sundberg's documentary is both fascinating and disturbing - exploring how abortion has become such a divisive issue in America and revealing just how this issue became politicised. 
Read more about Reversing Roe here! 
Hail Satan? - Raising Awareness About Religious Freedom
Hail Satan? is a gripping and compelling look at contemporary Satanism. The Satanic Temple's main concern, as depicted in the documentary, is to raise awareness about our need to protect religious freedom. 
The documentary is also an inspiring and empowering exploration of how much you can achieve through non-violent activism. "I'd love for viewers to realise that you can make a really big impact on people's lives without lots of money, or political influence, or powerful connections," says director, Penny Lane. "With nothing more than a really smart idea, and maybe a few friends, you can change the world."
Read more about Hail Satan? here!
Over to you...
Here are just seven documentaries that have raised awareness of complex and important issues facing the world. There are, of course, many other docs that have played a crucial role in bringing disturbing situations to light.
What documentaries would you add to this list? Let me know in the comments section below or over on Twitter. You can find me @500DaysOfFilm.