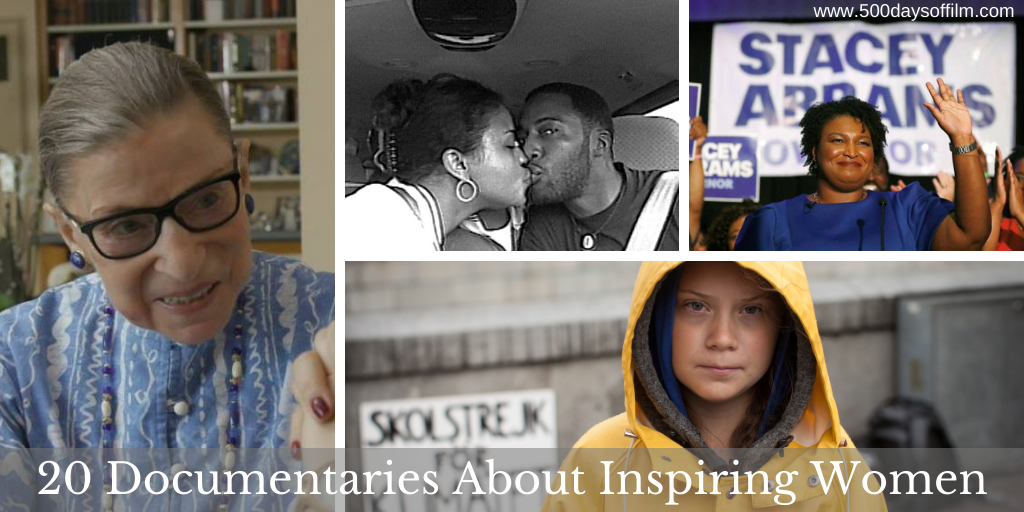 The theme of International Women's Day 2021 is "choose to challenge".
These three words encourage everyone to challenge opinions and actions that do not celebrate women and their capability to make a positive difference.
In celebration of International Women's Day, here are 20 documentaries that feature powerful and inspiring women who have challenged the "norm" and made a positive and lasting difference in our world.
All In: The Fight For Democracy
All In: The Fight For Democracy reminds us of the importance - and vulnerability - of democracy. Liz Garbus and Lisa Cortés' gripping documentary is also a portrait of former Minority Leader of the Georgia House of Representatives, Stacy Abrams, a powerful and inspirational woman who has worked tirelessly to protect America's right to vote.
Watch now on Amazon
RBG
US Supreme Court Justice, Ruth Bader Ginsburg, needs no introduction. The world is undoubtedly a poorer place without her, but we are all richer as a result of her incredible and inspiring contribution.
When I first watched RBG, Betsy West and Julie Cohen's film, I expected it to be fascinating and I expected it to be inspiring. However, I did not expect RBG to be quite so moving. In these troubling times, a film about a person of quiet (but no less powerful) persistence, consistency and steadfast belief is both refreshing and hugely motivating.
The world needed RBG and, to the very end, she did not let us down. The best way of honouring her legacy is to tell her story and continue her fight.
Watch now on Netflix
For Sama
For Sama wasn't the first documentary that I watched about the devastating conflict in Syria. Over the last few years, there has been a steady influx of films - including The White Helmets, City Of Ghosts and Last Men in Aleppo - depicting the war and the battle for Aleppo. 
However, Waad al-Kateab's documentary is the one that has stayed with me the most. This is a mother's heartfelt message to her baby daughter. In breathtakingly powerful scenes, Waad shows us what life was like in Aleppo and explains why she and Sama's father decided to stay in such a dangerous place with their baby daughter.
Buy now on Amazon
Athlete A
Athlete A follows a group of incredibly talented and courageous athletes who, after suffering devastating abuse at USA Gymnastics (USAG), stood up, told their stories... and refused to be silenced. 
Bonni Cohen and Jon Shenk (who also directed documentary Audrie & Daisy about sexual assault and  the effects of online bullying) explore the power of speaking out. It is incredibly inspiring and deeply moving to see how the voices of survivors (not victims, survivors) grew louder and led to justice. 
Watch now on Netflix
Toni Morrison: The Pieces I Am
Timothy Greenfield-Sanders's documentary about Nobel-winning author Toni Morrison was completed shortly before her death in 2019. As his film tells Morrison's story and considers her legacy, it also captures her incredible power, sense of humour, warmth and humanity.
Watch now on Sky Documentaries
Time
Time tells the story of Fox Richardson as she fights for her husband Robert and their family following Robert's incarceration in Angola, Louisiana's State Penitentiary. Garrett Bradley introduces us to an incredibly powerful woman who refuses to be destroyed by so many years of pain, frustration and mind-blowing legal expense. Instead Fox uses her experience to inspire others - using her voice to help the voiceless.
Watch now on Amazon
Knock Down The House
Rachel Lears's gripping documentary, Knock Down The House, gives us not one but four brilliantly powerful women. The film follows Alexandria Ocasio-Cortez, Amy Vilela, Cori Bush and Paula Jean Swearengin as, against all odds, they mount a campaign to remove established incumbents from seemingly entrenched positions. 
Watch now on Netflix
On The Record
On The Record is examines the risks of coming forward in the era of #MeToo. Amy Ziering and Kirby Dick's documentary follows former music executive, Drew Dixon, as she wrestles with the decision to go public and share her story with the New York Times. A powerful, intelligent and charismatic woman (and an extremely compelling storyteller), Dixon did not think that #MeToo applied to her story. However, she has a vitally important tale to tell.
Watch now on
Advocate
In Advocate, Rachel Leah Jones and Philippe Bellaiche's thought provoking documentary, we watch as Lea Tsemel -  a Jewish-Israeli lawyer who has represented political prisoners for five decades - defends what many Israelis believe is indefensible. 
Tsemel is a powerful, inspiring and magnetic character - full of passion, drive and a sense that there are not enough hours in the day or years in a life to complete what she so desperately wants to achieve.
Watch this space for streaming details...
Maiden
Alex Holmes's documentary tells the epic story of how in 1989 Tracy Edwards became the skipper of the first ever all-female crew to enter the Whitbread Round the World Race. This is an inspirational tale of strength in the face of adversity - both on land and at sea.
Rent or buy now on Amazon and other streaming platforms 
Ask Dr Ruth
If you are in the mood for a joyous, poignant, powerful and inspiring documentary, watch Ask Dr. Ruth. Ryan White's film about the life of Dr. Ruth Westheimer, a Holocaust survivor who became America's most famous sex therapist, is an absolute gem.
In the film, Dr. Ruth explains how she wanted to leave a mark on the world. She has certainly achieved this aim.
Watch now on Netflix
Becoming
Becoming follows Michelle Obama as she embarks upon a 34-city tour, promoting her book of the same name. Nadia Hallgren's film gives the former First Lady a powerful platform on which to spread an inspiring message of hope.
Watch now on Netflix
Maya Angelou: And Still I Rise
Rita Coburn Whack and Bob Hercules' documentary, Maya Angelou: And Still I Rise, tells the powerful story of iconic dancer, singer, writer, poet, actress and activist Maya Angelou - whose life intersected with some of the most significant moments in recent US history. 
Dr Angelou was one of the world's very best storytellers, I could listen to her all day. A joy to watch, this documentary honours her life, her legacy and her incredible words.
Watch this space for streaming news...
Unrest
Twenty-eight year-old Jennifer Brea was working on her PhD at Harvard and was months away from marrying the love of her life when she contracted a mysterious fever that left her so ill that she became bedbound. However, her doctors told her that it was "all in her head" and dismissed her concerns. 
Brea refused to accept this assessment. What started as a video diary on her iPhone became a powerful documentary film uncovering a hidden world of thousands of patients around the world.
Rent or buy on Amazon and other streaming platforms
Shut Up Sona
You get the sense that few people would dare to tell Indian singer and #MeToo activist Sona Mohapatra to shut up - to her face at least. Sona is a force of nature - a formidable, powerful and determined woman who campaigns for equality and refuses to be silenced. 
Watch this space for streaming details...
Bombshell: The Hedy Lamarr Story
Bombshell has an incredible tale to tell. A fascinating (and, at times, heartbreaking) story about a truly remarkable woman. Known for her beauty, Hedy Lamarr was far from just another pretty face. She was an Austrian Jewish emigre who invented a covert communication system to try and help defeat the Nazis.
Rent or buy on Amazon and other streaming platforms
Jane
Brett Morgen's documentary starts by asking two key questions - how did a young woman with no scientific degree end up studying chimpanzees in the tropical forests of Gombe, Tanzania? And, what did famous paleontologist Louis Leakey see in Goodall that made him choose her for this project (a study of primates to help further the understanding of early hominid societies)? 
The answers soon become clear. Morgen's use of archive footage reveals a quietly determined, observant and endlessly patient woman. A woman who is both sensitive and strong, inquisitive and analytical. A woman who possessed a boundless love (and respect) for all animals.
Watch now on Disney+
Shooting The Mafia
Shooting The Mafia explores the incredible and inspiring life of Sicilian photographer Letizia Battaglia. In 1974, Battaglia became the first female photographer to be employed by an Italian daily newspaper. She then found herself on the front lines during one of the most brutal chapters in Italy's recent history.
Watch now on Amazon
Recorder: The Marion Stokes Project
Marion Stokes recorded television twenty-four hours a day on multiple channels for thirty years. Yes, you read that correctly - twenty four hours a day, for thirty years. Matt Wolf's superb documentary, Recorder: The Marion Stokes Project, explores Marion's remarkable life and incredible legacy. 
While the full impact of her project may yet be known, Recorder leaves us in no doubt of Marion Stokes' contribution to human history. Hers is a life that should be both acknowledged and celebrated. 
Watch now on Dogwoof on Demand
I Am Greta
In his remarkably intimate documentary, Nathan Grossman tells the inspiring story of teenage climate activist Greta Thunberg. The film features compelling, never-before-seen footage - starting with her one-person school strike for climate action outside the Swedish Parliament and charting her rise to global prominence. 
Watch now on BBC iPlayer