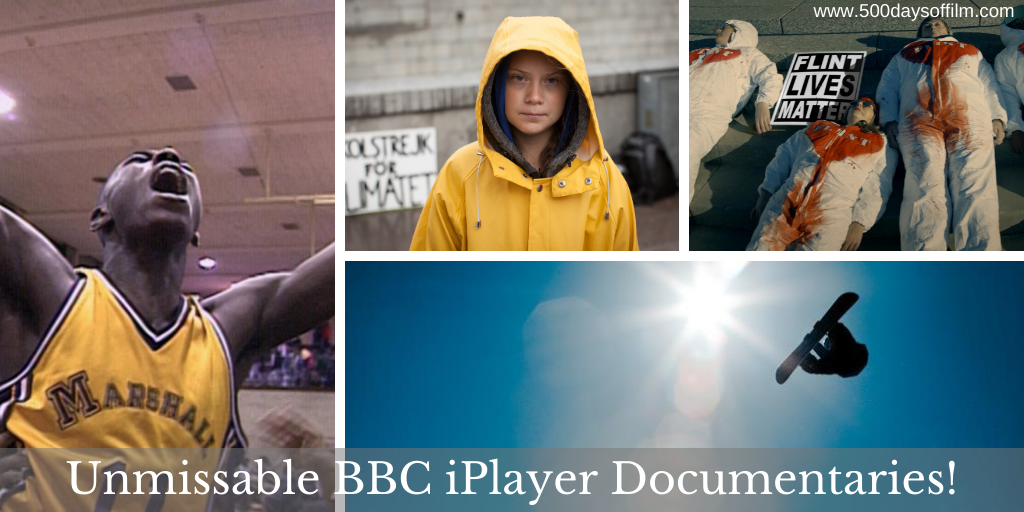 If you are looking to watch a powerful documentary, BBC iPlayer is a very good place to start. The platform hosts a number of superb non-fiction films - particularly via its always impressive Storyville strand.
As a result, BBC iPlayer is always worth checking out - especially before you pay to rent a specific doc on another streaming service.
Here are my favourite documentaries (in no particular order) on BBC iPlayer. 
Whirlybird
Whirlybird is the story of a fascinating and problematic marriage - set against the backdrop of 1990s Los Angeles and the development of the 24/7 news cycle. Matt Yoka's film follows Marika Gerrard and Zoey Tur (known then as Bob) who captured some of LA's most iconic news stories from high above the city in their helicopter.
Click here to read more about Whirlybird
Totally Under Control
Totally Under Control examines America's response to Covid-19. Featuring testimony from an impressive number of experts, directors Alex Gibney, Ophelia Harutyunyan and Suzanne Hillinger present a timeline of missed opportunities, unforced errors and lies.
We are never in any doubt about who the film blames for the mishandling of the virus - the clue is in the documentary's ironic title. Totally Under Control argues that former President Donald Trump and his administration were more focused on playing politics than protecting lives.
Click here to read more about Totally Under Control
I Am Greta
In his remarkably intimate documentary, Nathan Grossman tells the story of teenage climate activist Greta Thunberg. The film features compelling, never-before-seen footage - starting with her one-person school strike for climate action outside the Swedish Parliament and charting her rise to global prominence. 
Flint
Filmed over a period of five years, Anthony Baxter's documentary tells the disturbing story of Flint, Michigan and what happened when a change in the city's water supply turned into a life-threatening environmental disaster.
Click here to read more about Flint
Into The Storm
After finding a broken surfboard on his local beach, Jhonny Guerrero, a teenager from one of Peru's toughest barrios, sets his heart on becoming a professional surfer. With his father in prison for armed robbery and a mother struggling to feed and clothe his younger brother, the sea is his escape. 
Hoop Dreams
That Hoop Dreams is a stone cold documentary classic really goes without saying. As powerful today as when it was released in 1995, Hoop Dreams is just so damn good that it remains impossible to fathom why Steve James, Frederick Marx and Peter Gilbert's phenomenal film was snubbed at the Academy Awards (it didn't even get a nomination).
Not for the first - or last - time, the Oscars got it wrong. No matter. Nothing was going to stop this film from finding an audience and earning its rightful place in cinema history. Filmed over five years, Hoop Dreams follows two inner-city Chicago teenagers - William Gates and Arthur Agee. We watch as the two boys work towards their ultimate dream: playing for the NBA (National Basketball Association).
Hoop Dreams is, of course, so much more than a simple basketball story. Redefining the sports documentary genre, the film explores issues of race, class and privilege. It also offers behind the scenes (and often unsettling) insights into how the world of professional sport treats its young.
Click here to read more about Hoop Dreams
When We Were Kings
On 30 October 1974, one of the most iconic sporting events of all time took place in Kinshasa, Zaire. It was on this date that the Rumble in the Jungle occurred between champion George Foreman and challenger Muhammad Ali. 
Combining historical footage and new interviews, Leon Gast's Oscar-winning film documents this fight and explores the relationship between African-Americans and the African continent during the Black Power era.
Last Men In Aleppo
Last Men In Aleppo follows Syria's White Helmets - an incredible group of civilians who, having formed search and rescue teams, run towards danger in the desperate hope of saving lives.
Feras Fayyad's documentary focuses on three White Helmets in particular - Khaled, Subhi and Mahmoud - as they try to make a life amid the chaos. We watch as they struggle to decide whether to flee the horror or stay to fight for their country.
Click here to read more about Last Men In Aleppo
9/11: Inside The President's War room
9/11: Inside the President's War Room is an incredible documentary. It takes us behind the scenes with the Bush administration through 12 hours of that day, with first-hand testimony from President Bush, Vice-President Dick Cheney and many others. An insightful and moving must-watch.
Surviving 9/11
Surviving 9/11 is a powerful and deeply personal look at the impact of the terrorist attacks. Arthur Cary's film features intimate stories about the day from survivors, first reponders and those who lost loved ones. 
Cary takes us through the shocking and devastating events of the day - focusing on the Twin Towers, the Pentagon and on United Flight 93. As familiar as we are with the images, they never fails to horrify. Thankfully Carey and his editor, Joby Gee, are sensitive in their use of this footage and, as a result, Surviving 9/11 avoids feeling exploitative.
The documentary examines, almost 20 years, the legacy of the day, focusing on the impact of trauma and survivor's guilt and how people have coped with the overwhelming loss of life. There is, Carey reminds us, a big difference between moving forward and moving on. 
One Man And His Shoes
One Man And His Shoes charts the impact of Nike's legendary collaboration with Michael Jordan. Yemi Bamiro's film features many of the key figures involved in the partnership, which elevated what sports writer Jemele Hill calls "a step child in the shoe game" and created a cultural phenomenon. 
Click here to read more about One Man And His Shoes
United Skates
United Skates is an immersive and poignant tribute to African American roller skating communities in the US - looking at their history, examining their importance and questioning why they are under threat. 
Click here for more about United Skates
The Crash Reel
Just 49 days before the 2010 Winter Olympics in Vancouver, snowboarder, Kevin Pearce, had a horrific accident while training in Park City, Utah. The 22-year old rising star suffered a devastating traumatic brain injury (TBI) that ended his dream of reaching the pinnacle of his extreme sport.
Lucy Walker's documentary, The Crash Reel, follows Pearce's journey - both before and after his accident. This is an incredibly powerful and deeply moving film about the risks and rewards of high level sport and the reality of living with TBI.
Click here to read more about The Crash Reel
Max Richter's Sleep
Max Richter's Sleep is an eight hour overnight concert that explores the potential of the sleeping mind. It was developed by composer, Max Richter, and artist and Bafta winning filmmaker, Yulia Mahr. Natalie Johns' film documents the open air performance of Sleep in Los Angeles in 2018.
This is so much more than just another documentary about a live musical event. This is a mesmerising, immersive and deeply moving experience. It takes us on a cinematic journey through a beautiful collaboration and reminds us of the value of communal experience.
Click here to read more about Max Richter's Sleep
Ronnie's
"Only an idiot would go into the jazz club business, let's face it." A surprising comment, perhaps, from Ronnie Scott, the co-founder (with Pete King) of one of London's most celebrated music venues, Ronnie Scott's Jazz Club. However, as we discover in Oliver Murray's wonderful documentary, this remark speaks volumes. It reveals the years of stress and hardship both Scott and King experienced and the friendship (and sense of humour) they needed to keep their dream alive.
Ronnie's charts Ronnie Scott's Jazz Club's 60 year history. The film features an incredible treasure trove of archive footage - including wonderful photographs and stunning (previously unseen) performances from such musicians as Dizzy Gillespie, Van Morrison and Chet Baker, Jimi Hendrix, Nina Simone, Roland Kirk, Sonny Rollins, Ella Fitzgerald and Miles Davis.
Meanwhile, we hear from Gilles Peterson, Michael Parkinson, Val Wilmer, Mary Scott (Scott's partner), Chris King (Pete King's son), Rebecca Scott (Scott's daughter), Quincy Jones, Georgie Fame and Sonny Rollins. Each shares poignant memories, each expresses what made the club so special.
Click here to read more about Ronnie's
Feels Good Man
For a film about a cartoon frog, Feels Good Man takes us into some pretty dark corners of society. Arthur Jones' documentary will make your head spin, your stomach turn and your heart ache for the state of humanity. Do not despair, however. Feels Good Man is, at its core, an optimistic tale - a story of hope, friendship and love.
The cartoon character in question is Pepe the Frog. He was created by Matt Furie, the somewhat reluctant hero of this surreal story. Matt, a soft spoken artist with a positive attitude and inherent sweetness, poured much of himself (and even aspects of his partner, Aiyana) into Pepe. The frog featured in his comic, Boys Club, with four other cartoon characters - Landwolf the party dog (possibly inspired by his roommate Chris), Andy the joker and Brett, who loves to dance. 
The humour in Boys Club focused on post-college life and, according to Matt, Pepe was the little brother of the group. The jokes were silly, harmless. How then did Pepe the Frog become a symbol of white nationalist hate by the alt-right?
Click here to read more about Feels Good Man
Raising A School Shooter
This incredibly powerful and deeply moving film looks at the impact of school shootings in America from the point of view of the parents of the children who pulled the trigger. The documentary features the stories of three parents. Jeff Williams, the father of Andy, who in 2001, at the age of 15, shot and killed two classmates and wounded 13 other students. Clarence Elliot's son, Nicholas, shot and killed his teacher and wounded another in 1988. Sue Klebold's son, Dylan, was one of the two teenagers behind the Columbine High School massacre in 1999, one of the deadliest school shootings in history. 
The Mole Agent
Part charming film noir, part heartbreaking portrait of loneliness and old age, Maite Alberdi's The Mole Agent is a tender and deeply moving film that expands the boundaries of traditional documentary storytelling. The story takes place in Chile. A private investigator called Romulo has been hired by a family to look into the care of their mother at a retirement home. Romulo needs a 'mole' to live inside the home for three months and investigate their concerns.
To find his mole, Romulo places an advert in a newspaper. He is seeking a retired man between 80 and 90 years old who is "independent, discrete and competent with technology". We join the search as Romulo begins his selection process. All candidates appear enthusiastic. However, one interviewee stands out from the crowd - 83 year-old Sergio. Recently widowed, he is endearing, amusing and fiercely independent. "If I get this job, I won't have any trouble," he explains " because I'm the one who makes decisions about myself." The camera loves him and, in no time at all, so do we.
Click here to read more about The Mole Agent
Softie
Beautifully shot and brilliantly edited, Softie examines corruption and politics in Kenya. With heart to spare, Sam Soko's powerful documentary also observes the conflict between the personal and the political following the birth of a new political party headed by award-winning photojournalist and activist, Boniface "Softie" Mwangi.
Click here to read more about Softie
Hillsong Church: God Goes Viral 
Hillsong Church: God Goes Viral follows the story of celebrity favourite and globally trending megachurch Hillsong. In a relatively short time it has grown from a small family church to an international phenomenon. Gaining rare access to the church, the documentary follows key church leaders and a number of its congregation, who tell personal stories of salvation and shed light on the current scandals within the church. 
Locked In: Breaking The Silence
Locked In: Breaking the Silence follows director Xavier Alford as he faces an illness that he has, for years, been unable to confront. As his condition becomes impossible to ignore, Alford decides to make a film about his experience - exploring what the future holds for his body, his career and - most importantly - his family.
Click here to read more about Locked In
Carlos Ghosn: The Last Flight
Carlos Ghosn: The Last Flight tells the incredible story of Carlos Ghosn, the former CEO of the Renault-Nissan Alliance who, after being charged with complex financial crimes, stunned the world with his escape from Japan.  
The details of how Ghosn managed to escape - smuggled onto a plane inside a large music equipment box - and his daring return to his native Lebanon are, of course, fascinating. In a Q&A at Sheffield Docfest, the film's director, Nick Green, called this the unique selling point of the story. "We are all attracted to the escape," he added.
However, The Last Flight is not solely interested in Ghosn's dramatic escape. With impressive access to Ghosn, his wife Carole, his former colleagues and several key figures involved in Japan's criminal justice system, the documentary examines what triggered Ghosn's spectacular downfall from industry leader to international fugitive and explores if there is any truth to Ghosn's claims of a corporate conspiracy. 
Click here to read more about Carlos Ghosn: The Last Flight
Gunda
Viktor Kossakovsky's film is a moving and visually stunning cinematic experience. It observes the daily life of a mother sow (the eponymous Gunda), her piglets, two ingenious cows and a scene-stealing, one-legged chicken. Shot in black and white (with wonderful use of light and shadow), the film features an incredibly immersive "natural" soundscape.
I use the term "experience" deliberately as Gunda does not follow the traditional template of many non fiction films. There is no narration and no on screen text. There are no talking heads. There is only Kossakovsky's camera and the animals who wander in and out of the frame.
Click here to read more about Gunda
Collective
Powerful and disturbing, Collective examines the impact of a fire that devastated Bucharest's Colectiv nightclub in 2015. The horrific tragedy left 27 people dead and 180 injured and sparked massive nationwide protests. The unrest eventually forced Romania's ruling Social Democratic party to resign.
In an attempt to calm the country's anger, a politically independent government of technocrats was appointed and given a one-year mandate, until the next general election. Alexander Nanau's comprehensive and unflinching film documents the shocking revelations that were uncovered during that year.
Click here to read more about Collective  
Minding The Gap
Bing Liu's Oscar-nominated documentary, Minding the Gap, is a powerful and deeply emotional coming-of-age story. The film follows three skateboarding friends - Bing, 23 year old Zack and 17 year old Keire - who all grew up in Rockford, Illinois, a recession hit factory city two hours west of Chicago.
While Minding The Gap features many joyous and breathtaking skateboarding sequences, this is not a documentary solely about skateboarding. Instead, the film uses the bond created by a shared love to try to understand why Bing and his friends all ran away from home when they were younger.
Click here to read more about Minding The Gap
Petite Fille
Petite Fille is a moving and sensitive portrait of a young French girl called Sasha, who was assigned male at birth. The documentary follows the shy seven-year-old and her parents over the course of a year, documenting her progress with delicate intimacy.
Fourteen Days In May
Paul Hamann's stunning and moving documentary follows 14 days in the life of death row inmate, Edward Earl Johnson, as he moves towards his scheduled date of execution. Johnson, a 26-year-old African-American man from Mississippi, was found guilty of murder after signing a confession that he had not written. There was no other evidence and Johnson always denied the killing. He appealed against his death sentence for eight years in the US courts.
Hamann secures remarkable, intimate and powerful access to Johnson, his family, the prison's warden, prison guards, and other prisoners. Fourteen Days in May also features Johnson's lawyer, Clive Stafford Smith, who advocates for him and, in powerful scenes, highlights the catastrophic and devastating flaws inherent in the concept of capital punishment.
The Price Of Gold
Two athletes stole the media spotlight at the 1994 Winter Games – Nancy Kerrigan and Tonya Harding. However, weeks before the Olympics, Kerrigan was injured by an unknown assailant at the US Figure Skating Championships. An FBI investigation discovered that Harding's ex-husband, Jeff Gillooly, had plotted the attack in order to eliminate Kerrigan from the competition. 20 years later, The Price of Gold examines the scandal and asks Harding just what she knew and when.
Bros: After The Screaming Stops
A compelling, entertaining and surprisingly moving documentary, Bros: After The Screaming Stops follows brothers Matt and Luke Goss as they reunite 28 years after being in one of the biggest bands in the world.
Cold Case Hammarskjöld
Cold Case Hammarskjöld follows Mads Brügger's attempt to solve the mysterious death of Dag Hammarskjöld, who served as the second Secretary General of the United Nations. In 1961, while attempting to negotiate a ceasefire in the Congo, Hammarskjöld's plane crashed in Zambia, killing all on board. The reason for the crash is a mystery. Cold Case Hammarskjöld is more than just a true crime doc, however. It is part disturbing thriller, part eccentric comedy. Meanwhile, Brügger experiments with the conventions of documentary filmmaking.
African Apocalypse
Reaching across time, African Apocalypse takes us on a disturbing journey into the heart of darkness. Rob Lemkin's powerful documentary follows British-Nigerian poet and activist Femi Nylander as, inspired by Joseph Conrad's iconic novella, he embarks upon an emotional and spiritual journey to Niger.
Nylander is on the trail of a man who could well be one of the real-life sources for Conrad's Kurtz. That man is French Captain Paul Voulet. In 1898, he led a French military expedition to conquer the Chad Basin and unify all French territories in West Africa. 
Voulet's expedition, we discover, descended into horrific, senseless violence. The scale and depravity of his actions are hard to comprehend. Visiting the locations most affected by Voulet's genocidal mission, Nylander discovers that his devastating legacy is still felt today.
Click here to read more about African Apocalypse
Delia Derbyshire: The Myths And The Legendary Tapes
The impressive contributions of women in electronic music are all too often overlooked. Case in point - Delia Derbyshire. Experimenting with abstract sounds in the UK in the 1960s, Derbyshire was years ahead of her time. As a result, a feature length documentary about Derbyshire's life and impressive career is very welcome indeed. 
In Delia Derbyshire: The Myths And The Legendary Tapes, Caroline Catz (expanding on her documentary short of the same name) tells the composer's story via archive materials, interviews and dramatic recreations.
Click here to read more about Delia Derbyshire: The Myths And The Legendary Tapes
Whitney: Can I Be Me?
Whitney Houston was, of course, a global superstar, a legendary pop icon. She was the most awarded female artist in music history with one of the greatest voices of all time. However, despite making millions of dollars and garnering more consecutive number ones than The Beatles, she never felt free to be herself and, tragically, died at just 48 years old. 
Made with largely never-seen-before footage and exclusive live recordings, Whitney "Can I Be Me" tells Houston's incredible and poignant life story with insights from some of those closest to her.
Click here to read more about Whitney: Can I Be Me?