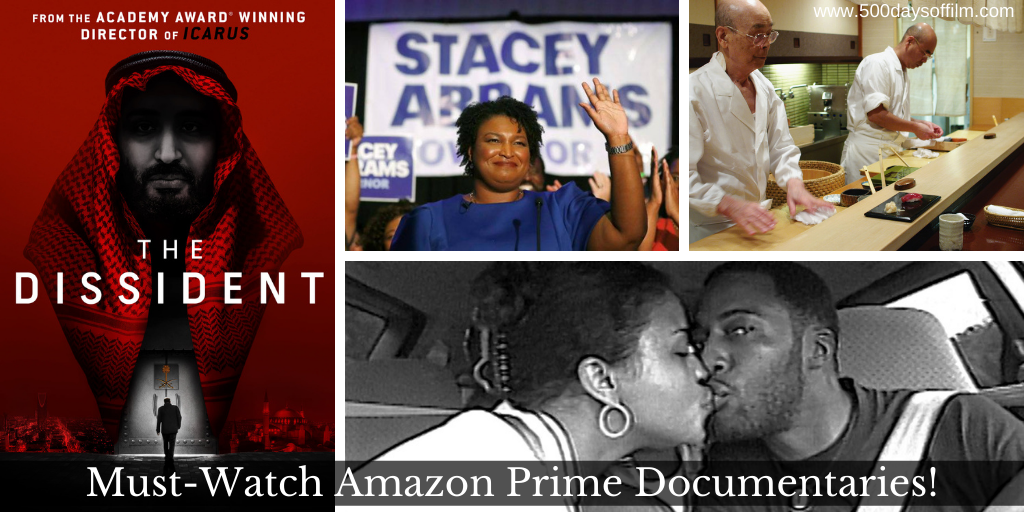 If you, like me, love watching documentaries, Amazon Prime has a lot to offer.
From powerful recent releases such as Time and The Dissident to slightly older classics such as Jiro Dreams Of Sushi, the streaming platform has an impressive selection of non fiction films.
To get your doc watch list started, here are 20 must watch documentaries available on Amazon Prime!
All In: The Fight for Democracy
All In: The Fight for Democracy reminds us of the importance - no matter where we live - of our right to vote. However, this right has not always been respected. Liz Garbus and Lisa Cortés' powerful documentary uses the story of Stacey Abrams, the former Minority Leader of the Georgia House of Representatives, as a recent, real world example of the dangers of such illicit and undemocratic activity. 
Amazing Grace
Amazing Grace is a stunning film that features footage from Aretha Franklin's performances at the New Temple Missionary Baptist Church in 1972. The combination of time and place, of the gospel songs selected and the sheer brilliance of Franklin, the musicians and the choir (superbly conducted by a scene stealing Alexander Hamilton) makes for a very special documentary indeed.
Capital in the Twenty-First Century
Based on the international bestseller by economist, Thomas Piketty, Justin Pemberton's documentary explores wealth, power and inequality in today's society
Citizen K
In Citizen K, director Alex Gibney looks at post-Soviet Russia from the perspective of Mikhail Khodorkovsky, a former oligarch turned political dissident.
City of Ghosts
City of Ghosts follows the journey of "Raqqa is Being Slaughtered Silently" - a small group of anonymous activists who banded together after their homeland was taken over by ISIS in 2014. 
Cryptopia: Bitcoin, Blockchains and the Future of the Internet
In 2015, Torsten Hoffmann made the documentary Bitcoin: The End of Money as We Know It. This film examined the history of money and looked at patterns of technological innovation to explain how Bitcoin actually works. Hoffmann returns to this topic in Cryptopia: Bitcoin, Blockchains and the Future of the Internet. Five years have passed and he wants to put some of the claims about cryptocurrency to the test.
Diego Maradona
Asif Kapadia's documentary examines the life of Diego Maradona using over 500 hours of never-before-seen footage.
The Dissident
The Dissident examines the death, life and legacy of Jamal Khashoggi, the prominent Saudi Arabian journalist who, on 2nd October 2018, was murdered after visiting his country's consulate in Istanbul, Turkey.
Finding Vivian Maier
Finding Vivian Maier tells the story of a mysterious nanny who secretly took over 100,000 photographs and then hid her work away in storage lockers. Decades later, the images were discovered and Maier became recognised as one of the 20th century's greatest photographers. 
Gleason
Weeks after being diagnosed with ALS, former New Orleans Saints star defensive back Steve Gleason learns that his wife Michel is pregnant with their first child. In Gleason, we meet a man determined to live his remaining years to their fullest.
Generation Wealth
Lauren Greenfield (The Kingmaker) examines the culture of wealth, the corruption of the American Dream and the very human cost of capitalism, narcissism and greed.
Halston
Roy Halston Frowick, known as Halston, was an American fashion designer who rose to international fame in the 1970s. In Frédéric Tcheng's stunning documentary we discover that Halston lived an American dream. Extremely talented, he dominated the fashion world and became a household name. However, all that changed when Halston took the biggest gamble of his life. 
Jiro Dreams Of Sushi
Jiro Dreams Of Sushi tells the story of 85-year-old Jiro Ono, considered by many to be the world's greatest sushi chef. Jiro's restaurant, Sukiyabashi Jiro, is located in a Tokyo subway station, has only ten seats and serves only sushi. Despite its humble appearance, Sukiyabashi Jiro was the first restaurant of its kind to be awarded a prestigious three-star Michelin Guide rating. Sushi lovers from around the world flock to Jiro's restaurant, making bookings months in advance and willing to pay any price to sample Jiro's masterful sushi collection.
K2: Siren Of The Himalayas
K2: Siren Of The Himalayas is both a fascinating account of how K2 was conquered and also a gripping exploration into why so many climbers feel compelled to climb this phenomenal mountain. 
My Name Is Pauli Murray
In My Name Is Pauli Murrat, Betsy West and Julie Cohen (the brilliant directors of RBG) introduce us to an incredibly (incredibly) influential figure who was ahead of their time.
Room 237
Room 237 examines some of the theories and hidden messages that may or may not exist in Stanley Kubrick's film, The Shining. The film also questions whether Kubrick's film is a mystery that needs to be solved or if people are just seeing what they want to see.
Searching For Sugar Man
Searching For Sugar Man is not just about the musician, Rodriguez. The film is also about his impact in South Africa and the amazing story behind the search for the truth about him. 
Time 
How can you visualise the passage of time? How can you convey the significance of five, ten, twenty years of life? Garrett Bradley answers this question in her stunning and powerful documentary, Time. The film tells the story of Fox Richardson, her husband Robert and their family as they cope with Robert's incarceration in Angola, Louisiana's State Penitentiary. In 1997, a lapse of judgement born out of financial desperation led Robert, his nephew, and Fox to commit armed bank robbery.
The Witness
James Solomon's directorial debut, The Witness, took an incredible 11 years to make. This is a powerful and deeply moving film that examines the impact of false reporting and follows a brother's determined effort to reclaim his sister's life from her infamous death.
Whitney
Kevin Macdonald's film, Whitney, both investigates Whitney Houston's self destruction - a disturbing journey that is both haunting and harrowing to watch - and also reminds us of the singer's astounding talent.