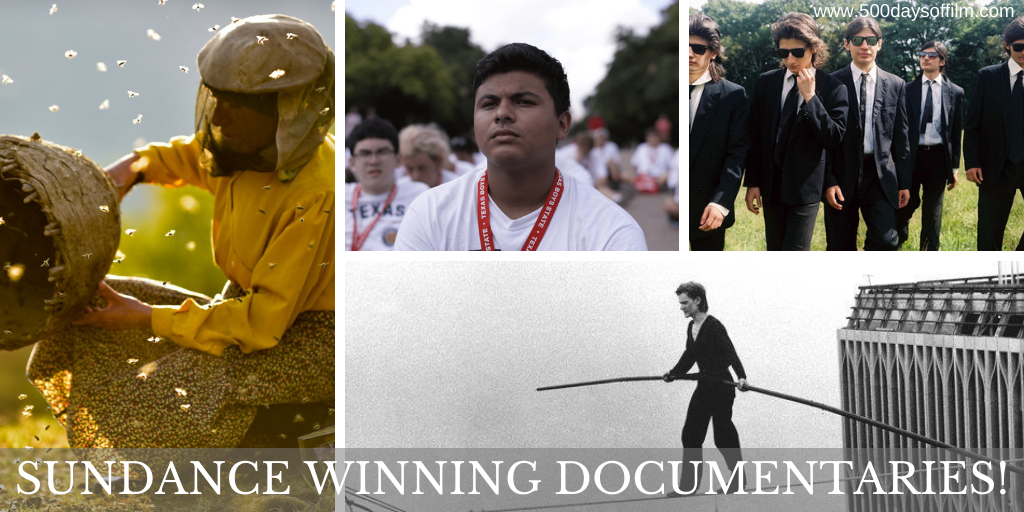 Year after year, Sundance Film Festival offers us a host of superb documentaries. This year is no different and I cannot wait to watch 2021's selection of non-fiction films. Meanwhile, I thought it would be interesting to look back at ten of the festival's documentary winners!
Boys State
Boys State begins with a rather ominous quotation from George Washington in 1796: "[Political] parties are likely to become potent engines by which cunning, ambitious and unprincipled men will be enabled to subvert the power of the people and to usurp for themselves the reins of government."
Sadly, a glance at global politics today proves the enduring relevance of Washington's statement. Trust in politicians is disintegrating, societal issues feel more divisive than ever, and inspirational leaders are few and far between. 
Documentarians, Jesse Moss and Amanda McBaine, were looking for a framework to explore this situation when they came upon Boys State. Sponsored by the American Legion, Boys State is a weeklong selective educational programme for US high school students, teaching them all about the business of government. 
Moss and McBaine were fascinated by Boys State (there is also a separate programme for girls). Could the next generation offer us an insight into the future of politics? The filmmakers decided to focus on the Boys State programme in Texas - charting the campaigns, the issues and the escalating tensions that arise within the boy's gubernatorial race. 
Honeyland
Honeyland started with one simple idea - to capture the life of Hatidze Muratova, a traditional beekeeper in the remote mountains of North Macedonia, and her elderly mother, Nazife. However, as often happens in the world of documentaries, Honeyland had its own stunning story to tell.
For directors Tamara Kotevska and Ljubo Stefanov, the catalyst for change was the arrival of an itinerant Turkish family and their herd of cattle. Setting up home next door to Hatidze's cottage, they disrupt her peaceful - if challenging - existence. What was once calm is now chaotic.
We fear for Hatidze and her ailing mother because, barely 15 minutes into Honeyland, we have already grown to care about them both. Possessing a magical quality (helped in no small part by its captivating score), Honeyland draws you in and immerses you in their environment and way of life.
It is fascinating to watch - not least because Honeyland's cinematography has epic sweep and is utterly breathtaking. However, there is also sadness here. This is a way of life that is dying. Hatidze is the last female wild beekeeper in Europe. 
One Child Nation
The very best documentary filmmakers are those able to blend personal stories with universal themes. Drawn in by intimacy, we find ourselves open - able to consider the impact of wider social issues.
This delicate balancing act is achieved in Nanfu Wang's superb documentary One Child Nation. This is a film that examines the extreme population control policy implemented in China in the early 1980s that made it illegal for couples to have more than one child.
What grips us and engages us, however, is Wang's experience of the policy having grown up in China, moved to the US and given birth to her first child. She shares her family's personal - and heartbreaking - stories and explores how this social experiment devastated lives.
It is startling to realise that, while China's one child policy ended in 2015, the healing process - dealing with the trauma of its heartless and inhumane enforcement - is only just beginning. Via emotional to-camera interviews, we see the conflict between the rights of the individual and what the Chinese people have been taught to accept is right for their country.
Weiner
With unprecedented access to Anthony Weiner, his family and his campaign team as they mount his New York City mayoral campaign, Weiner documents an impending political meltdown of epic proportions. 
The documentary begins by highlighting the unexpected comeback from the disgraced ex-congressman. However, events take a sharp turn when Weiner is forced to admit to new sexting allegations. 
The media soon descends - eager to tear him apart. Weiner tries desperately to move forward, but the unbearable pressure and crippling 24-hour news coverage halts his political aspirations dead in their tracks.
20 Feet From Stardom
You might recognise their voices but you may not know their names. 20 Feet From Stardom tells the remarkable story of the unsung backup singers behind some of the greatest musical legends of the 21st century.
This gripping film won the Oscar for best documentary in 2014 and it is easy to see why. The artists featured range in style, musical era and genre but all tell a fascinating and deeply personal story of a life spent in the shadows. 
Director, Morgan Neville, uses archive footage, a superb soundtrack, intimate interviews and wonderful testimonials from the likes of Bruce Springsteen, Stevie Wonder and Mick Jagger. However, he never loses sight of the real stars of his film - the backing singers. 
Searching For Sugarman
In the 1970s and 1980s most South African music collections featured an album called Cold Fact by an artist called Rodriguez.
Never heard of him? Neither had most people in the UK or in, indeed, the artist's home country of America. However, Rodriguez was hugely popular in South Africa - his heartfelt lyrics striking a chord in the country.
In the aftermath of Apartheid isolation, South African Rodriguez fans couldn't believe that their musical hero remained largely unknown elsewhere in the world - particularly in the light of stories about his tragic death.
One such fan, Stephen "Sugar" Segerman, decided to find out more about the elusive, mythical Rodriguez. Just who was he and how did he die?
Cartel Land
With truly breathtaking access, Matthew Heinemen's film, Cartel Land, follows two vigilante groups: Arizona Border Recon (AZBR) and Mexico's Autodefensas, who have decided to rise up against the drug cartels. They no longer believe in their government and feel that their only choice - for their own safety and for the safety of their country - is to take arms and fight back.
The Wolf Pack
All six of the Angulo brothers love movies and they love to reenact their favourite films - complete with props and costumes. Nothing odd there.
However, there is something disturbing about their love of film - this is the only way these young men have been able to experience the world outside their apartment on the Lower East Side of Manhattan. 
Since they were born, their father, Oscar, has kept them locked there isolated from a society that he distrusts and fears.
The Cove
In Taiji, Japan, local fishermen hide a gruesome secret: the capture and slaughter of dolphins. Activist Ric O'Barry, who trained dolphins for the Flipper television series, joins forces with filmmaker Louis Psihoyos and the Ocean Preservation Society to expose the brutal practice, risking life and limb in the process.
Man On Wire
On 7 August 1974, French high wire walker, Philippe Petit, fixed a wire between New York's World Trade Center towers in order to walk, run and dance between the two buildings  - 1,350 feet above the ground.  
Man On Wire, tells the story of how Petit and his team managed to plan, prepare and achieve this remarkable and frankly terrifying feat.