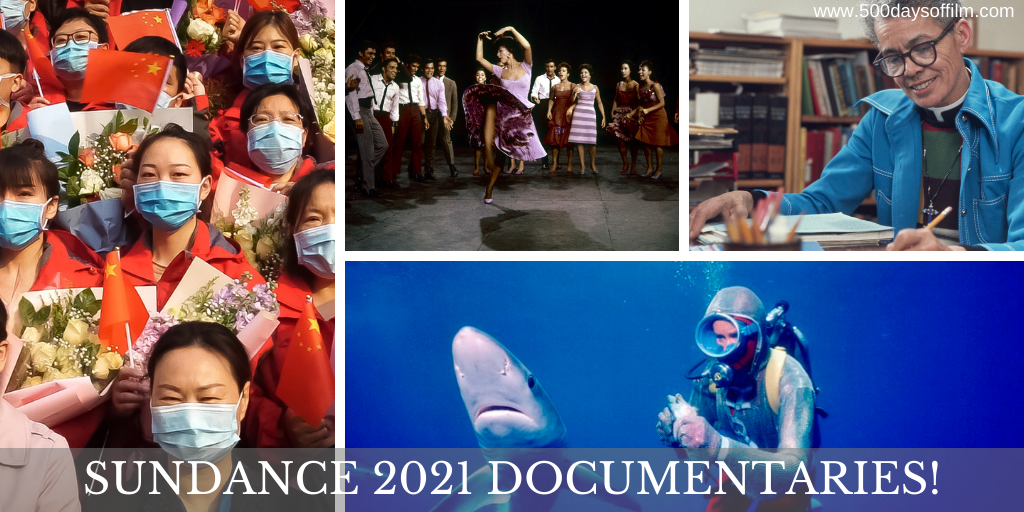 The Sundance Film Festival begins on 28th January this year. Running on its proprietary streaming platform until 3rd February, the event features a host of tantalizing new documentaries.
Here is a list of all the non-fiction films at Sundance 2021. Tickets or no, what are you looking forward to watching?
US DOCUMENTARY COMPETITION
Ailey 
Director: Jamila Wignot
Sundance Synopsis
Many know the name Alvin Ailey, but how many know the man? Ailey's commitment to searching for truth in movement resulted in pioneering and enduring choreography that centers on African American experiences. Director Jamila Wignot's resonant biography grants artful access to the elusive visionary who founded one of the world's most renowned dance companies, the Alvin Ailey American Dance Theater.
Wignot's approach shares Ailey's love of poetry. Where Ailey conveyed poetry through movement, Wignot crafts a visual poetry to evoke Ailey's memories. Archival footage, layered with audio recordings, expounds on Ailey's upbringing and establishes the language of his inspiration. 
Interviews with celebrated company dancers and distinguished choreographers give insight into Ailey's process and legacy, while the current company of dancers work to bring a tribute to life. Wignot's portrait is complex, capturing the talent and confidence of a man in the spotlight while also carving out space for Ailey's vulnerability. Wignot moves between the interior and exterior, the inhale and exhale, to capture Ailey's reverberating impact.
All Light, Everywhere 
Director: Theo Anthony
Sundance Synopsis
The "observer effect" is a term used in physics to describe the process in which the act of observation disturbs the system that's being observed. Humans are such observers—and we have our inherent limitations, biases, and blind spots that skew how we perceive and interpret. In his remarkable, kaleidoscopic essay film, Theo Anthony investigates the correlation between how we see things and the tools and practices involved in the act of seeing.
All Light, Everywhere directs our gaze to some fascinating, often surprising connections among technology, weapons, and mechanics of motion, as well as the effect of those factors on the ways in which we construct our realities. Without being prescriptive or didactic, Anthony skillfully points out how politicized the act of seeing is and just how flawed our framing methods can be. The supposedly more objective machines aren't quite the answer either, despite offering more detailed perspectives. They can be a reflection of power dynamics and biases too. So don't let anyone fool you
At the Ready 
Director: Maisie Crow
Sundance Synopsis 
Ten miles from the Mexican border, students at Horizon High School in El Paso, Texas, are enrolling in law enforcement classes and joining a unique after-school activity: the criminal justice club. Through mock-ups of drug raids and active-shooter takedowns, they inch closer to their desired careers in border patrol, policing, and customs enforcement. We follow Mexican American students Kassy and Cesar and recent graduate Cristina as they navigate the complications inherent in their chosen path and discover their choices may clash with the values and people they hold closest.
Through intimate access and a clear-sighted lens, director Maisie Crow takes us inside one of the largest policing education programs in the region, offering a rare portrait of Latinx adolescents grappling with their place within their communities. Unafraid of confronting the difficult questions that lurk at the intersection of identity, immigration, and personal politics, At the Ready asks: What is the price of pursuing dreams that have very real ramifications?
Cusp 
Directors: Parker Hill, Isabel Bethencourt
Sundance Synopsis 
Cusp chronicles one formative year of teenage life for three friends in a Texas town where there's little to do but party—and where liquor, drugs, and guns are standard recreational accessories. Followed through lazy hangouts, fast-food outings, and bonfire parties, Autumn, Brittney, and Aaloni allow directors Parker Hill and Isabel Bethencourt to observe intimate moments within their homes and social circles. The film's raw vérité approach creates a sensitive, multifaceted portrait of adolescent girlhood and the time and place in which these girls experience it.
As the girls open up about their pasts and explore their definitions of freedom and consent, Cusp illustrates how they rebel against or assimilate to societal expectations and toxic masculinity as a survival tactic. Though one subject proclaims "there is no normal in teenage years" and the girls outwardly assert their own helplessness, Autumn, Brittney, and Aaloni candidly give voice to the experiences of countless teenage girls. Cusp honors its subjects' trust with a powerful, evocative film that embodies the significance of their stories.
Homeroom 
Director: Peter Nicks
Sundance Synopsis
Oakland High School's class of 2020 confronts an unprecedented year. Anxiety over test scores and college applications gives way to uncertainty springing from a rapidly developing pandemic. Efforts to eliminate the school district's police force unfold against the backdrop of growing nationwide demands for systemic change. Emmy Award–winning director/cinematographer Peter Nicks (winner of the Directing Award: U.S. Documentary at the 2017 Sundance Film Festival) captures the resilient and defiant energy of this senior class in his final chapter in a trilogy of films examining the relationship between health care, criminal justice, and education in Oakland.
Homeroom immerses us in the lives of students trying to make the most of their final year in high school amidst a procession of blows. Nicks's trusted, attentive camera and overall vérité approach trace these emotional journeys in real time, while self-recorded social media videos root us in the students' authentic perspectives. The result is a revealing, outspoken coming-of-age story that taps into the collective experience of a nation in transition calling out for change.
Rebel Hearts 
Director: Pedro Kos 
Sundance Synopsis 
During the 1960s, a tight-knit group of progressive nuns in Hollywood discarded their habits and gleefully oversaw a radical women's college grounded in social activism. Spearheaded by sisters Anita Caspary, Helen Kelley, and Corita Kent (also a renowned pop artist), 
Immaculate Heart College ensured women received degrees at an unprecedented rate and crested a tidal wave of social change that engulfed the nation. But as the nuns marched on Selma and transformed the education system, they incurred the wrath of the archbishop of Los Angeles and, with him, the church's entrenched old guard.
With a mixture of defiance and joy, Rebel Hearts reveals one of the biggest religious showdowns of the twentieth century, which pitted a delightfully noncomforming group of feminist nuns against a powerful patriarchy insistent on female subservience. Pedro Kos's euphoric and essential documentary reveals a groundbreaking sisterhood that not only flipped the bird - politely - at the Catholic Church's brazen misogyny but, through their teachings, fundamentally reshaped American society.
Rita Moreno: Just a Girl Who Decided to Go For It 
Director: Mariem Pérez Riera
Sundance Synopsis 
Talented, energetic, and full of joy, Rita Moreno has been dazzling audiences for over 70 years. Whether showcased on television, film, or stage, her artistry transcends singing, dancing, and acting, as she continuously reinvents herself and pushes creative limits. Moreno is a pioneer and one of the most authentic performers of our time, and she has the EGOT status to prove it.
With intimate access to her subject, director Mariem Pérez Riera created a loving cinematic journey that details the life of a groundbreaking artist who truly embodies the American Dream. From her early years in Puerto Rico to her childhood as an immigrant in New York City to the racial bias she faced in the studio system, Moreno consistently broke down barriers, overcoming sexism and identity discrimination with pure integrity. Rita Moreno: Just a Girl Who Decided to Go For It is both a revelatory portrait and a celebration of a magnetic, intriguing woman whose courage is an inspiration to all.
Summer Of Soul (…Or, When The Revolution Could Not Be Televised) 
Director: Ahmir "Questlove" Thompson
Sundance Synopsis 
In 1969, during the same summer as Woodstock, a different music festival took place 100 miles away. More than 300,000 people attended the summer concert series known as the Harlem Cultural Festival. It was filmed, but after that summer, the footage sat in a basement for 50 years. It has never been seen. Until now.
Summer Of Soul is a stunning unearthed treasure destined to become a pillar of American music and African American history. In his striking debut as a filmmaker, the legendary musician Ahmir "Questlove" Thompson presents this transporting documentary - part concert film, part historical record - about an epic event that radiated the wholesale reevaluation of Black history, culture, fashion, and music. 
This rich tapestry deftly incorporates an unforgettable musical revue that includes many rare gems, such as a Stevie Wonder drum solo and a duet between Mahalia Jackson and Mavis Staples. Summer Of Soul  shines a light on the importance of history to our spiritual well-being and stands as a testament to the healing power of music.
Try Harder! 
Director: Debbie Lum
Sundance Synopsis 
At Lowell High School, the top public high school in San Francisco, the seniors are stressed out. As they prepare for the emotionally draining college application process, students are keenly aware of the intense competition for the few open spots in their dream colleges. They scrutinize how every element of their application, from their classes to their extracurricular activities to their racial identities, might be read by admission officers. 
At Lowell - where cool kids are nerds, nearly everyone has an amazing talent, and the majority of the student body is Asian American - the things that usually make a person stand out can feel not good enough, even commonplace.
With humor and heart, director Debbie Lum takes us to the reality of the American college application process and the intersection of class, race, and educational opportunity as experienced by high school seniors living through it. Try Harder! is a portrait of young adults in the most diverse American generation ever as they navigate a quintessential rite of passage and make it their own.
Users 
Director: Natalia Almada
Sundance Synopsis 
Acclaimed filmmaker Natalia Almada captures the ruthless locomotion of technology. Her camera flies with ferocious speed alongside jet streams, trains, trucks, and underwater cables that carry data at the speed of light. But just as her lens documents the power of frenetic human invention, so does it dive into technology's greatest existential competitor: rising oceans, crackling fires, scorched mountain tops - a planet at war with so-called societal progress. 
In the center of this storm, Almada's young son stares unquestioningly into his computer screen and is rocked to sleep by a seamlessly paced electronic crib. He's soothed by forces outside of Almada's - or, for that matter, any parent's - influence.
With transcendent camerawork that peers into the internal organs of a technologically dependent planet, Users both marvels at and fears for a world in which a child is not only at risk from a warming Earth but comes to trust a perfectly constructed artificial caretaker over his own biological mother.
WORLD CINEMA DOCUMENTARY COMPETITION
Faya Dayi 
Director, Screenwriter and Producer: Jessica Beshir
Sundance Synopsis 
Khat, a flowering plant with leaves that produce a stimulant effect when chewed, has been harvested in Ethiopia for centuries. With social significance in communities around the world, khat is a cash crop, sustaining so many who have worked in the fields for generations. 
However familiar the work is, some young people who have grown up in its shadow want more. They consider leaving home and all they have ever known for something new, faraway, and, while perhaps more economically beneficial, lonelier and more isolating.
In her debut documentary feature, Jessica Beshir takes us to a world of beauty and lyricism that must be seen to be truly experienced. A spiritual journey with mesmerizing photography that channels a khat-like high, Faya Dayi brings together the ethereal and the material, tying another plane of existence to the reality of this world, with its real people whose destiny is bound to their home, their land, and what it produces.
Flee 
Director: Jonas Poher Rasmussen 
Sundance Synopsis 
An Afghan refugee agrees to tell a remarkable personal narrative of persecution and escape on the condition that his identity not be revealed. As a means of fulfilling that wish, his filmmaker friend uses striking animation to not only protect this young man but also enhance his tale, bending time and memory to recount a visceral, poetic, and death-defying journey dictated by deception, loneliness, and a relentless will to survive.
The result is Flee, a film unbound by documentary constraints and swept up in an astonishing array of archive footage, '80s pop music, and hand-drawn craft that brings audiences directly into the experience of a teen fleeing multiple countries—and the psychological impact on how he loves, trusts, and understands his burgeoning identity. 
Jonas Poher Rasmussen's film is a triumph of storytelling and filmmaking ingenuity, but its greatest asset is the empathy and trust Rasmussen forms with the film's protagonist, whose clarity and vulnerability grant us access to a unique refugee tale.
Misha and the Wolves 
Director and Screenwriter: Sam Hobkinson
Sundance Synopsis 
A young orphaned girl survives the Holocaust by fleeing her home in search of her parents, escaping Nazis by sticking to the woods and living with wolves. Author Misha Defonseca's story is an incredible one, and not just because of the wolves. Her memoir took the world by storm, but fallout with her publisher-turned-detective exposes the shocking truth beneath Misha's deception. A real-life mystery unfolds, with a slate of characters individually revealing pieces of the puzzle in this stranger-than-fiction revelation.
Reenactments, interviews, and archival footage stylishly blend to tell a vivid story about truth, deception, and self-preservation in director Sam Hobkinson's engrossing film. Each peeled-back layer is met with surprise, prompting larger questions as the story twists and turns. 
Whom do we trust, and what motivates deception? Where does the line blur between victim and perpetrator? Hobkinson brings fresh understanding and perspective to a story that might sound familiar to some, while delivering a gripping plunge for anyone new to the saga of Misha and her wolves.
The Most Beautiful Boy in the World 
Directors: Kristina Lindström and Kristian Petri
Sundance Synopsis 
Björn Andrésen was 15 when he starred as Tadzio opposite Dirk Bogarde in Luchino Visconti's adaptation of Death in Venice. A year later, during the film's Cannes premiere, Visconti proclaimed Andrésen to be "the world's most beautiful boy." A comment that might have seemed flattering at the time became a burden that tainted Andrésen's life.
Through a fascinating mix of archival footage and contemporary interactions with Andrésen, co-directors Kristina Lindström and Kristian Petri explore the nature of overnight stardom and the objectification that sometimes comes with it. Andrésen, now in his 60s, bravely opens up about the irresponsible treatment he was subjected to and how the "curse of beauty" distorted his formative years. 
Being immortalized as an iconic boy meant that Andrésen spent most of his adult life trying to be invisible, refusing to have his identity shaped by a shallow fantasy about who he was. The Most Beautiful Boy in the World is a thoughtful and quietly devastating meditation on obsession, trauma, and the cost of fame.
Playing With Sharks 
Director and Screenwriter: Sally Aitken
Sundance Synopsis 
Most people aren't thrilled at the chance to be surrounded by a shiver of sharks, but Valerie Taylor isn't most people. A fearless diver, marine conservationist, and Australian icon, she dedicated most of her life to exploring the beauty of sharks—forming a sought-after underwater cinematography team with her husband, Ron, and even shooting the real sharks in Jaws. Director Sally Aitken captures Taylor's enduring passion for these intimidating creatures and her unflinching willingness to connect with them in their element.
Now in her 80s, Taylor reflects on her lifelong journey with the sea while sumptuous, remastered 16mm footage transports us to the mysterious deep and testifies to the richness of the ocean as it once was. Today, only a small percentage of sharks are left—a grim reality Taylor and her husband fought to avoid through their conservation efforts. Playing With Sharks is a zestful celebration of Taylor's life and a love letter to the wonder of misunderstood sharks. After all, as Taylor would say, they could just as well be dogs.
President
Director: Camilla Nielsson
Sundance Synopsis 
When Robert Mugabe was removed from power, Zimbabwe military leaders promised they would not seize control for themselves but would ensure democracy in a national election. Against a backdrop of economic crisis, food shortages, and political violence, the stakes could not be higher. Working to defeat the ruling party, the Zimbabwe African National Union–Patriotic Front (ZANU–PF), which has controlled Zimbabwe since independence, is the young and charismatic Nelson Chamisa and the opposition, the Movement for Democratic Change (MDC) Alliance. 
After decades of a corrupt group clinging to power using any tool available—legal or not—can a free, fair, and transparent election be truly possible?
Director Camilla Nielsson is in familiar territory with this follow-up to her wildly acclaimed documentary Democrats (2014), which followed  the political battle to establish Zimbabwe's first democratic constitution. Nielsson once again brings viewers into the heart of the struggle for power in a nation closely monitored by the entire world. President is a riveting and epic reminder that, while individuals and their specific ideals may differ, the fight for democracy is never-ending and universal. 
Sabaya
Director and Screenwriter: Hogir Hirori
Sundance Synopsis 
In August 2014, the Islamic State of Iraq and Syria (Daesh) attacked the ancestral homeland of the Yazidis, one of the oldest ethnic and religious minorities in Iraq. Among many atrocities Daesh committed was the abduction of thousands of women and girls, who were passed on as sex slaves (sabaya) among the jihadists. Five years after the attack, filmmaker Hogir Hirori takes us on an eye-opening journey that follows a group of volunteers from the Yazidi Home Center on their mission to save the women and children held by Daesh in the Al-Hol camp.
Led by Mahmud and Ziyad, these men and women volunteers tirelessly coordinate searches, infiltrate the camp, and plan rescue operations to bring back Yazidi victims. The ones they manage to free are traumatized and ashamed, fearing rejection by their community and families. The process of reinstating some sense of normalcy in their lives is only now beginning. Sabaya is a visceral, often petrifying journey that will keep you on the edge of your seat.
Taming the Garden
Director Salomé Jashi
Sundance Synopsis 
The opening shot of filmmaker Salomé Jashi's striking environmental tale captures a tree as tall as a 15-story building floating on a barge across the vast Black Sea. Its destination lies within a garden countless miles away, privately owned by a wealthy and anonymous man whose passion resides in the removal, and subsequent replanting, of foreign trees into his own man-made Eden.
With astonishing cinematic style,Taming the Garden tracks the surreal uprooting of ancient trees from their Georgian locales. With each removal, tensions flare between workers and villagers. Some see financial incentives - new roads, handsome fees - while others angrily mourn the loss of what was assumed an immovable monolith of their town's collective history and memory. 
With a steady and shrewdly observant eye, Jashi documents a single man's power over Earth's natural gardens: how majestic living artifacts of a country's identity can so effortlessly become uprooted by individuals with no connection to the nature they now claim as their own. 
Writing With Fire 
Directors and Producers: Rintu Thomas, Sushmit Ghosh
Sundance Synopsis 
You have probably never heard their names before. You might not be familiar with their news outlet, Khabar Lahariya, India's only all-female news network. Yet the women we meet in Writing With Fire are some of the most inspiring and fearless reporters you will ever encounter.
In their feature debut, directors Rintu Thomas and Sushmit Ghosh follow this ambitious group of Dalit wonder women - led by their chief reporter, Meera - as the team switches from print to digital in order to stay relevant. 
Armed with smartphones and the courage and conviction one must be born with, they investigate the incompetence of the local police force, listen to and stand by victims of caste and gender violence, and challenge long-standing, harmful practices that lead to injustice and intimidation. 
Thanks to the directors' intimate yet respectful lens, we witness these rural reporters' awe-inspiring efforts to dismantle patriarchy and redefine traditional notions of power. Writing With Fire is an electrifying reminder to never underestimate the strength of a woman who's had enough.
PREMIERES
Amy Tan: Unintended Memoir 
Director: James Redford
Sundance Synopsis 
Literary titan Amy Tan analyzes her life, her work, and her family - in the present and past tense - in this longitudinal biopic directed by James Redford. As Tan traces her childhood through The Joy Luck Club and her later compositions, she dissects issues of representation, multigenerational trauma, and the stigma and challenge of illness. 
Forcefully matrilineal in focus, this film moves through generations of Tan's family, revealing listening as the heart of Tan's creative practice and contextualizing the patience with which Tan broke through barriers and waited on the other side, welcoming the world to join her.
This, the late James Redford's final film, epitomizes his filmmaking talent, treading with great empathy into the life story of another and leaving telltale signs of a directorial vision both crystalline and warm. Perfectly implementing the generative listening Tan highlights so deliberately, Redford is responsive and engaged in this dimensional portrait of one of the most important writers in contemporary fiction.
Bring Your Own Brigade 
Director and Screenwriter: Lucy Walker
Sundance Synopsis 
Raging, out-of-control wildfires have become part of the new normal around the globe, leaving heartbreaking devastation and death in their wake. In California, this harsh reality was underscored on November 8, 2018, when several parts of the state were ablaze - the Camp Fire destroying most of the Northern California town of Paradise and the Woolsey Fire roaring through Malibu in the south. In the aftermath, residents face unthinkable loss. As they struggle to rebuild, they debate what could be done to prevent further tragedy.
Filmmaker Lucy Walker (The Crash Reel, 2013 Sundance Film Festival) wonders if it has to be this way. She digs into the surprising history and complex range of causes of uncontrolled fires - from climate change and ill-considered fire suppression policies to the influence of wealthy corporate interests. Her film reveals how responsibility continually gets shifted, with ordinary people left suffering the dangerous consequences. Bring Your Own Brigade cogently exposes our out-of-balance relationship with nature and explores what it will take to restore this delicate equilibrium.
In The Same Breath 
Director: Nanfu Wang
Sundance Synopsis 
Acclaimed filmmaker Nanfu Wang navigates the origin and spread of COVID-19 from Wuhan to the United States through a lens both personal and geopolitical in scale. The result is a wrenching, wide-reaching documentary that contextualizes the trauma experienced by health-care workers and the families of loved ones lost. 
At the same time, the documentary probes President Xi Jinping's and President Donald Trump's eerily similar responses to the pandemic: Both men spread disinformation and sowed mass confusion during the most critical moments of the pandemic.
By detailing scores of firsthand Chinese and Americans interviews, Wang methodically builds a devastating indictment of leadership's response to the pandemic, pointing to an unprecedented level of deception and ineptitude from the highest levels of government. The result is a tragedy born out of a rapid domino effect of cover-ups, mismanagement, and lies. Despite the infuriating revelations this film lays bare, its lasting power rests in the stories of individuals who risked everything for others—and for the truth.
My Name Is Pauli Murray 
Directors: Betsy West, Julie Cohen
Sundance Synopsis 
It's not often we're introduced to a true luminary, and Pauli Murray was just that—as well as a lawyer, Black activist, feminist, poet, and priest. Murray questioned systems of oppression and conformity throughout the mid-twentieth century, with a radical vision consistently ahead of the times. Murray's trailblazing legal foresight influenced landmark civil rights decisions and gender equality legislation that transformed our world.
Directors Betsy West and Julie Cohen (RBG, 2018 Sundance Film Festival) return to Sundance with an illuminating portrait of an inspiring leader. Murray's writings, photographs, and audio recordings, along with newly discovered footage and interviews, interlace to tell the story of a pioneer with a tenacious spirit. 
West and Cohen balance numerous professional accomplishments with a window into Murray's full and complex private life. Murray's personal letters reveal years of grappling with and resisting gender categories, affectionate exchanges with loved ones, and confident and resolute demands for justice. Pauli Murray has a legacy far-reaching and deep. This is a name you won't soon forget.
Philly D.A.
Created By: Ted Passon, Yoni Brook, Nicole Salazar
Sundance Synopsis 
For 30 years, civil rights attorney Larry Krasner called out policies that caused Philadelphia to become one of the major cities in America with the most incarcerations. More than 75 times, he sued police officers who perpetuated corruption and brutality.  
This made him an unlikely candidate for district attorney, but in 2017 he launched an election campaign that promised to reform the system. Passionate in his beliefs, and buoyed by activists committed to ending mass incarceration, Krasner set out to revolutionize his city's criminal justice system from the inside.
Directors Ted Passon and Yoni Brook rigorously bring to life the people impacted and incensed by the failings of the system, as well as those fighting to maintain the status quo. Tracking an election with shocking turns and a first term full of unprecedented moves, Passon and Brook smartly keep Krasner as their fulcrum. But after establishing a truly radical platform, Philly D.A. asks, can this controversial figure actually implement meaningful change? 
The Sparks Brothers 
Director: Edgar Wright
Sundance Synopsis 
Sparks is your favorite band's favorite band, and soon to be yours too. Whether or not you're aware of it, Sparks likely had a hand in something you're fond of. This is a band that has been in the background of almost every art form across the last 50 years. Growing up in the '60s, Los Angeles brothers Ron and Russell got by on a heavy diet of popcorn matinees and pop music until the spotlight of school talent shows illuminated their way on a musical journey that has so far spawned 25 studio albums.
It should come as no surprise to those familiar with the mind behind such comedies as Baby Driver that Edgar Wright's debut documentary, The Sparks Brothers, is an absolute delight. Wright's spirited vision brings five decades of invention to life through nutty animations and interviews with a who's who of cool, and by digging deeply into the band's rich, career-spanning archival. With tongue planted firmly in cheek, this charming love letter to innovation, music, and two rebel artists just might make this the biggest year yet for the brothers named Sparks.
Street Gang: How We Got To Sesame Street 
Director: Marilyn Agrelo
Sundance Synopsis 
"Can you tell me how to get, how to get to Sesame Street?"  Based on Michael Davis's best-selling book of the same name, Marilyn Agrelo's film Street Gang explores how creator Joan Ganz Cooney, original series director Jon Stone, and legendary Muppets creator Jim Henson - among other key talents - joined forces to create a children's television show that would become a groundbreaking cultural phenomenon. 
Recognizing that kids were utterly captivated by television, these visionaries set out to harness the power of the medium for good - to offer learning rather than products to children. More than 50 years later, the show reaches over 150 countries around the world, continuing to entertain while it educates. 
Drawing on fantastic and funny behind-the-scenes footage and interviews with beloved cast members and crew, the film goes beyond the considerable nostalgic appeal of Sesame Street to tap into the enduring emotional resonance of the program's core message of affirmation and inclusion - and the promise of preparing the next generation to imagine a better world for us all.
MIDNIGHT
A Glitch in the Matrix 
Director: Rodney Ascher
Sundance Synopsis 
Rodney Ascher (Room 237, 2012 Sundance Film Festival) returns to the Festival with this fascinating and visually stimulating documentary examining simulation theory - the idea that this world we live in might not be entirely real. Simulation theory is as old as Plato's Republic and as current as Elon Musk's Twitter feed. 
A Glitch in the Matrix traces the idea's genesis over the years, from philosophical engagements by the ancient Greeks to modern explorations by Philip K. Dick, the Wachowskis, and leading scholars, game theorists, and enthusiasts. Ascher deftly parallels conversations with people who believe we're living in a computer with the purely digital nature of the film itself; all interviews were conducted via Skype, all reenactments were digitally animated, and archives are largely drawn from '90s-era cyber thrillers and video games. 
The allure of narratives about dominating forces controlling our lives resonates powerfully with life on Earth. Amidst advancing waves of technology within today's sophisticated digital culture, A Glitch in the Matrix explores the scientific possibility of simulation theory while interrogating it as a symptom of twenty-first century existential crises.
SPECIAL SCREENING
Life in a Day 2020 
Director: Kevin Macdonald
Sundance Synopsis 
Ten years after the 2011 Sundance Film Festival premiere of Life in a Day, award-winning director Kevin Macdonald returns to Sundance to present the story of another day on Earth: July 25, 2020. 
Following the concept of the original, Life in a Day 2020 is an extremely ambitious crowdsourced documentary, this one compiled from 15,000 hours of footage submitted from 192 countries and made in collaboration with YouTube and Ridley Scott's RSA Films.
Social interaction was a tricky thing in 2020. In-person experiences were deemed unsafe, so we had to find new ways to gather and to stay connected. And this is exactly what Life in a Day 2020, an extraordinary collective effort, does: It unites individuals from around the world and creates a feeling of connectivity, a sense of belonging. 
Macdonald masterfully combines seemingly unrelated snapshots into beautiful stories - stories of love, loss, struggle, parenthood, and everything in between. It's a very special "action" movie, a reminder that there's real beauty in our everyday lives, even though it might not always seem that way.