500 Days Of Film Reviews The Top 10 Best Romantic Films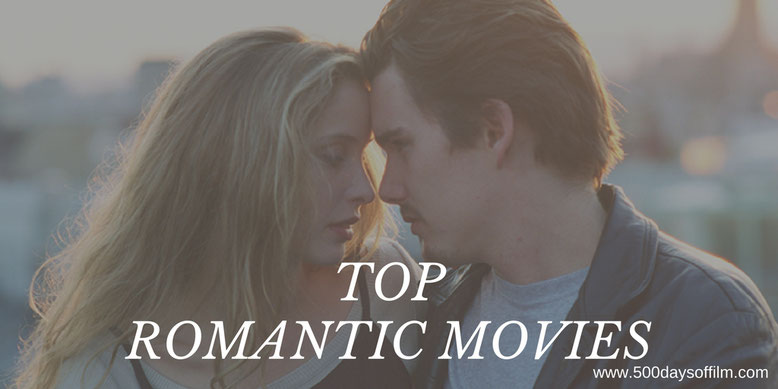 It is around this time every year that I start thinking about the best romantic movies that I have watched over the past 12 months. I know that Valentine's Day has become overly commercial, but it does serve to remind me of the cinematic love stories that I adore.
In this article, I list my top five favourite recent film romances. I then go on to list my top five cinematic love stories of all time.
Top 5 Recent Romances
5. The Big Sick
Pakistan-born aspiring comedian, Kumail (Nanjiani), connects with grad student Emily (Zoe Kazan) after one of his stand-up sets. However, what they thought would be just a one-night stand blossoms into the real thing, which complicates the life that is expected of Kumail by his traditional Muslim parents. 
When Emily is beset with a mystery illness, Kumail has to navigate the medical crisis with her parents, Beth and Terry (Holly Hunter and Ray Romano), while dealing with the emotional tug-of-war between family obligations and his heart.
Click Here To Read My Full Review
4. God's Own Country
Johnny Saxby (Josh O'Connor) works long hours on his family's remote farm in the north of England. He numbs the daily frustration of his lonely existence with nightly binge-drinking at the local pub and casual sex. 
However, when a handsome Romanian migrant worker, Gheorghe Ionescu (Alec Secareanu), arrives to take up temporary work on the family farm, Johnny suddenly finds himself having to deal with emotions he has never felt before. As they begin working closely together during lambing season, an intense relationship starts to form which could change Johnny's life forever. 
Click Here To Read My Full Review
3. Film Stars Don't Die In Liverpool
Film Stars Don't Die In Liverpool follows the passionate relationship between aspiring actor, Peter Turner (Jamie Bell), and Academy Award-winning actress, Gloria Grahame (Annette Bening). 
What begins as a vibrant affair between a legendary femme fatale and her young lover, quickly grows into a deeper relationship, with Turner being the person Gloria turns to in her hour of greatest need.
2. Call Me By Your Name
During the summer of 1983 in the north of Italy, Elio Perlman (Timothée Chalamet), a precocious 17-year old American-Italian boy, spends lazy days in his family's 17th century villa transcribing and playing classical music, reading and flirting with his friend Marzia (Esther Garrel). 
However, Elio's summer is transformed by the appearance of Oliver (Armie Hammer), a charming American scholar who arrives to assist Elio's father (Michael Stuhlbarg) with his work. Elio and Oliver soon discover the beauty of awakening desire over the course of a summer that will change their lives forever.
1. The Shape Of Water
In 1962 during America's Cold War era, Elisa (Sally Hawkins) works as a cleaner in a high-security government laboratory. Trapped in a life of isolation, Elisa's world is changed forever when she and co-worker Zelda (Octavia Spencer) discover a classified government 'asset'. 
Top 5 Classic Movie Love Stories
5. The Princess Bride
A young boy (Fred Savage) is ill in bed when his grandfather (Peter Falk) visits and begins to read him a story - a story called The Princess Bride. Initially suspicious that this is just a boring "kissing" book, the boy is soon gripped by the truly exciting adventure that lies within its pages.
Click Here To Find Out Why I Love The Princess Bride!
4. Roman Holiday
While on a royal visit to Rome, Princess Ann (Audrey Hepburn) escapes her stifling life of duty to spend a liberating few hours with reporter, Joe Bradley (Gregory Peck). Roman Holiday is, of course, an absolute classic and wonderfully romantic film.
3. Casablanca
Featuring the ultimate love triangle, Casablanca is an iconic film and an absolute joy to watch. Set in Casablanca, at the beginning of World War 2, Rick Blaine (Humphrey Bogart) runs a popular nightclub. His world is rocked by the arrival of past love, Ilsa (Ingrid Bergman). Can he forgive her for what happened in Paris?
2. When Harry Met Sally
When Harry Met Sally is one of my all time favourite movies. I have watched this film hundreds of times in many formats (I still love my VHS copy). I simply adore this movie. Who could resist Harry's last speech: "When you realize you want to spend the rest of your life with somebody, you want the rest of your life to start as soon as possible"?
Click Here For More On Why I Adore When Harry Met Sally!
1. The Before Trilogy
I love Richard Linklater's Before Trilogy. My favourite of the three movies is the first in the series - Before Sunrise - which begins with a chance meeting on board a train. The Before Trilogy films are smart, authentic, charming and wonderfully romantic. More than enough to melt the most cynical of hearts.
Click Here To Find Out More About The Before Trilogy 
What Is Your Favourite Romantic Movie?
What do you think of my two lists of romantic films? What movies would you add?
Do let me know! Leave me a comment in the section below!