500 Days Of Film Reviews If Beale Street Could Talk Starring KiKi Layne, Stephan James, Regina King And Colman Domingo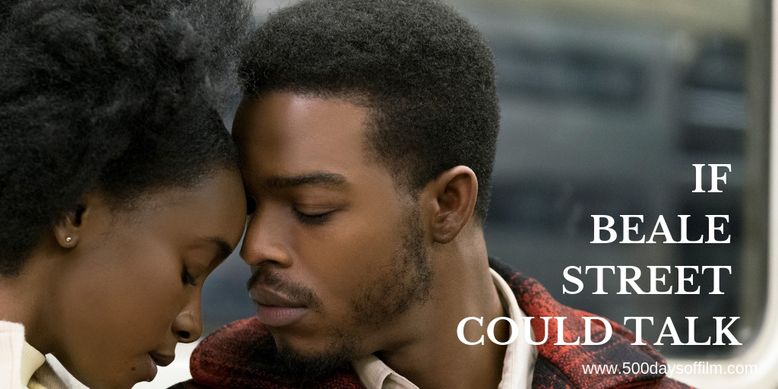 In early 1970's Harlem, Tish (KiKi Layne), a nineteen-year old girl, is in love with a young sculptor, Fonny (Stephan James), the father of her unborn child. When Fonny is falsely accused of rape and imprisoned, Tish and their families race to clear his name before the baby is born. 
Is It Any Good?
How do you follow a film like Moonlight? Well, if you are director Barry Jenkins you adapt James Baldwin's novel, If Beale Street Could Talk, and create another hauntingly beautiful, poignant and heartbreaking film.
While the events that take place are set in early 1970s New York, the themes in If Beale Street Could Talk feel uncomfortably relevant today. The film explores racism and the complex issues surrounding the (often nightmarish) state of the US justice system.
However, If Beale Street Could Talk is not an "issues" driven movie. More than anything, this is a film about the enduring power of love, family and community.
I was utterly swept away by Tish and Fonny's relationship. Despite knowing from the start that something terrible was going to happen (the film moves backwards and forwards through time), Jenkins infuses his story with moments of joy, humour and passion.
If Beale Street Could Talk's many emotional moments are superbly portrayed by the film's brilliant cast. Everyone is impressive but, for me, the stand out performances belong to Regina King and KiKi Lane. 
King is truly wonderful as Tish's mother, Sharon Rivers. Her unconditional love for her daughter is extremely moving to watch - especially when events in the story take a desperate turn.
Meanwhile, Layne is utterly mesmerising as Tish. This is her story and she tells it beautifully. Event by intimate event, we understand both how Tish and Fonny fell in love and also the circumstances which threaten to tear them apart.
Tish is an endearing and engaging character - both intensely vulnerable and incredibly strong. In this her breakout performance, Layne is a revelation. We sense so much of what she is experiencing via the expressions on her face - this is performance so powerful that there are no need for words.
Like Moonlight, If Beale Street Could Talk has a deeply poetic heart. Jenkins peppers his film with dream-like moments and lingering close-up shots. Also like Moonlight, colour plays a significant role in the film's costumes and production design. 
If Beale Street Could Talk is dominated by shades of yellow - with attendant accents of green, blue and red. The overall effect may not be subtle, but it certainly is visually stunning.
Meanwhile, If Beale Street Could Talk boasts a powerful and wonderfully atmospheric score and soundscape. The songs that punctuate Tish and Fonny's relationship form a perfect (and moving) accompaniment to their story.
Jenkins also makes use of a symphony of background noise, which adds much to his film's ambience. At times you are barely aware of this sound, until it gets progressively louder and more insistent - matching If Beale Street Could Talk's tension and mood. 
It feels unfair and rather reductive (although, perhaps, inevitable) to compare Moonlight with If Beale Street Could Talk. What is of more relevance is that Jenkins has proven himself once again to be a superb and exciting director. 
As I sat watching this movie, I realised that this is exactly why I go to the cinema. If Beale Street Could Talk is a beautiful, profound and important film - one to treasure.
Random Observations
This adaptation of James Baldwin's novel, If Beale Street Could Talk, is the first English-language feature film based on the work of the author, to whom the movie is dedicated.
Fonny's experience of the US justice system brought another film to mind - Ava DuVerney's brilliant documentary, 13th. Indeed, these two films would make a superb double-bill.
Have you seen If Beale Street Could Talk?
If you have, what did you think of Barry Jenkins's movie? Let me know in the comments section below or via Twitter. You can find me @500DaysOfFilm.