500 Days Of Film Reviews 2017's Best Dramas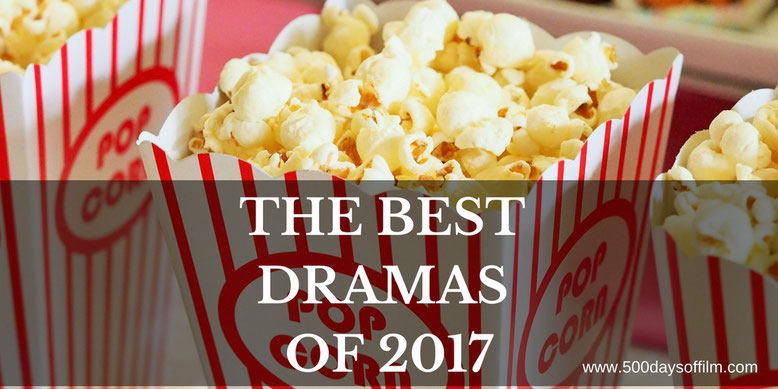 There have been some superb dramas on our big screens this year. Here is my top ten...
10. Manchester By Sea
Synopsis: 
After the sudden death of his older brother Joe (Kyle Chandler), solitary janitor Lee Chandler (Casey Affleck) returns home to Manchester-by-the-Sea. He is shocked to find that Joe has made him the sole guardian of his 16 year old nephew Patrick (Lucas Hedges). 
Back in the community where he was born and raised, Lee reconnects with his ex-wife, Randi (Michelle Williams), and finds himself haunted by the demons of his past. 
What I Said:
Manchester By The Sea is a poignant, melancholic drama from writer/director Kenneth Lonergan. Featuring a truly superb performance from Casey Affleck, the film explores the impact of tragedy, loss and grief. 
9. Certain Women
Synopsis: 
Certain Women follows four women striving to forge their own paths amidst the wide-open plains of the American Northwest: a lawyer (Laura Dern) contending with office sexism and a hostage situation; a wife and mother (Michelle Williams) whose determination to build her dream home puts her at odds with the men in her life; and a young law student (Kristen Stewart) who forms an ambiguous bond with a lonely ranch hand (Lily Gladstone). 
What I Said:
Like Reichardt's previous films (I particularly love Wendy and Lucy), the action is muted and events move slowly. However, Certain Women's unhurried pace belies its power - for in these moments lie many compelling, intimate and insightful observations.  
8. The Levelling
Synopsis: 
After the sudden death of her brother Henry (Joe Blakemore), trainee veterinarian Clover (Ellie Kendrick) returns to her family's farm in Somerset. She is shocked at what she finds - her home is in a state of horrendous disrepair following 2014's devastating floods.  
Reeling from the tragedy, Clover has to face her estranged father, Aubrey (David Troughton), and confront him about the farm, the livestock and, crucially, the details surrounding Henry's violent death.  
What I Said:
The Levelling is a stunning film of quiet power - a film where every word matters and silence speaks volumes. 
7. Personal Shopper
Synopsis: 
By day, Maureen (Kristen Stewart) works as a personal shopper, biking around Paris buying exquisite couture for her jet-setting celebrity client. However, by night, she attempts to channel the spirits of the dead, hoping to make contact with her recently deceased twin brother. 
When Maureen begins receiving a series of chilling text messages, it seems she may have made contact - but with whom? And what do they want? 
What I Said:
Personal Shopper is a gripping, atmospheric film that both plays with and subverts genre. Olivier Assayas' film is a horror movie, a Hitchcockian psychological thriller and an intimate, emotional drama. Thanks to his brilliant direction and a superb central performance from Kristen Stewart, Personal Shopper creates an intriguing blend of tropes and themes. 
6. A Ghost Story
Synopsis: 
Recently deceased and now a white-sheeted ghost, C (Casey Affleck) returns home to his grieving wife M (Rooney Mara) only to find that, in this spectral state, he has become unstuck in time. Watching passively as his life and the woman he loves slowly slip away, C desperately searches for the meaning of his existence. 
What I Said:
This is a film that ponders the big questions of life, legacy and our quest for meaning and (impressively) does so with humility and humour. This is a film that provokes and challenges. This is a film that will (if you let it) get under your skin.
5. The Florida Project
Synopsis: 
Just outside the imagined utopia of Disney World, six-year-old Moonee (Brooklynn Prince) and her rebellious mother Halley (Bria Vinaite) live at "The Magic Castle," a budget motel managed by Bobby (Willem Dafoe), whose stern exterior hides a deep reservoir of kindness and compassion.
Moonee is precocious and ebullient - finding the fun (and mischief) in each day along with her ragtag group of friends. However, unbeknownst to Moonee, her way of life is under threat as Halley is forced to explore increasingly dangerous possibilities in order to provide for her daughter. 
What I Said:
Some movies have the power to steal our hearts. It is hard to put a finger on how or why. They just possess something special and their storytelling - both in front and behind the camera - is able to engage us on a deeply emotional level. 
The Florida Project is one of these movies. 
4. Heal The Living
Synopsis: 
It all starts at daybreak as three young surfers take to the seas. A few hours later, on the way home, a terrible accident occurs and 17 year old Simon (Gabin Verdet) is left hooked up to life-support machines in a hospital in Le Havre.
Meanwhile, in Paris, a woman awaits the organ transplant that will give her a new lease on life. 
What I Said:
Heal The Living is a stunning film about life and death, hope and loss. I loved it - even as it moved me to tears.
3. Call Me By Your Name
Synopsis: 
During the summer of 1983 in the north of Italy, Elio Perlman (Timothée Chalamet), a precocious 17-year old American-Italian boy, spends lazy days in his family's 17th century villa transcribing and playing classical music, reading and flirting with his friend Marzia (Esther Garrel). 
However, Elio's summer is transformed by the appearance of Oliver (Armie Hammer), a charming American scholar who arrives to assist Elio's father (Michael Stuhlbarg) with his work. Elio and Oliver soon discover the beauty of awakening desire over the course of a summer that will change their lives forever. 
What I Said:
Truly great cinema is transcendent - able to take us to another place or another time. Luca Guadagnino's beautiful film, Call Me By Your Name, does both. We are transported to the stunning landscape of Northern Italy and also to the intoxicating emotional landscape of first love. 
2. Good Time
Synopsis: 
After a botched bank robbery lands his younger brother in prison, Constantine "Connie"
Nikas (Robert Pattinson) embarks on a twisted odyssey through the city's underworld in an
increasingly desperate and dangerous attempt to get his brother Nick (Benny Safdie) out of jail. Over the course of one adrenalised night, Connie finds himself racing against the clock to save his brother and himself, knowing both their lives hang in the balance. 
What I Said:
Good Time is a thrilling and exciting ride. However, what has stayed with me is the desperation that lies at the heart of this film. The dreams that inspire Connie to pursue a life of crime (and the inevitable consequences that follow) are powerful and thought-provoking.  
1. Moonlight
Synopsis: 
Chiron (Alex Hibbert) is a young boy growing up in a rough neighborhood of Miami. Bullied at school and neglected at home, he seeks the refuge offered by local drug dealer, Juan (Mahershala Ali) and his partner, Teresa (Janelle Monáe).  
However, this respite cannot protect him from the pain in his life. Alienated by a sexuality that marks him out as being different, teenage Chiron (Ashton Sanders) finds himself on the brink between love and violence, acceptance and suppression.
Adulthood brings no easy answers for Chiron (Trevante Rhodes). His new, tougher exterior hides an overwhelming vulnerability as he faces another heartbreaking choice. 
What I Said:
Beautifully shot and featuring a host of powerful performances, Moonlight is a deeply intimate story with undeniably universal themes. Based on director Barry Jenkins' own experiences and inspired by Tarell Alvin McCraney's play, In Moonlight Black Boys Look Blue, Chiron's journey feels like an important tale for our times.
What Is Your Favourite Drama Of 2017?
What was your favourite drama of 2017? Is it on this list? What would you add?
Let me know in the comments section below or via Facebook or Twitter (@500DaysOfFilm).