500 Days Of Film Reviews Thriller, Good Time, Starring Robert Pattinson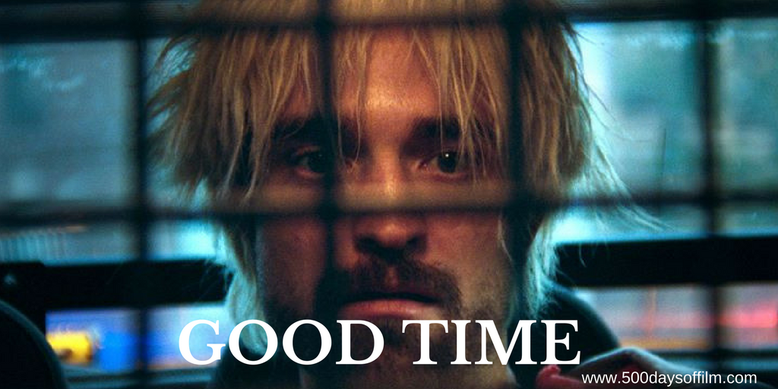 After a botched bank robbery lands his younger brother in prison, Constantine "Connie"
Nikas (Robert Pattinson) embarks on a twisted odyssey through the city's underworld in an
increasingly desperate and dangerous attempt to get his brother Nick (Benny Safdie)
out of jail. Over the course of one adrenalised night, Connie finds himself racing against
the clock to save his brother and himself, knowing both their lives hang in the balance. 
Is It Any Good?
Anchored by a superb and compelling performance from Robert Pattinson, Good Time is a frenetic urban thriller that explores brotherhood, morality and the spiralling consequences facing those involved in low level crime.
Directors Benny and Josh Safdie have created a cautionary tale of desperation on the streets of Queens. A story that is propelled by one chaotic almost feverish event after another - all accompanied by an insistent, obtrusive electronic score. 
The intensity and urgency of Good Time may well prove unpalatable for some audiences. However, those willing to succumb to the opera (as the Safdie brothers call it) on these mean streets will find a gripping, often funny story with depth and insight.
The buzz surrounding Good Time has largely focused on Robert Pattinson's performance. Rightly so - he is brilliant as Connie. However, this really shouldn't come as any surprise. Pattinson has been pushing himself for years - pursuing ever more varied and challenging roles. His ability and potential are no longer in question.
Still, this remains an impressive performance of note. While Connie is often amoral and at times unlikeable, Pattinson reveals his inner vulnerability, making us root for a character that, in lesser hands, could have felt derivative and one dimensional.
Connie's dream is to escape his life and to rescue his brother. Of course, as big as his dreams are, his crime is poorly (and messily) executed. In trying to clean up this mess, he turns to Jennifer Jason Leigh's Corey. I really enjoyed her performance - indeed, I would have loved more from this character.
Immersive
Alongside its impressive cast, the streets of Queens (a place where the Safdies spent much of their youth) play a central role in Good Time. Cinematographer, Sean Price Williams, worked with the brothers to create a film with an immersive and evocative sense of place - an atmosphere full of energy and chaos.
Indeed, chaos reigned both in front and behind the camera. The Safdies often adopted a 'guerrilla' directing style - at times hastily rewriting dialogue and shooting street scenes without permits.
Good Time is a thrilling and exciting ride. However, what has stayed with me is the desperation that lies at the heart of this film. The dreams that inspire Connie to pursue a life of crime (and the inevitable consequences that follow) are powerful and thought-provoking. 
Random Observations
Robert Pattinson became aware of the Safdies' style and vision after viewing a single promotional still from their film Heaven Knows What. The actor then reached out to the brothers. "Rob told me over the phone, whatever you're working on next, I want to be involved," Josh Safdie explains. "Wherever we wanted to take him, he said he would go there." The brothers set about developing a story with Pattinson in mind.
The Safdies wanted a modern electronic-based score for Good Time that
recalled aspects of British prog-rocker Steve Hillage, the late Japanese analog-synth
composer Isao Tomita (who contributed music to Heaven Knows What) and
Tangerine Dream, whose score from William Friedkin's Sorcerer has been a favourite
since the filmmakers were young. For this, they turned to Brooklyn-based experimental music and film score composer Daniel Lopatin.
Lopatin recorded a song with rock legend Iggy Pop, who composed lyrics based on
his response to footage from the movie, which he watched without any input from the Safdies. This resulted in the song, "The Pure and the Damned", playing out in the movie's final scene.
Have you seen Good Time?
If you have, what did you think of this film? Let me know in the comments section below or via Facebook or Twitter (@500DaysOfFilm).