500 Days Of Film Reviews The Florida Project Starring Willem Dafoe, Brooklynn Prince, Valeria Cotto And Bria Vinaite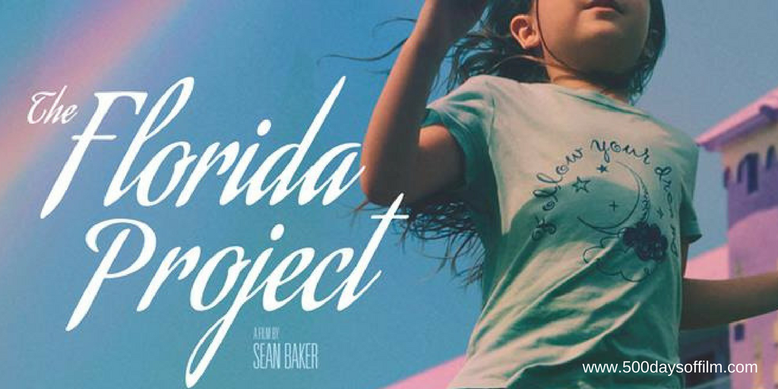 Just outside the imagined utopia of Disney World, six-year-old Moonee (Brooklynn Prince) and her rebellious mother Halley (Bria Vinaite) live at "The Magic Castle," a budget motel managed by Bobby (Willem Dafoe), whose stern exterior hides a deep reservoir of kindness and compassion.
Moonee is precocious and ebullient - finding the fun (and mischief) in each day along with her ragtag group of friends. However, unbeknownst to Moonee, her way of life is under threat as Halley is forced to explore increasingly dangerous possibilities in order to provide for her daughter.
Is It Any Good?
Some movies have the power to steal our hearts. It is hard to put a finger on how or why. They just possess something special and their storytelling - both in front and behind the camera - is able to engage us on a deeply emotional level.
The Florida Project is one of these movies.
Sean Baker's film (co-written by Chris Bergoch) tells two stories. The first follows young Moonee (an astounding performance from Brooklynn Prince - particularly in the film's final moments) and her friends. It is impossible to resist their joyous exuberance - even as we sense their vulnerability and the danger inherent in their adventures.
Baker was influenced and inspired by the Little Rascals and the Hal Roach comedy shorts of the 1920s and 1930s. He explained after the screening of his film at the BFI London Film Festival (LFF) that these stories "focused on the comedic adventures of children set against the backdrop of The Great Depression. Most of the characters in the Little Rascals were actually living in poverty but the focus was on the joy of childhood… I thought that we could use this opportunity to make a present day Little Rascals". 
Meanwhile, The Florida Project's second story concerns Moonee's mother, Halley (brilliantly portrayed by newcomer, Vinaite). She is but a child herself - struggling to make ends meet, enraged by hopeless frustration. While her love for her daughter is clear, she is barely able to care for Moonee and we can't help but feel a deep concern for their future. 
Halley and Moonee share one room in "The Magic Castle" motel in Orlando under the caring, watchful eye of manager, Bobby. Dafoe is truly remarkable in this role. This is not a showy performance - quite the opposite in fact - but no less powerful for its restraint.
Bobby is their protector, often the only person looking out for Moonee and Halley. He understands the brutal reality of their situation - Disney may be tantalisingly close but it represents a life that couldn't be further from their grasp.  
Dafoe interviewed motel managers to prepare for his (potentially Oscar winning?) role. "These guys were simple, working class guys but they all had a pride in what they did and they had optimism that they could make things better," said Dafoe. "There was something moving about that."
He added: "some of them were very challenged and some of them were almost living as precariously as the residents but they understood deeply their social responsibility in a very practical, unsentimental way."
In order to maintain the balance balance between his stories, Baker had to work out how much to show his audience. "We wanted to put the audience in the mindset of the children and to keep them, to a certain degree, unaware of what was going on" he revealed. 
The director also (and quite rightly - the film looks stunning) credits his Director Of Photography, Alexis Zabe, for this successful balancing act. "He did such an amazing job with this film - he had a real handle on it from really early on," Baker explained. "We talked about how he would have the camera at the eye-line of the children or shoot below to make them grand, to make them powerful in their moment - queens of the castle. 
"He also worked on conveying the heightened senses of a child. When I look back on my childhood, I feel that my senses were more acute - colours were slightly brighter. Alexis, with his special sauce, took the very vibrant and colourful location and just popped it by a hair."

While watching The Florida Project, I was reminded of the social realist work of director, Andrea Arnold. The most obvious influence may be American Honey. However, the director's 2003 film, Wasp, also came to mind. Unifying these films is their almost journalistic approach and their ability, despite the deprivation, to capture moments of breathtaking beauty.  
Authenticity was essential from the outset. Thanks to a grant from Cinereach (a not-for-profit film foundation and production company that champions vital stories), Baker and Bergoch were able to make several visits to the Kissimmee area of Florida. "We spoke to residents of the motels, small business owners, the agencies that provided social services to the needy in the area and some of the motel managers," revealed Baker. "Some of these motel managers helped to inspire the Bobby character."
The Florida Project was then shot on location at the actual Magic Castle Inn & Suites. The film buzzes with a palpable energy from filming within this working environment. "The owner was generous enough about allowing us to shoot there while he was really in business. We said that we wouldn't affect his business or interfere with his customers," Baker recalled. "It became a very family-like atmosphere on set and we actually used some of the residents from the motels as part of our background action and cast some of them in speaking roles.
"We were working with the community, which was really great. That's what I wanted going into this. Chris and myself are from outside of this world. We wanted to hear the voices of the community and work with the community - it was a really nice collaboration."
As a result, The Florida Project is an engaging and entertaining film that tackles the important issue of the hidden homeless - shining much needed light on the lives of some of the most vulnerable members of society. Poignant and funny, Sean Baker's wonderful movie tells not one but two heartwarming and heartbreaking stories. 
Random Observations
Baker cast Vinaite after spotting her on Instagram.
Brooklynn Prince's mother was unsure about allowing her daughter to audition for the role of Moonee because of the film's "language". 
Baker talked about the "little bit of chaos" and the "happy accidents" on set during the filming of The Florida Project. For example, the scene with the cranes was almost entirely improvised - both in front of and behind the camera. In addition, the scenes showing Halley and Moonee trying to sell perfume were not scripted and featured real people.
Sean Baker and the cast and crew of The Florida Project are all aware of the social responsibility of their film. While researching his film, Baker worked with Community Hope Center, an agency that serves those living homeless or in motels and hotels along Osceola County's 192 Corridor. 
The issue of the hidden homeless is, of course, not one confined to Kissimmee, Orlando. Baker also encourages people to visit the National Alliance To End Homelessness.  
Have you seen The Florida Project? 
If you have, what did you think of Sean Baker's film? Let me know in the comments section below or via Facebook or Twitter (@500DaysOfFilm)