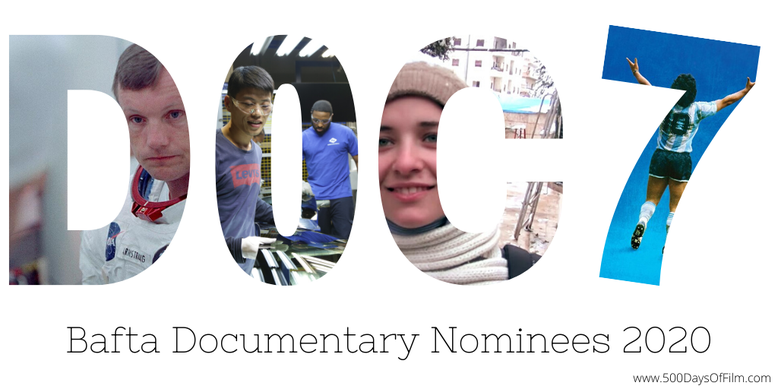 Nominations for the 2020 EE British Academy Film Awards have created no small amount of controversy. Critics were quick to point out Bafta's distinct lack of diversity - particularly (but not only) in its Best Film and Best Director categories.
For the Best Documentary award, the Bafta noms are American Factory, Apollo 11, Diego Maradona, For Sama and The Great Hack.
These nominations paint a slightly better (but not wholly satisfactory) picture. Like in many film awards, the documentary genre recognises a more diverse group of filmmakers.
For example, since the Academy Awards began, 13 documentaries directed by women have won the Oscar for best documentary (you can check out the list here). In comparison, only one woman has won an Oscar for best director - Kathryn Bigelow for The Hurt Locker. It took 82 ceremonies for that to happen back in 2010. 
Three of the five films nominated for a best documentary Bafta this year have a woman co-director. Meanwhile, one of those films, For Sama, has become the most nominated documentary in Bafta history with three additional noms for outstanding British film, outstanding debut by a British writer, director or producer and best film not in the English language.
It is no surprise that For Sama has been acknowledged in this way - this is a truly stunning film and was my favourite doc of 2019. However, there were some other surprises in Bafta's documentary selection. 
For example, I was shocked that Honeyland did not make the cut. While they are brilliant films and well worth your time, I would also have chosen Maiden (although director Alex Holmes has been nominated in the Outstanding British Debut category), The Edge Of Democracy, One Child Nation or Hail Satan? over The Great Hack and Diego Maradona.
The winner will be announced at the Bafta ceremony on Sunday 2 February. Meanwhile, let's take a closer look at the documentary nominees…
American Factory
On 3 October 2008, workers at the General Motors factory in Dayton, Ohio received the news they had all been dreading. Their plant was to close for good by the end of the year, with the loss of 2400 jobs. 
Local filmmakers, Julia Reichert and Steven Bognar, were deeply moved by the situation and decided to tell the story of the factory's closure. They were particularly interested in the impact on their community - a community whose lives and livelihoods were intrinsically linked to their place of work.
After speaking to several hundred of the factory's employees, Reichert and Bognar released a documentary short called The Last Truck: Closing of a GM Plant. The film was widely acclaimed and nominated for an Academy Award.
The story did not stop there, however. In 2014, Chinese billionaire Cao Dewang reopened the Ohio plant for his new Fuyao factory in order to produce glass for the car industry. Suddenly, jobs were there for the taking.
The air was filled with hope, at first. All too soon, however, cultures clashed, frustrations mounted and tensions rose to boiling point. The community of Dayton faced an uncertain future once again.
This story is told in Reichert and Bognar's feature documentary, American Factory (now available on Netflix). Created from over 1,200 hours of footage, the film is generous and funny, shocking and emotionally engaging.
What sets American Factory apart - and what has stayed with me the most - is how Reichert and Bognar tell many sides of this remarkable story. This is not just a tale of Amercian workers in an American town. 
However, while American Factory makes room for everyone involved, it is clear where the filmmaker's sympathies lie. Yes they show us Chairman Cao's position and the views of the unions. However, their hearts - and ours - are with the workers. American and Chinese.
Apollo 11
I wasn't alive when Apollo 11 made its way to the moon. However, thanks to Todd Douglas Miller's superb documentary, I feel like I experienced this iconic event firsthand. Meticulously created from carefully restored, never before seen footage, Apollo 11 is an incredibly immersive film for the eyes and for the ears.
Worth seeing on the biggest screen (with the best sound) possible, Apollo 11 doesn't feature narration or the 'talking head' interviews often used in documentaries. Instead, the film is like a time machine that takes you back to 1969 and gives you a front row seat in mission control.
It was only on leaving the cinema that I started to think about the incredible task of making Apollo 11. Working with Nasa and the US National Archives, Miller and his team went though an astounding 11,000 hours of uncatalogued audio and restored huge amounts of original film - including 70mm forgotten footage.
Apollo 11 is a true event documentary and one for viewers of all ages. It is impressive not just because of its construction but also because it offers us a breathtaking experience of an incredible moment in history.
Diego Maradona
Director Asif Kapadia is no stranger to documenting the complicated lives of icons. Amy, his Oscar winning film about Amy Winehouse, is an intimate and unsettling examination of fame while Senna tells the inspirational and tragic story of Formula 1 racing legend Ayrton Senna.
In Diego Maradona, Kapadia has turned his attention to the world of football. Whether you follow this sport or not, whether you know Maradona's story or not, this gripping, entertaining and immersive documentary will draw you in and give you a deeper understanding of the story behind this phenomenally talented, yet divisive sportsman. 
Like in Amy and Senna, Kapadia makes brilliant use of archive footage. Like Amy and Senna, his documentary explores the dark and claustrophobic side of celebrity. However, unlike Amy and Senna, this film has a two word title. 
This was a deliberate choice, of course. Kapadia emphasises the differences between the character of Diego and the character of Maradona. This distinction adds an extra layer of poignancy to a deeply compelling documentary.
For Sama
For Sama isn't the first documentary that I have watched about the devastating conflict in Syria. Over the last few years, there has been a steady influx of films - including The White Helmets, City Of Ghosts and Last Men in Aleppo - depicting the war and the battle for Aleppo. 
However, Waad al-Kateab's documentary is the one I feel will stay with me the most. 
It is For Sama's mix of powerful journalism and intimate storytelling that makes this film an unforgettable experience. The documentary offers both an uncompromising and important account of life in Aleppo between 2012 and 2016 and immersive access to a family under siege.
For Sama's depiction of family life is deeply affecting - this is a mother's heartfelt message to her baby daughter. Waad narrates her own story, explaining to Sama why she and Sama's father decided to stay in such a dangerous place, what it was really like and why, in the end, they had to leave.
The Great Hack
Karim Amer and Jehane Noujaim's documentary, The Great Hack, tells the story of how a data company called Cambridge Analytica came to symbolise the dark side of social media in the wake of the 2016 US presidential election.
This tense and deeply troubling documentary (one of two Netflix Original films on this list… the other being American Factory) is partly framed as a conspiracy thriller, partly presented as a straight forward dissemination of disturbing facts.
Amer and Noujaim are a safe pair of hands and prevent The Great Hack from becoming overwhelming and unwieldy. Their documentary is disturbing and unsettling… particularly as the manipulation depicted is far from a thing of the past.
Over To You...
What do you think about Bafta's list of documentary nominees? What films would have added to this category?
Let me know in the comments section below or over on Twitter. You can find me @500DaysOfFilm.