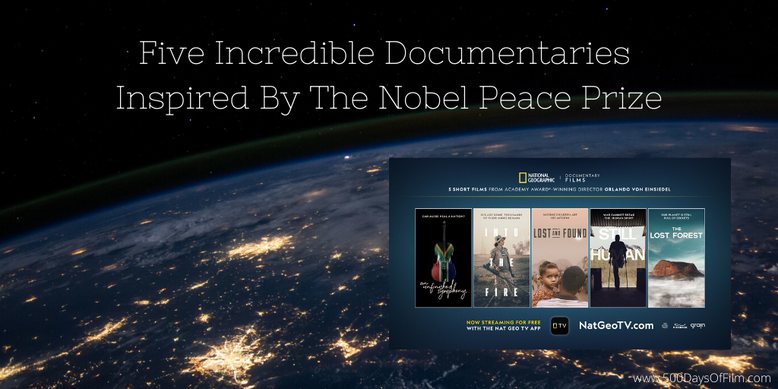 What do you get if you combine The Nobel Peace Prize, National Geographic Documentary Films and Oscar-winning director Orlando von Einsiedel?
Well, what you get is a powerful and moving documentary series celebrating the ongoing impact and influence of Nobel Peace Prize laureates around the world.
The collection features five stunning short films: Into The Fire, Still Human, The Lost Forest, An Unfinished Symphony and Lost and Found. The documentaries tell a range of different stories but are united by emotional, intimate and inspiring storytelling and beautiful cinematography. 
You can watch these five Nobel Peace Prize documentary shorts for free here.
Into The Fire
Into The Fire follows Hana Khider as she leads an all-female team of Yazidi deminers in an area of Iraq destroyed by ISIS. In this powerful film, Hana explains how the fear of mines - which have been hidden in houses, fields and even in children's toys - has created an atmosphere of terror in her community.
People are fearful for good reason, of course. Shocking footage of explosions and decimated buildings remind us of the devastation that mines can cause. ISIS may have been defeated, but its legacy lives on.
Hana's response to this situation is to do all she can to make life better. In extremely tense scenes, we watch as she searches for booby traps in bombed out buildings and fields. Her bravery is both inspiring and also deeply moving. 
Hana works for the Mines Advisory Group, an organisation that is part of the International Campaign to Ban Landmines, a coalition awarded the Nobel Peace Prize in 1997.
Still Human
After losing his leg to a bullet in war torn South Sudan, Makur Diet fell into a deep depression and came close to committing suicide. However, his life changed dramatically when he was given a prosthetic leg - inspiring him to devote his life to helping other amputees.
Still Human follows Makur's work at an International Committee of the Red Cross (ICRC) centre in South Sudan, where he helps make prosthetic legs. Makur uses his story to inspire hope in others, explaining the joy he feels when they realise the physical and emotional benefits of prosthetics.
The ICRC has received the Nobel Peace Prize in 1917, 1944 and 1963.
The Lost Forest
The Lost Forest is a visually stunning film that highlights the importance of conservation in the fight against climate change.
Orlando von Einsiedel takes us on a journey to a forest in Mozambique where no human has ever set foot. Our guide is Professor Julian Bayliss, a conservation scientist and ecologist.
Reaching the forest is no easy feat. It sits on top of a mountain and, to reach it, Bayliss and his team must climb a sheer 100m wall of rock. Once there, they hope to collect data to help our understanding of how climate change is impacting our planet.
Bayliss's work is based on research conducted by the Intergovernmental Panel on Climate Change, recipients of the Nobel Peace Prize in 2007.
An Unfinished Symphony
In An Unfinished Symphony, we meet two South African musicians; Tsepo Pooe, who grew up in Soweto Township; and Lize Schaap, who grew up in wealthy Pretoria. They are both part of the Miagi Orchestra.
Exploring the lasting damage of prejudice and inequality in South Africa, the documentary uses Pooe and Schaap's experiences to highlight how music can help the country to heal.
The Miagi Orchestra was inspired by the legacy of 1993 Nobel Peace Laureate Nelson Mandela. It aims to help South Africa overcome decades of violence, conflict and division through the power of music.
Lost and Found
The Rohingya Refugee Camp in Bangladesh is the largest refugee camp in the world. 700,000 people have made their way here, trying to escape violence and persecution in neighbouring Myanmar. 
However, in a place of this size - the documentary's use of drone footage reveals the shocking scale of the camp - it is all too easy to lose loved ones. Children are especially at risk.
Lost and Found follows the incredible and inspiring work of Kamal Hussein who tries to reunite lost children with their families. The stories he tells are utterly heartbreaking. Meanwhile, the reunions he secures are incredibly moving.
Kamal's work is funded by the United Nations High Commissioner for Refugees, recipient of the Nobel Peace Prize in 1954 and 1981.  
Over To You...