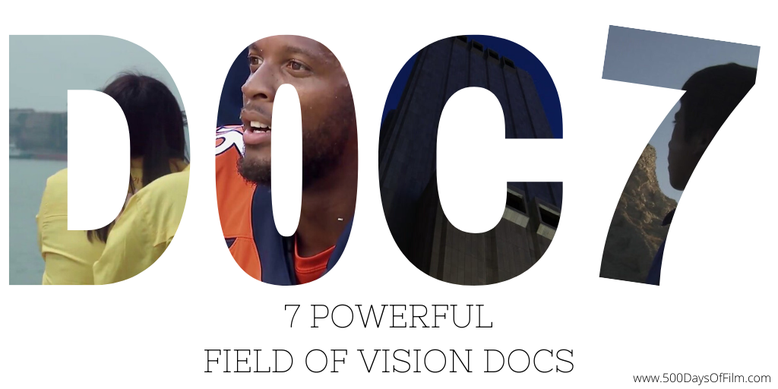 What is the ideal length of a film? An hour and a half? Two hours? More? These days it seems that movies just keep getting longer (yes, I'm looking at you Martin Scorsese). I have no problem with that but, at the same time, I always appreciate a good story, well told... in 90 minutes or less.
It doesn't take hours to tell a powerful story in film. Just take a look at all the stunning short films out there - each one proof that a five, 10 or 20 minute movie can be just as thematically rich, emotionally powerful and thought provoking as a three hour film. 
I love watching documentary shorts. However, as these films rarely get a cinematic release, I often have to search online to find them. One of my favourite websites for short docs is Field Of Vision.
Field Of Vision is a filmmaker-driven documentary unit - co-created by Laura Poitras (director of Citizenfour), AJ Schnack and Charlotte Cook - that commissions and creates original short-form nonfiction films about developing and ongoing stories around the globe. 
If you like watching documentaries, I would wholeheartedly recommend visiting this site. There are so many films to choose from - and they are all free to view. Here are seven of my favourites…
In The Absence
Director: Yi Seung-Jun
Running Time: 29 mins
Synopsis: When the passenger ferry MV Sewol sank off the coast of South Korea in 2014, over three hundred people lost their lives, most of them schoolchildren. Years later, the victims' families and survivors are still demanding justice from national authorities.
Click here to read my review of In The Absence
Libre
Director: Anna Barsan
Running Time: 12 mins
Synopsis: For detained immigrants who can't pay their bond, for-profit companies like Libre by Nexus offer a path to reunite with their families. But for many, the reality is much more complicated. "Libre" sheds light on one of many hidden costs of reunification for immigrant families.
Concussion Protocol
Director: Josh Begley
Running Time: 5 mins
Synopsis: A violent ballet made from footage of every concussion during the NFL's 2017-2018 season.
Project X
Directors: Laura Poitras and Henrik Moltke
Running Time: 10 mins
Synopsis: A top-secret handbook takes viewers on an undercover journey to Titanpointe, the site of a hidden partnership. Narrated by Rami Malek and Michelle Williams, and based on classified NSA documents, Project X reveals the inner workings of a windowless skyscraper in downtown Manhattan.
The Above
Director: Kirsten Johnson
Running Time: 8 mins
Synopsis: In Kirsten Johnson's The Above, a US military surveillance balloon floats on a tether high above Kabul, Afghanistan. Its capacities are both highly classified and deeply mysterious.
Adversary
Director: Scott Cummings
Running Time: 17 mins
Synopsis: Carl Paladino is a Trump-supporting real estate magnate with a history of making racist remarks. In 2016, he faced opposition for re-election to the Buffalo School Board in the form of 18-year-old Austin Harig.
Relatively Free
Director: Alex Winter
Running Time: 19 mins
Synopsis: Recently released from prison after a four year sentence, journalist Barrett Brown reflects on his incarceration and future prospects as his parents drive him to the halfway house.
Over To You...
Have you watched any Field Of Vision docs? If so, what would you recommend?
Let me know in the comments section below or over on Twitter. You can find me @500DaysOfFilm.