500 Days Of Film Reviews All The Money In The World Starring Michelle Williams, Christopher Plummer and Mark Wahlberg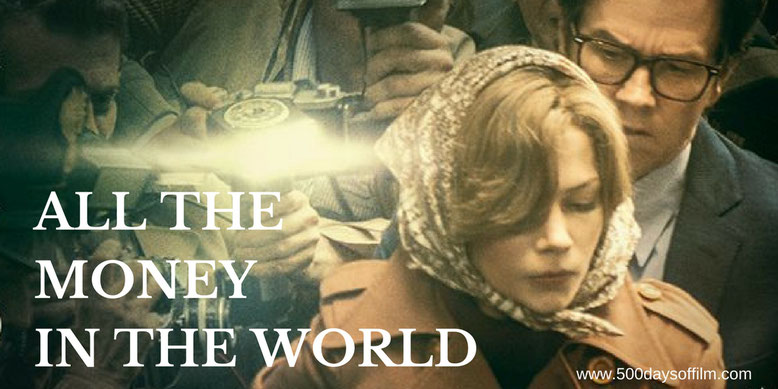 When 16-year-old John Paul Getty III (Charlie Plummer) is kidnapped, his devoted mother Gail (Michelle Williams) has to convince his billionaire grandfather (Christopher Plummer) to pay the ransom. 
When Getty Sr. refuses, Gail desperately attempts to sway him as her son's captors become increasingly volatile and brutal. With her son's life in the balance, Gail and Getty's advisor Fletcher Chase (Mark Wahlberg) become unlikely allies in a race against time.
Is It Any Good?
There are two interesting things about All The Money In The World. First, the kidnap of John Paul Getty III (known as Paul) is a remarkable true story. Director Ridley Scott uses this event to explore some broader themes about the concept of money and the value of a human life.
The second most interesting thing about this film, is the story of how All The Money In The World was made.
Back in the late summer of 2017, people began to talk about Scott's forthcoming film. The buzz centred around a powerful, transformative performance from the actor playing John Paul Getty. Weeks before its release, this portrayal was cited as a potential Oscar contender.
However, the actor in question was one Kevin Spacey. When the shocking news emerged about Spacey's personal life, the actor became a toxic screen presence. (Before a screening of Murder On The Orient Express, I well remember the uncomfortable atmosphere that descended when a trailer for All The Money In The World came on.)
Of course, no one was more aware of this situation than Ridley Scott. He knew immediately that, in its current form, his film was done for - it couldn't be released. As a result, the director recast the role of John Paul Getty - offering it to his first choice actor (until the studio persuaded him otherwise), Christopher Plummer.
This brave move (which Scott has described as a business decision) was made even more impressive by the director's insistence that his film would still be released in December (in the US) enabling it to qualify for awards season.
This decision cannot be underestimated. Plummer's role is not insignificant - indeed, his presence dominates the film. He has many scenes with Mark Wahlberg and Michelle Williams in a variety of locations.
Hats off to Ridley Scott. He did exactly what he set out to do and Christopher Plummer is superb.
`
While fully aware of the process by which All The Money In The World came to our screens, I was, nonetheless, determined to watch this movie with an open mind. Within minutes, I was gripped. 
I was intrigued by Scott's exploration of wealth - of the value we put into material things versus the value of our loved ones. In addition, I was surprised that Getty Sr. (initially at least) was not being portrayed as an out and out baddie. His reason for refusing to pay the ransom seems almost valid at first - he has many other grandchildren and does not want to put them at risk or create a lucrative kidnapping market.
This stance, of course, puts him at odds with Paul's mother, Gail. I love Michelle Williams - she is one of my favourite actors working today. However, while she is very watchable here, there is something about her portrayal that prevented it from (for me) feeling true. 
Perhaps it was her rather jarring accent, perhaps it was the film's script… it's hard to tell but this is not one of her best performances. Likewise, Mark Wahlberg. He is pretty bland as Fletcher Chase - a performance that lacks charisma. 
As a result, while I was always interested in All The Money In The World's true story, I began to feel less and less engaged. The film needed to be tighter, the atmosphere more suspenseful. Ironically, the movie only really comes alive whenever Christopher Plummer appears.
Perhaps, given its remarkable behind the scenes story, I should allow Scott's film these flaws. However, while this is undoubtedly a tremendous directorial achievement, sadly, All The Money In The World is a rather average cinematic experience.
Random Observations
All The Money In The World states (at both the beginning and at the end) that the film has been 'inspired' by historical events: "some scenes, characters and dialogue have been fictionalized for dramatic purposes". While this always makes me a little uneasy, I can understand the need to change real events for dramatic purposes here.
All The Money In The World is based on the book by John Pearson. 
Have you seen All The Money In The World? If you have, what do you think of Ridley Scott's movie? Let me know in the comments section below or via Facebook or Twitter (you can find me @500DaysOfFilm).