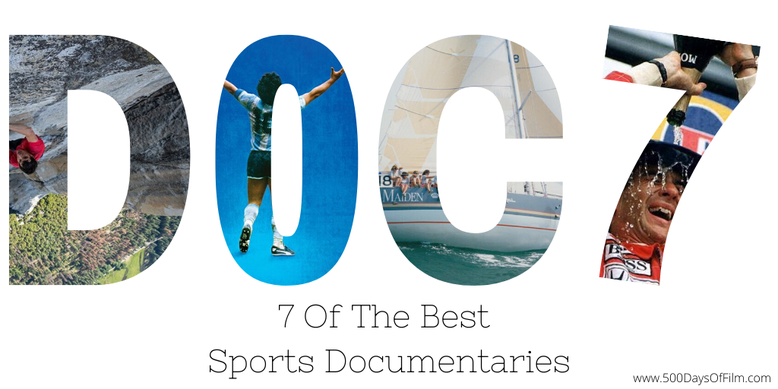 We are spoilt for choice when it comes to documentaries about sport. There are some truly superb films to watch, covering a broad range of activities - from climbing to horse racing, sailing to basketball, football to cycling.
Here are 7 of the best sports documentaries to watch…
Football - Diego Maradona
Whether you follow football or not, whether you know all about Diego Maradona or not, Asif Kapadia's gripping, entertaining and immersive documentary will draw you in and give you a deeper understanding of the story behind this phenomenally talented, yet divisive sportsman. 
Kapadia makes brilliant use of archive footage in his exploration of the joy of football and the dark and claustrophobic side of celebrity. 
You can watch Diego Maradona online - for example, via Amazon Prime rental (or purchase). It is also available on All 4 until near the end of April.
Climbing - Free Solo
One of the key questions for any documentary filmmaker concerns how close you should get to your subject. This was a particular challenge - both physically and emotionally - for Chai Vasarhelyi and Jimmy Chin when making their Oscar-winning film, Free Solo. 
Not only were they documenting the remarkable life of their friend, Alex Honnold, they were following him in his attempt to climb El Capitan's foreboding 900-metre vertical rock face at Yosemite National Park - without a rope. Getting too close while filming his ascent could well lead to Honnold's death. 
For Honnold himself, the stakes don't get much higher - it is perfection or death. Within minutes, you might well find yourself questioning not how he is going to achieve his goal, but why. The impact of his life choice is just as interesting as the climb itself.
You can watch Free Solo on Disney+ or rent or buy this film on streaming sites such as Amazon Prime.
Click here for my review of Free Solo
Sailing - Maiden
Alex Holmes's documentary tells the epic story of how in 1989 Tracy Edwards became the skipper of the first ever all-female crew to enter the Whitbread Round the World Race. This is an inspirational tale of strength in the face of adversity - both on land and at sea.
Maiden begins with huge rolling waves. Monstrous, breathtaking waves. Voice-over narration tells us that the ocean is always trying to kill you and that, in certain locations, if anything happens you are completely on your own.
In these effective opening scenes, Holmes shows us what round the world sailors have to contend with and it is sobering to say the least. 
In case you don't know how this story ends, I won't spoil it for you here. However, regardless of whether you remember the conclusion of this event or not, the final act of Holmes's documentary is an absolute joy. 
You can rent or buy Maiden via Amazon Prime.
Click here to read my review of Maiden
Basketball - Hoop Dreams
Steve James's iconic documentary was shot over the course of five years. It follows two inner-city Chicago boys - William Gates and Arthur Agee - as they struggle to overcome significant obstacles in order to become college basketball players on the road to going professional.
You can watch Hoop Dreams via Curzon Home Cinema
Formula One - Senna
On 1 May 1994, three times Formula 1 world champion, Ayrton Senna, died whilst leading the San Marino Grand Prix after his car crashed into an unprotected concrete barrier.
His death, and that of Roland Ratzenberger during qualification the day before, changed the face of F1 safety rules and regulations. 
Asif Kapadia's documentary follows Ayrton's racing career from the very beginning of his involvement in F1. Senna takes us through his meteoric rise to the very top of his sport - despite the F1 politics that often got in the way.
The film also explores how much Senna's success meant to the people in his home country of Brazil - many of whom were living in extreme poverty and deprivation at the time. 
You can watch Senna via Amazon Prime online rental.
Click here to read my review of Senna
Cycling - Icarus
When Bryan Fogel decided to investigate doping in sports, he had no idea where his journey would lead. An amateur bike racer, Fogel's initial plan was to dope himself, observe the changes in his performance, and see if he could evade detection. 
In order to achieve this goal, Fogel enlisted the help of renegade Russian scientist, Dr. Grigory Rodchenkov, a senior figure in his country's "anti-doping" programme. 
Over dozens of Skype calls, urine samples, and self-administered hormone injections, Fogel and Rodchenkov grew closer - despite shocking allegations that place Rodchenkov at the center of Russia's state-sponsored Olympic doping programme.
You can watch Icarus on Netflix.
Click here to read my review of Icarus
Horse racing - Dark Horse
Dark Horse tells the story of a community in a small Welsh mining village who, in early 2000, decided to enter the sport of kings - the elite world of horse racing. 
Louise Osmond's documentary is all about beating the odds. There are few (cinematic) things better for lifting your spirits than seeing an underdog rise up and win - particularly when that story is true.
You can watch Dark Horse via streaming sites such as Amazon Prime and BFI.
Click here to read my review of Dark Horse
Over To You...
What do you think of the films on this list? Are there any sports documentaries that you would add?
Let me know in the comments section below or over on Twitter! You can find me @500DaysOfFilm.