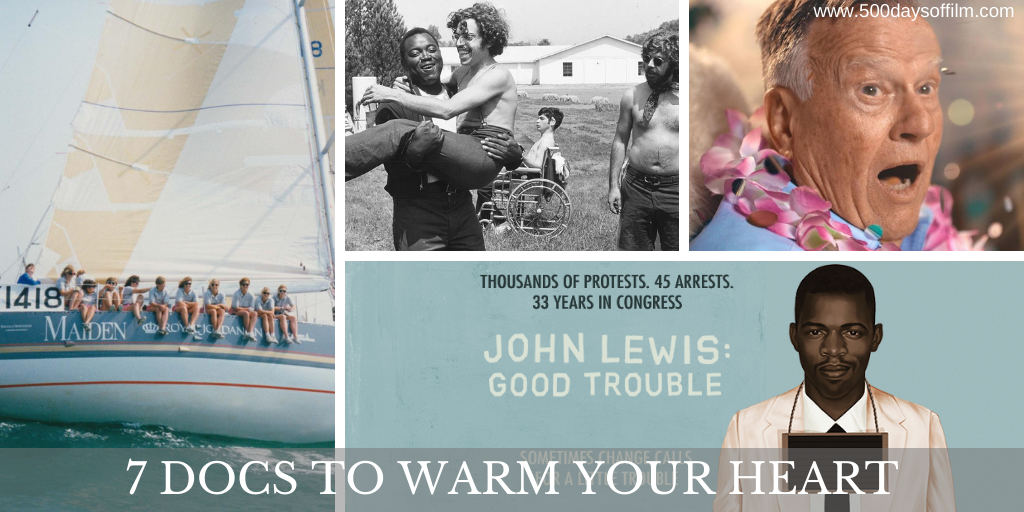 In these challenging times, we are often in need of cinematic comfort. While perhaps not well known for its warm and fuzzy nature, the documentary film genre has a wealth of films to warm your heart and nourish your soul.
Here are seven of my favourite heartwarming docs!
Dick Johnson Is Dead
A documentary director exploring inventive and fantastical ways to kill her father may not be an obvious warm and fuzzy choice, but Dick Johnson Is Dead really has heart to spare. Kirsten Johnson uses the act of filmmaking to process the gradual loss of her father to dementia. 
We watch as Dick Johnson is killed by a descending air conditioning unit, a fatal (and shocking) fall down some stairs and a deadly trip while walking. On paper, the concept seems unbearably morbid and, perhaps, of questionable taste. 
On screen, however, the documentary is a joy - full of humour and warmth. Dick Johnson himself is endlessly endearing, insightful and supportive of his daughter's project. As a result, this is a stunning portrait of a loving and respectful relationship and a beautiful exploration of mortality.
Crip Camp
There are few things more heartwarming and soul nourishing than watching a group of people band together and fight for a better future. Nicole Newnham and Jim LeBrecht's Netflix documentary, Crip Camp, explores the lasting impact of Camp Jened, a camp for teenagers with disabilities located in the Catskills a few hours north of New York City.
In 1972, empowered by their experience at Camp Jened, Judy Huemann and a group of campers and camp counselors decided to campaign for the rights of disabled people. In powerful, moving and inspiring scenes, we see an ever growing group of people come together - via a series of protests and demonstrations - to demand fair treatment and access to the world. 
Of Love & Law
Of Love & Law is a documentary about two lawyers who run the first law firm set up by an openly gay couple in Osaka, Japan. However, more importantly, and as the film's press notes state: "it is ultimately about the basic human rights to be who you are and love who you love."
While Hikaru Toda's documentary explores serious and disturbing issues, the film's tone is full of warmth - focusing on the joy of love, friendship, family and acceptance in the face of repression and discrimination.
John Lewis: Good Trouble
John Lewis: Good Trouble chronicles the life and career of the late John Lewis - the iconic civil rights activist and Democratic Representative from Georgia. Dawn Porter's timely and powerful film mixes stunning archive footage and fascinating interviews to explore the legacy of a man who spent over 60 years getting into good trouble over civil rights, voting rights, gun control, health-care reform and immigration.
The use of archive material puts John Lewis' story into historical context. The footage - some of it never seen before - is fascinating and, at times, extremely disturbing. However, the documentary also contains many heartwarming and inspiring scenes… and if the film's final moments don't leave you with a smile on your face I don't know what will.
Maiden
Alex Holmes's documentary tells the epic story of how in 1989 Tracy Edwards became the skipper of the first ever all-female crew to enter the Whitbread Round the World Race. This is an inspirational tale of strength in the face of adversity - both on land and at sea.
Watching Maiden, I experienced a wide range of emotions - fascination, horror, admiration, frustration, rage, relief and pride to name but seven. There were moments when I just wanted to punch something and moments when I couldn't stop the happy tears from falling.
In case you don't know how this story ends, I won't spoil it for you here. However, regardless of whether you remember the conclusion of this event or not, the final act of Holmes's documentary is an absolute joy. 
Faces Places
On paper, Faces Places seems like a strange concept. An octogenarian filmmaker tootles around the French countryside with a photographer in his thirties in a van that looks like a camera. Occasionally - and seemingly without a plan - they stop and take pictures of the people they meet. The images are then plastered on walls, barns, water towers and the like.
It shouldn't work but, thanks to the endearing relationship between icon of cinema, Agnes Varda, and the remarkable artist and photographer, JR, it does - it really, really does. The unlikely pair have a truly special chemistry.
It is wonderful to watch them talk about their art and, through these fascinating and endearing interactions (JR enjoys teasing Varda), we see the exuberant bravado of youth juxtaposed with the wisdom and poignancy of old age.  
Won't You Be My Neighbor?
Growing up in the UK, I started watching Won't You Be My Neighbor knowing more about director Morgan Neville (his Oscar winning documentary, 20 Feet From Stardom, is superb) than I did about Fred Rogers. 
As a result, I felt slightly removed from the poignant nostalgia encouraged by the first part of this documentary. However, all that changed when a small, slightly scruffy cat puppet called Daniel asked what the word assassination meant. From that moment on, I was hooked… completely and emotionally hooked.
I did not grow up watching Fred Rogers. Nonetheless, I found Neville's powerful and comforting documentary about his life to be a profoundly moving experience and a timely reminder of the power of love, kindness and compassion.