500 Days Of Film Reviews Documentary, Of Love & Law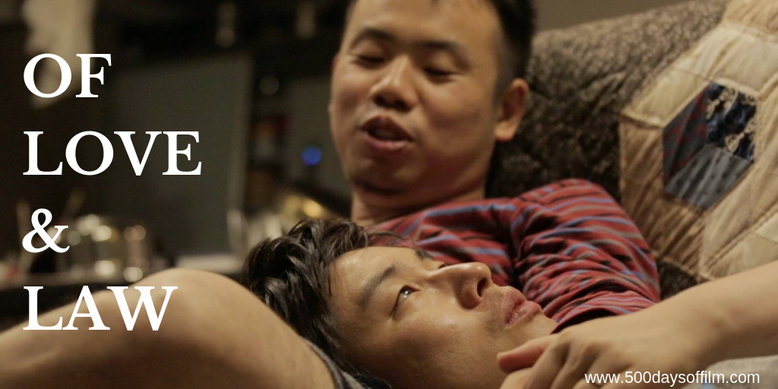 Fumi and Kazu are partners in love and law; they run the first law firm in Japan set up by an
openly gay couple. As lawyers driven by their own experience of being outsiders, they attract a range of clients who reveal the hidden diversity of a country that prides itself for collective
obedience, politeness and conformity. 
Tired of being silenced and made to feel invisible, the lawyers and their misfit clients expose and challenge the archaic status quo that deems them second-class citizens. With the backdrop of civil liberties under attack, the film poses universal questions about what it takes to be an individual, what it means to be a minority and what role a family plays in our increasingly polarised world.
Is It Any Good?
Of Love & Law is a documentary about two lawyers who run the first law firm set up by an openly gay couple in Osaka, Japan. However, more importantly, and as the film's press notes state: "It is ultimately about the basic human rights to be who you are and love who you love."
Fumi and Kazu's personal experiences drive their work. As a result, they represent a wide variety of clients who, for one reason or another, face legal issues as a result of perceived non-conformity.
For example, the film follows a teacher who was dismissed for not singing the national anthem and Rokudenashiko – the vagina artist who was sued by the police for obscenity for trying to escape the country's patriarchal systems in a vagina-shaped canoe. 
Of Love & Law also explores the alarming suicide rate among gay men in Japan and questions the country's deeply unsettling track record on human rights, press freedom and civil liberties.
A 2014 report by Amnesty International, referenced in the press notes for the film, slams Japan for "veering away from global human rights standards". Meanwhile, the World Economic Forum places Japan 114th out of 145 countries in the global gender equality ranking, far behind developing countries such as Rwanda and the Philippines.
Despite the weight of these issues, director, Hikaru Toda, keeps Of Love & Law's tone light. This is a film that chooses to focus on the joy of love, friendship, family and acceptance in the face of repression and discrimination.
Of Love & Law is as much about Fumi and Kazu as it is about their work. As a result, we see the two lawyers at home often cooking or eating meals together. They are both funny, utterly endearing and seem a perfect match. The film explores their flaws with warmth and celebrates their many admirable qualities.
Hikaru Toda met them both five years before the film was released. According to the director, "I immediately fell in love with how honest and vulnerable they were, how they embraced each other's faults and imperfections and accepted each other. Their individual weaknesses were what made them strong together."
Thanks to Toda's impressive direction and compelling storytelling, this is also how I felt about Fumi and Kazu. I defy anyone not to fall in love with them and, indeed, many of the other "characters" in the film (I particularly love the scenes featuring Rokudenashiko and her father.). 
Of Love & Law is a powerful and moving look at the lives that fall outside of society's "norms". While the lawyers are dealing with many challenges unique to the situation in Japan, the themes here are, of course, universal. 
"I believe the themes in the film are universal – people fighting to be who they are, seeking for acceptance and for love," Toda explains. "Love for each other but perhaps more importantly for themselves – something the lawyers embody in their search for a family of their own. I am compelled to tell the story that they represent - of strength that comes from accepting others as well as our own differences and weaknesses."
Random Observations
Have you seen Of Love & Law?
If you have, what did you think of this documentary? Did you love it as much as I did?
Let me know in the comments section below or over on Twitter. You can find me @500DaysOfFilm.