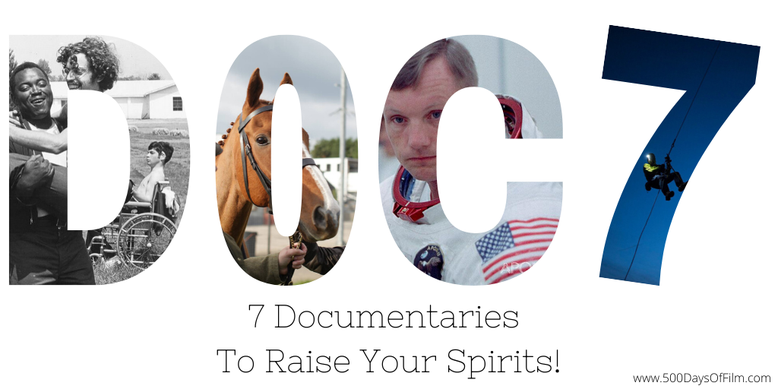 Documentaries often set out to be informative, insightful and educational. They open our eyes to different life experiences, alert us to disturbing issues and, occasionally, prompt us to make real change in the world.
However, sometimes you just need a film to take your mind off "things". Sometimes you just want to be transported away from stress and worry and enveloped in something comforting, hopeful and inspiring.
Here are seven films for those occasions when you need a documentary to lift your spirits.
Won't You Be My Neighbor?
Growing up in the UK, I started watching Won't You Be My Neighbor knowing more about director Morgan Neville (his Oscar winning documentary, 20 Feet From Stardom, is superb) than I did about Fred Rogers. 
As a result, I felt slightly removed from the poignant nostalgia encouraged by the first part of this documentary. However, a clip from Rogers's long running television show (featuring a rather scruffy cat puppet called Daniel) had me completely and emotionally hooked.
Won't You Be My Neighbor (much like Marielle Heller's fiction film, A Beautiful Day In The Neighborhood, starring Tom Hanks as Fred Rogers) is a profoundly moving and very welcome dose of compassion - a timely reminder of the power of love and kindness. 
Click here to read my review of Won't You Be My Neighbor?
RBG
I expected RBG, Betsy West and Julie Cohen's documentary about Ruth Bader Ginsburg, to be fascinating. I expected it to be inspiring. However, I did not expect this film to be such an emotionally moving experience.
In these troubling times, a film about a person of quiet (but no less powerful) persistence, consistency and steadfast belief is both refreshing and motivating. It feels as if the world needs RBG now more than ever.
Click here to read my review of RBG
The Biggest Little Farm
It all started with a promise to a dog. In just nine words I knew that I was going to love John and Molly Chester's documentary, The Biggest Little Farm. What I didn't know was how much.
Todd, the dog in question, was rescued by Molly and John and then he, in turn, rescued them… by barking incessantly and causing them to be evicted from their home.
Turns out, this was just the nudge that the couple needed to explore Molly's dream of owning a sustainable farm. For just shy of eight years, The Biggest Little Farm follows them on their journey towards this goal.
The result is a visually stunning, emotionally moving adventure. The Biggest Little Farm is compelling and thought provoking, funny and inspirational. Willing to put their egos aside for our greater ecological good, John and Molly record their remarkable achievements alongside their embarrassing mistakes.
Click here for my review of The Biggest Little Farm
The Dawn Wall
I absolutely love Free Solo. Jimmy Chin and Elizabeth Chai Vasarhelyi's Oscar-winning documentary could easily have made this list. But for one thing… or, rather, one person - Tommy Caldwell.
Featured in Free Solo, Caldwell is the experienced climber who lets explains the truly dangerous and challenging nature of Alex Honnold's attempt to climb El Capitan's foreboding 900-metre vertical rock face at Yosemite National Park without a rope. 
Josh Lowell's gripping and moving documentary, The Dawn Wall, tells Caldwell's own incredible story. Like Free Solo, this film is so much more than just a story about a climb. It is an inspirational story about overcoming adversity, fear and recognising the power and value of friendship. 
Click here for my review of The Dawn Wall
Apollo 11
Apollo 11's ability to mix intimate moments with scenes of high drama and stunning, cinematic spectacle is what makes Todd Douglas Miller's film so powerful, moving and entertaining. This is no dry, here's your history lesson doc. This is a propulsive event movie - thanks in no small part to its incredible score from composer Matt Morton. Apollo 11 is a film that will captivate and delight the whole family 
Click here for my review of Apollo 11
Crip Camp
Crip Camp is far more than just a charming and nostalgic tale of life at a ramshackle camp for teenagers with disabilities. Those who took part in Camp Jened (campers and camp counsellors both) became united by their experience, which inspired them to go out and change the world.
Click here for my review of Crip Camp
Dark Horse
Dark Horse tells the story of a community in a small Welsh mining village who, in early 2000, decided to enter the sport of kings - the elite world of horse racing. 
Louise Osmond's documentary is all about beating the odds. There are few (cinematic) things better for lifting your spirits than seeing an underdog rise up and win - particularly when that story is true.
Click here to read my review of Dark Horse
Over To You...
What do you think of these documentaries? What films that raise spirits would you add to the list? Let me know in the comments section below or over on Twitter. You can find me @500DaysOfFilm