500 Days Of Film Reviews 5 Must See Movies On Amazon Prime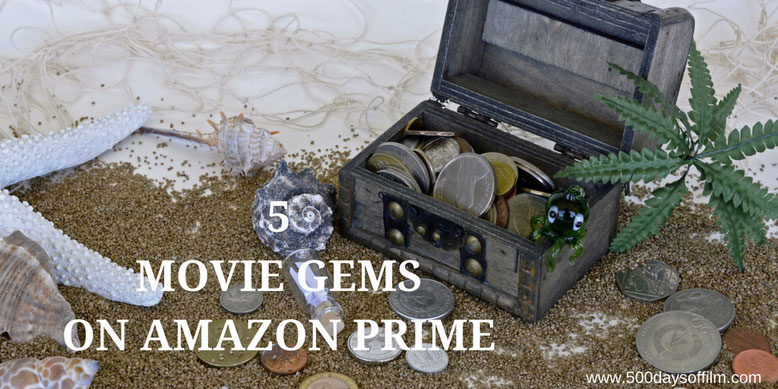 As competition between the ever growing number of online movie streaming services builds, the sheer amount of content can easily feel overwhelming. Scrolling through endless titles, film gems are easy to miss.
In this article, I am going to highlight five must-see movies on Amazon Prime. There are, of course, many more… but I really don't want to contribute to your sense of overwhelm!
1. Children Of Men
18 years since the last baby was born, disillusioned Theo (Clive Owen), becomes an unlikely champion of the human race when he is asked by his former lover (Julianne Moore) to escort a young pregnant woman out of the country as quickly as possible.
In a thrilling race against time, Theo will risk everything to deliver the miracle the whole world has been waiting for.
Children Of Men may be a decade old, but it has lost none of its impact. In fact, ten years since its release, director Alfonso Cuarón's powerful tale of humanity, desperation and hope feels more relevant than ever before. 
2. Arrival
When 12 mysterious spacecraft touch down across the globe, an elite team of scientists and communication specialists, led by linguist Louise Banks (Amy Adams) and theoretical physicist Ian Donnelly (Jeremy Renner), are brought together to investigate. 
For what purpose have the aliens arrived on earth? Are they friend or foe? As the world struggles to understand this mysterious alien arrival and mankind teeters on the brink of war, Louise and her team are in a race against time for answers.
However, to find them, Louise may have to risk her life and the future of all humanity.
Director Denis Villeneuve's film is gripping, intelligent and deeply profound. A worthy addition to the science fiction genre. This is a film about so much more than a simple alien invasion. It is about time, perspective, memory and loss. It is also about protectionism and mankind's ability to communicate. Could we ever work together as a planet?
3. The Hunt
Lucas (Mads Mikkelsen) is a well regarded nursery school assistant. Having overcome the loss of his previous teaching job and a messy divorce, his life is finally starting to show positive signs for the future.
The nursery children love him, his son wants to return to live with him and he has a promising new relationship with a colleague. However, Lucas's life is suddenly destroyed by a lie that throws his small community into a state of dangerous hysteria.
While far from an easy watch, The Hunt is nonetheless a superb film with a stunning central performance from Mads Mikkelsen. Director Thomas Vinterberg is unafraid to ask important questions - even when there are no easy answers. 
4. Hell Or High Water
Brothers, Toby (Chris Pine) and Tanner (Ben Foster), embark upon a calculated bank robbery spree - targeting a string of Texas Midland banks in a series of small and desolate West Texas towns. The robberies put them on a collision course with West Texas Ranger Marcus Hamilton (Jeff Bridges) who, in his last case before retirement, is determined to take them down.
Featuring four superb performances, Hell Or High Water is a tense and gripping western for the post financial crisis world. 
5. The Florida Project
Just outside the imagined utopia of Disney World, six-year-old Moonee (Brooklynn Prince) and her rebellious mother Halley (Bria Vinaite) live at "The Magic Castle," a budget motel managed by Bobby (Willem Dafoe), whose stern exterior hides a deep reservoir of kindness and compassion.
Moonee is precocious and ebullient - finding the fun (and mischief) in each day along with her ragtag group of friends. However, unbeknownst to Moonee, her way of life is under threat as Halley is forced to explore increasingly dangerous possibilities in order to provide for her daughter.
Some movies have the power to steal our hearts. It is hard to put a finger on how or why. They just possess something special and their storytelling - both in front and behind the camera - is able to engage us on a deeply emotional level.
The Florida Project is one of these movies.
Over To You...
What do you think about these five hidden gems on Amazon Prime? Let me know by leaving me a comment in the section below. Or come find me over on Twitter @500DaysOfFilm.