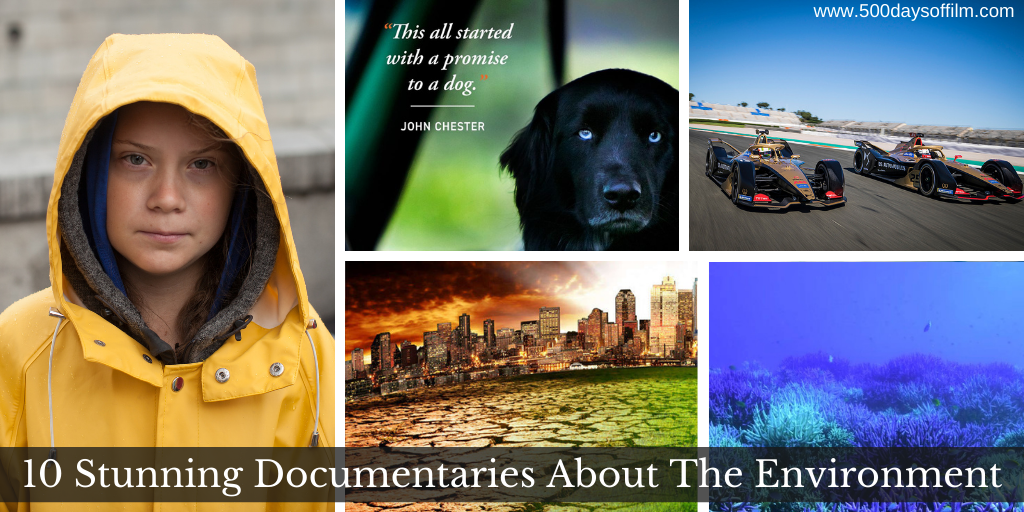 It is all too easy to become overwhelmed with the very many environmental issues facing our world. It is all too easy, in the face of the huge numbers of films, television series, books and podcasts - with all their stories, images and statistics - to feel small and powerless. 
It is all too easy to feel as if we are dealing in abstract concepts, issues that we have no power over and, as a result, do nothing 
Of course, deep down, we all understand that this approach is not sustainable. Not if we want to protect our planet - both for our own benefit and also for the benefit of generations (of humans, animals and plants) to come.
Documentary films about the environment help us face these critical issues. They help us to understand the challenges we face - what is happening and why - in an accessible and visual way. Most importantly, these films offer us ways to make a difference. It really isn't too late… yet.
Here are ten brilliant documentaries about the environment...
An Inconvenient Truth
On paper, An Inconvenient Truth shouldn't work… let alone become one of the best known environmental documentaries ever made. Based on a powerpoint presentation delivered by former vice president Al Gore, the film is "talk" heavy, statistic heavy and peppered with rather cheesy "dad" jokes.
However, the reason why An Inconvenient Truth works, why Davis Guggenheim's film won an Oscar and why it is as powerful now as when it was released in 2006, is largely down to the power of its message and the passion of its messenger. In addition to the barrage of sobering statistics, we also get a fascinating insight into Gore's childhood, his ill fated presidential run and what inspired him to focus on raising our awareness about environmental concerns.
What is most impressive about An Inconvenient Truth is the fact that this is a hopeful film. By the end, we feel that we can turn the tide - we can make positive change. Indeed, the documentary provides us with many practical ways to achieve this goal.
Click here for my review of An Inconvenient Truth (and its sequel)
I Am Greta
In his remarkably intimate documentary, Nathan Grossman tells the inspiring story of teenage climate activist Greta Thunberg. The film features compelling, never-before-seen footage - starting with her one-person school strike for climate action outside the Swedish Parliament and charting her rise to global prominence. 
Chasing Ice
Director, Jeff Orlowski, met photographer James Balog via a mutual friend. Orlowski had long admired Balog's photography and really wanted an opportunity to work with him. As a result, when Balog started his Extreme Ice Survey in 2007, Orlowski offered to assist the project for free. 
The documentary director joined Balog and his team on trips to Iceland, Greenland and Alaska and filmed him installing his time lapse cameras. The survey comprised 25 such cameras, programmed to take a photograph every daylight hour for three years.
"Over time, we had collected a great archive of the project and I knew we could make a great film out of it," Orlowski recalls. "There have been so many efforts to document climate change, but this one was unique." Over a decade since its release, Chasing Ice has lost none of its incredible power. Here, before our eyes, we see the impact of climate change - not from a barrage of statistics but via clear visual and accessible proof.
Chasing Coral 
After the success of Chasing Ice, Jeff Orlowski turned his attention to the ocean. He wanted to raise awareness of and document the disappearance of the world's coral reefs. The result is Chasing Coral - an incredible, beautiful and devastating film. As with Chasing Ice, the behind the scenes journey following those involved in the environmental project is just as fascinating as the story of the coral itself.
The documentary is the result of over three years of work for Orlowski and a team of divers, photographers, engineers and scientists. They filmed in a number of locations including Bermuda, Australia and Hawaii.
The group developed innovative filmmaking technology and captured more than 500 hours of underwater footage - relying on the support of over 500 people in a range of locations around the world. "It is really hard to wrap your head around charts and numbers," Orlowski explains. "But when people see visuals that tell us that story they get it in a completely different way." 
Jane
Drawing from over 100 hours of never-before-seen footage that has been tucked away in the National Geographic archives for over 50 years, Jane tells the story of Jane Goodall, a woman whose chimpanzee research challenged the male-dominated scientific consensus of her time and revolutionized our understanding of the natural world.
Brett Morgen's wonderful documentary starts by asking two key questions - how did a young woman with no scientific degree end up studying chimpanzees in the tropical forests of Gombe, Tanzania? What did famous paleontologist, Louis Leakey, see in Goodall that made him choose her for this project (a study of primates to help further the understanding of early hominid societies)? 
The answers soon become clear. The film's archive footage reveals a quietly determined, observant and endlessly patient woman. A woman who is both sensitive and strong, inquisitive and analytical. In addition, and perhaps most importantly, Leakey recognised Goodall as a person who possessed a boundless love (and respect) for all animals.
Before The Flood
If you are after an accessible overview of the key environmental issues facing our planet, Fisher Stevens's 2016 documentary, Before The Flood, is a geat place to start. The film follows Leonardo DiCaprio as he explores such challenges as climate change, fossil fuel use, the spread of misinformation, the dangers of drought and flooding and the destruction of the rainforest. 
Much like with Al Gore in An Inconvenient Truth, Before The Flood also explores DiCaprio's right to talk to us about his environmental concerns. Why should we listen to this actor? Who is he to tell us how to live?
DiCaprio explains his interest, his knowledge, his passion and his sense of responsibility. The actor understands the power of his media profile. He has the ability to raise awareness about these issues and he can gain access to some of the most important politicians (including Barack Obama - while he was still US president), scientists and environmentalists in the world.
Despite looking at developments around the globe (and China in particular), Before The Flood has a definite US focus. Nonetheless, this documentary is of interest regardless of where in the world you live. 
The Biggest Little Farm
It all started with a promise to a dog. In just nine words I knew that I was going to love John and Molly Chester's documentary, The Biggest Little Farm. Todd, the dog in question, was rescued by Molly and John and then he, in turn, rescued them… by barking incessantly and causing them to be evicted from their home.
Turns out, this was just the nudge that the couple needed to explore Molly's dream of owning a sustainable farm. For just shy of eight years, The Biggest Little Farm follows them on their journey towards this goal. The result is a visually stunning, emotionally moving adventure. The Biggest Little Farm is compelling and thought provoking, funny and inspirational. 
The central message in The Biggest Little Farm is one of harmony and balance.Molly Chester says it best. When asked about the greatest lesson that she has learned from the land, she replies "that conquering doesn't work, that the focus isn't eradication or winning - it's collaboration and understanding… You have to watch and be observant. Something is always going to be causing 'problems' but they're not really problems, they're just teaching you what the land needs. They're your next place to find greater harmony." 
Encounters At The End Of The World
For a less romantic and more philosophical approach to issues concerning our impact on the planet (among many, many other thought provoking topics) watch any documentary by Werner Herzog. 
From his iconic film, Grizzly Man (about Timothy Treadwell who, in the brilliant words of Roger Ebert, "thought he could live with bears and not be eaten, and was mistaken") to 2016's Into The Inferno (a fascinating look at active volcanoes and those people who live near to or study them), Herzog has explored our relationship with the environment.  
In this film, Herzog's takes us on an eccentric, gripping and poetic journey. By the end of our time exploring his Encounters at the End of the World, we understand the danger of taking our home for granted.
Gasland
In May 2008, filmmaker, Josh Fox, received a letter asking for his permission to lease 19.5 acres of his land for natural gas drilling. He would receive a significant financial incentive to do so (a cheque for $100,000) and the activity would, the letter reassured, have very little impact on his land. 
Wary, Fox decided to look into just what this drilling would involve. Would there really be any lasting impact on the stunningly beautiful area of the Upper Delaware River Basin, on the border straddling Pennsylvania and New York State, that he called home?
What happened next would change Fox's life forever and lift the lid on the Halliburton-developed drilling technology of "fracking" or hydraulic fracturing. The director embarked upon a cross-country journey uncovering a shocking web of secrets, lies and horrific contamination.
And We Go Green
When entrepreneur, Alejandro Agag, and FIA president, Jean Todt, decided to create an all electric global motor racing competition, few thought that they would succeed. This is a sport beloved by petrol heads not battery heads after all. Undeterred, Agag and Todt knew that the combination of competitive motor racing and the world's growing environmental concerns was a powerful mix - and, in 2014, the Formula E racing series was born.
Fisher Stevens and Malcolm Venville's documentary introduces us to FE - a championship that, each season, sees 20 drivers take part in 12 races in ten cities around the world. Agag is keen to describe himself as a racing man not an environmentalist. Apart from the cars themselves, there is not much discussion in And We Go Green about, for example, the carbon footprint of the championship.
Nonetheless, Agag assures us that he is concerned about the environment. He believes that electric racing could have far reaching 'green' benefits. For example, developments in FE could well filter down to improve the electric cars on our roads.