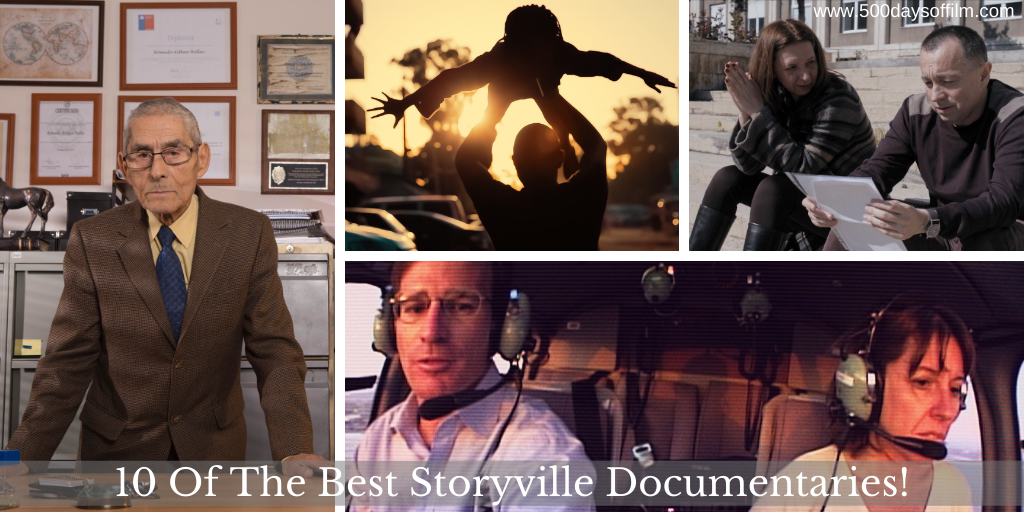 Created by Nick Fraser in 1997, Storyville is a BBC documentary strand that features some of the world's best non fiction films.
While BBC Four is the home for Storyville on linear television, I typically watch Storyville docs via the BBC iPlayer platform (Click here for more documentaries on BBC iPlayer).
As the films are often only available for a limited time, it is a good idea to keep an eye on the Storyville collection - some of these docs are too good to miss.
To get you started, here are 10 must watch Storyville documentaries....
Collective
Collective is a gripping, real-time docu-thriller that follows a heroic team of journalists as they expose shocking corruption in the Romanian national health-care system. 
The Mole Agent
Part charming film noir, part heartbreaking portrait of loneliness and old age, The Mole Agent is a tender and deeply moving film that expands he boundaries of traditional documentary storytelling. 
Whirlybird
Whirlybird is the story of a fascinating and problematic marriage - set against the backdrop of 1990s Los Angeles and the development of the 24/7 news cycle. Matt Yoka's film follows Marika Gerrard and Zoey Tur (known then as Bob) who captured some of LA's most iconic news stories from high above the city in their helicopter.
Welcome To Chechnya 
David France's powerful and urgent documentary, Welcome To Chechnya, is a tough but important watch. The film exposes the treatment of LGBTQI+ people in Chechnya who, since 2017, have been subject to an unbelievably violent campaign of persecution and extermination. 
When We Were Kings
On 30 October 1974, one of the most iconic sporting events of all time took place in Kinshasa, Zaire. It was on this date that the Rumble in the Jungle occurred between champion George Foreman and challenger Muhammad Ali. 
Combining historical footage and new interviews, Leon Gast's Oscar-winning film documents this fight and explores the relationship between African-Americans and the African continent during the Black Power era.
Last Men In Aleppo
Last Men In Aleppo follows Syria's White Helmets - an incredible group of civilians who, having formed search and rescue teams, run towards danger in the desperate hope of saving lives.
Feras Fayyad's documentary focuses on three White Helmets in particular - Khaled, Subhi and Mahmoud - as they try to make a life amid the chaos. We watch as they struggle to decide whether to flee the horror or stay to fight for their country.
United Skates
United Skates is an immersive and poignant tribute to African American roller skating communities in the US - looking at their history, examining their importance and questioning why they are under threat. 
Feels Good Man
For a film about a cartoon frog, Feels Good Man takes us into some pretty dark corners of society. Arthur Jones' documentary will make your head spin, your stomach turn and your heart ache for the state of humanity. Do not despair, however. Feels Good Man is, at its core, an optimistic tale - a story of hope, friendship and love.
The cartoon character in question is Pepe the Frog. He was created by Matt Furie, the somewhat reluctant hero of this surreal story. Matt, a soft spoken artist with a positive attitude and inherent sweetness, poured much of himself (and even aspects of his partner, Aiyana) into Pepe. The frog featured in his comic, Boys Club, with four other cartoon characters - Landwolf the party dog (possibly inspired by his roommate Chris), Andy the joker and Brett, who loves to dance. 
The humour in Boys Club focused on post-college life and, according to Matt, Pepe was the little brother of the group. The jokes were silly, harmless. How then did Pepe the Frog become a symbol of white nationalist hate by the alt-right?
Softie
Beautifully shot and brilliantly edited, Softie examines corruption and politics in Kenya. With heart to spare, Sam Soko's powerful documentary also observes the conflict between the personal and the political following the birth of a new political party headed by award-winning photojournalist and activist, Boniface "Softie" Mwangi.
Locked In: Breaking The Silence
Locked In: Breaking the Silence follows director Xavier Alford as he faces an illness that he has, for years, been unable to confront. As his condition becomes impossible to ignore, Alford decides to make a film about his experience - exploring what the future holds for his body, his career and - most importantly - his family.