500 Days Of Film Reviews The Top 10 Best Romantic Films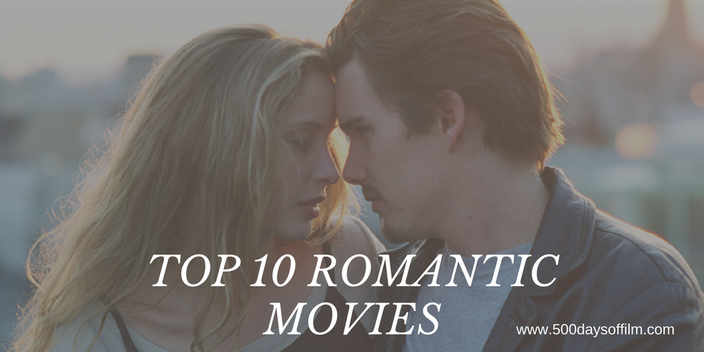 With Valentine's Day just around the corner, what better time to look at some of the best cinematic love stories? Here are my top ten favourite romantic films...
10. Wall.E
One of my favourite Pixar movies, Wall.E is the gorgeous story of a little recycling robot's love for Eve - a reconnaissance robot. If you are at all surprised that this film has made my list, just go and watch the space dancing scene (the one with the fire extinguisher). It is everything...
9. The Notebook
Unsurprisingly perhaps, a Nic Sparks adaptation has made it onto my list. Allie (Rachel McAdams) and Noah (Ryan Gosling) fall in love but, as life threatens to tear them apart, is their relationship strong enough to survive? Beautiful scenery, kisses in the rain, heartbreak and romance. Perfect.
8. Say Anything
In this 80s classic, John Cusack plays Lloyd, a high school senior who falls in love with star student Diane (Ione Sky). His love for her is so pure and good. He may not know what he wants from life, but he knows he wants to be with Diane and he'll follow her wherever she needs to go. Sigh...
7. An Officer And A Gentleman
The iconic final scene (and song) isn't the only reason why An Officer And A Gentleman is on my list. I love this film more for Paula (Debra Winger)'s growing love for Zack (Richard Gere). The desperation she feels at the thought of losing him gets me every time.
6. Eternal Sunshine Of The Spotless Mind
Michel Gondry's eccentric film features superb performances from both Jim Carey and Kate Winslet. Based on a fascinating premise, Eternal Sunshine Of The Spotless Mind explores the enduring and undeniable power of love.
5. Roman Holiday
While on a royal visit to Rome, Princess Ann (Audrey Hepburn) escapes her stifling life of duty to spend a liberating few hours with reporter, Joe Bradley (Gregory Peck). Roman Holiday is, of course, an absolute classic and wonderfully romantic film.
4. Casablanca
Featuring the ultimate love triangle, Casablanca is an iconic film and an absolute joy to watch. Set in Casablanca, at the beginning of World War 2, Rick Blaine (Humphrey Bogart) runs a popular nightclub. His world is rocked by the arrival of past love, Ilsa (Ingrid Bergman). Can he forgive her for what happened in Paris?
3. When Harry Met Sally
When Harry Met Sally is one of my all time favourite movies. I have watched this film hundreds of times in many formats (I still love my VHS copy). I simply adore this movie. Who could resist Harry's last speech: "When you realize you want to spend the rest of your life with somebody, you want the rest of your life to start as soon as possible"?
2. Before Sunset
The second film in Richard Linklater's superb Before trilogy takes place nine years after Celine and Jesse's first meeting. The pair walk the streets and talk about their lives and what happened after Vienna.
1. Before Sunrise
My favourite romantic film is Before Sunrise, the first film in Linklater's Before trilogy. The movie begins with a chance meeting on board a train. Feeling an instant connection, Jesse persuades Celine to get off the train with him so that they can
spend the few precious hours before sunrise getting to know each other and falling in love. Before Sunrise is smart, authentic, charming and wonderfully romantic. More than enough to melt the most cynical of hearts.
What Is Your Favourite Romantic Movie?
What do you think of my list of romantic films? What would you add or, even, remove from this group?
Do let me know! Leave me a comment in the section below!