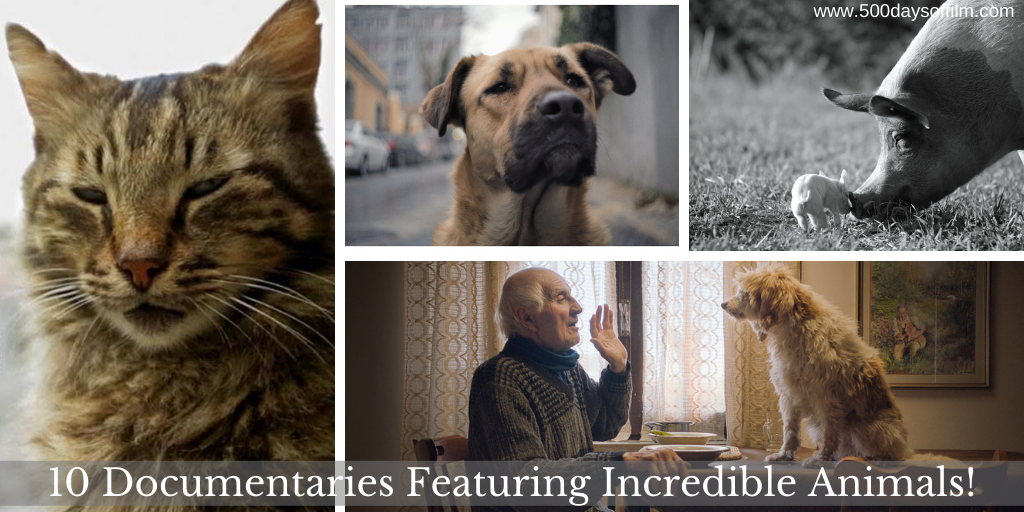 It all started with a promise to a dog. These nine words were all I needed to put John and Molly Chester's documentary, The Biggest Little Farm, on my must-watch list. 
I often find myself drawn to docs about animals. I love the behind the scenes, intimate access they offer and how many of these films raise awareness of important animal welfare and preservation issues... and, in some cases, reflect broader themes in society. 
Here are ten of my favourite documentaries featuring incredible animals...
Gunda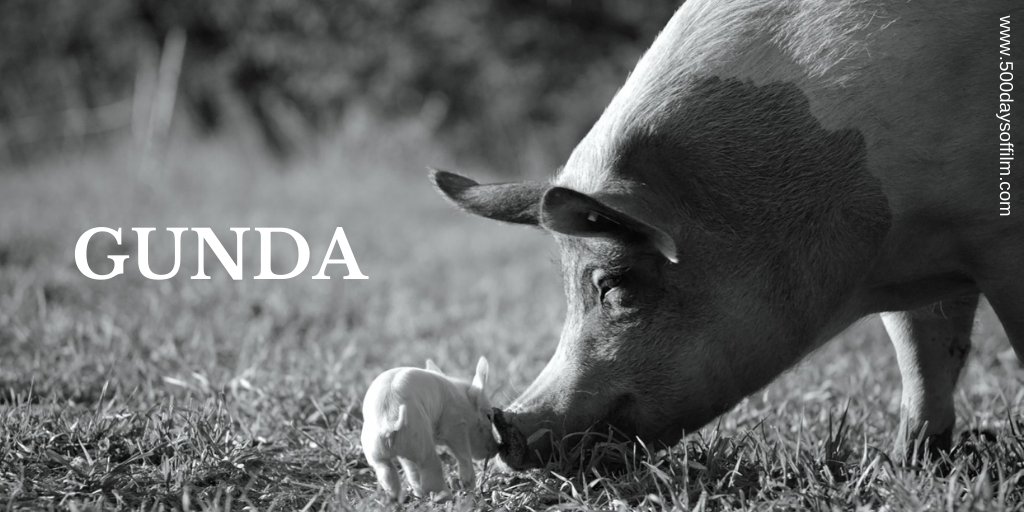 Gunda is a moving and visually stunning cinematic experience. Viktor Kossakovsky's film observes the daily life of a mother sow (the eponymous Gunda), her piglets, two ingenious cows and a scene-stealing, one-legged chicken. Shot in black and white (with wonderful use of light and shadow) and featuring an incredibly immersive "natural" soundscape, there is magic in Kossakovsky's lens.
By keeping his camera still and focused on these animals (often in startling close up) they transform in front of our eyes to become something far more than mere livestock - we begin to see them as individuals.
Click here for my review of Gunda
The Truffle Hunters
Watching The Truffle Hunters is like stepping into a mysterious magical world, almost straight out of a fairytale. This is a place steeped in tradition and untouched by modernity. 
Michael Dweck and Gregory Kershaw's wonderful documentary follows a group of men in their seventies and eighties as they hunt the forests of Piedmont, Italy for the rare and expensive white Alba truffle. The truffles are highly prized, having (so far) resisted all human attempts at mass cultivation. 
These truffle hunters succeed where many other (less experienced) hunters fail because they belong to a secret culture. Being a part of this mysterious group has afforded them access to training that has been passed down from generation to generation. They are also guided by the eager and expert noses of their beloved truffle dogs.
Stray
Following three stray dogs through the streets of Istanbul, Stray takes us on a beautiful and soulful journey.
Elizabeth Lo's stunning documentary begins with a quotation from the Greek philosopher, Diogenes of Sinope (360 BC): "Human beings live artificially and hypocritically and would do well to study the dog". Filmed in Istanbul and across Turkey between 2017-2019, Lo does just that - studying gorgeous floofs Zeytin, Nazar and Kartal and considering what their daily (and nightly) experiences reveal about humanity.
Without the need for exposition or narration, Lo creates an intimate portrait of the city. Stray also highlights some of society's most overlooked areas. A wife laments her loveless marriage, a street protest demands equality for women, young refugees exist without sanctuary.
Through these observations, Stray explores what it means to live - like Zeytin, Nazar and Kartal - without status or security. 
Kedi
In Istanbul, Turkey hundreds of thousands of cats roam free. Ceyda Torun's visually stunning and deeply poetic documentary gives us a cat's eye view of the feline life experience in the city. With an impressive light touch, Torun immerses us in a cat's world, revealing many examples of poignant - and respectful - cat and human relationships. 
My Octopus Teacher
I didn't know what to expect from Pippa Ehrlich and James Reed's Netflix documentary, My Octopus Teacher. Was this a nature doc about cephalopods? If so, what's with the 'teacher' part? What lessons will this octopus share? Intrigued, I began to watch… and all became clear. My Octopus Teacher is not the traditional nature film we have come to expect. This is a beautiful story about love and the healing power of connection. 
Grizzly Man
Timothy Treadwell loved bears. In fact, he far preferred life with the animals of the Katami National Park, to living with his own species. During thirteen summers, Treadwell filmed his experiences living with grizzly bears. Through this remarkable footage, he aimed to protect the bears and their environment.
However, as Werner Herzog's excellent documentary finds, many people believe that Treadwell was misguided in his crusade. Many view his close interactions with the bears as disrespectful and dangerous. 
And, while saddened, few were surprised by how Treadwell's story ended. In 2003, he and his companion, Amie Huguenard, were killed by one of the bears that he had so desperately tried to protect.
Blackfish
In the summer of 2010, Dawn Brancheau was killed at Orlando's SeaWorld marine park. Her killer was the 12,000 pound orca called Tilikum that Brancheau - an extremely experienced trainer - had helped train and had performed with for years.
The tragedy did not sit well with director Gabriela Cowperthwaite. "Something wasn't right," she recalls. "Why would a highly intelligent animal attack its trainer – in effect, bite the hand that feeds it?"
In 2013, Cowperthwaite's documentary, Blackfish, was released. Few would guess the impact this film would have… a phenomenon called The Blackfish effect.
The Biggest Little Farm
Remember The Biggest Little Farm's promise to a dog? Todd, the dog in question, was rescued by Molly and John Chester. He, in turn, rescued them… by barking incessantly and causing them to be evicted from their home.
Turns out, this was just the nudge that the couple needed to explore Molly's dream of owning a sustainable farm. For just shy of eight years, The Biggest Little Farm follows them on their journey towards this goal.
The result is a visually stunning, emotionally moving adventure. The Biggest Little Farm is compelling and thought provoking, funny and inspirational. 
Jane
Jane is a visually stunning, fascinating and often deeply moving documentary. Using footage recovered from National Geographic archives and a to-camera interview with Jane Goodall herself, this is the story of a truly remarkable woman and the life she spent studying chimpanzees.
Virunga
Eastern Congo's Virunga National Park is one of the most beautiful and biodiverse places on Earth. It is also home to the planet's last remaining mountain gorillas. Director Orlando von Einsiedel's powerful documentary follows a small and embattled team of park rangers - including an ex-child soldier turned ranger, a caretaker of orphan gorillas and a dedicated conservationist - who protect this UNESCO world heritage site from armed militia, poachers and the dark forces struggling to control Congo's rich natural resources.