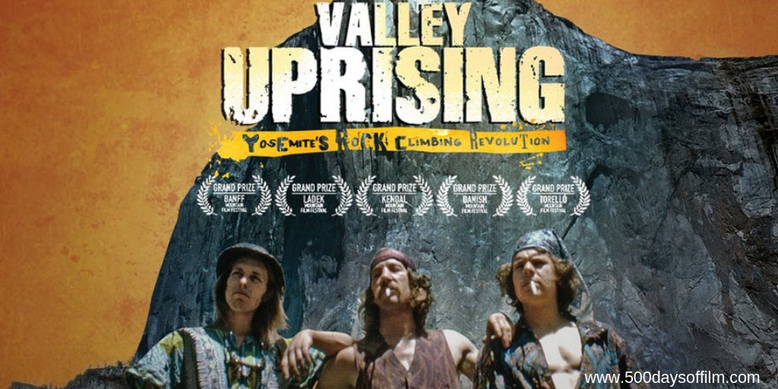 Valley Uprising charts the history of rock climbing in California's Yosemite National Park. Having watched both Free Solo and The Dawn Wall, Peter Mortimer, Nick Rosen and Josh Lowell's entertaining and accessible film really put the achievements of Alex Honnold and Tommy Caldwell into context.   
Narrated by Peter Sarsgaard, the documentary explores the larger than life characters that have scaled Yosemite's cliffs over the past 60 years. It looks at how the act of climbing itself has evolved and offers interesting insights into the development of climbing culture and etiquette - its values and tactics.
Of course, Valley Uprising cannot include all of Yosemite's iconic climbers in 90 minutes. Instead, the film concentrates on three specific generations of climbers. The documentary begins with the golden age generation of the 1950s-1960s, followed by the so-called stone masters of the 1970s-1980s, finishing with the "monkey" generation of modern climbers.
The filmmakers interviewed over 50 climbers for this film and the documentary features such Yosemite legends as Dean Potter, Alex Honnold, Lynn Hill, Jim Bridwell, Royal Robbins, Warren Harding, Yvon Chouinard, John Bachar and "Chongo" Chuck. 
Using archive footage, old photographs and slides and interviews with many of the climbers themselves, Valley Uprising is a brilliant introduction to Yosemite climbing. The film explains the many challenges of climbing these "walls" and the practical considerations that each climber has, over the years, had to face.
Alongside capturing the spirit of the climbers, the film also contains breathtaking visuals of what is a stunningly beautiful location - allowing us (from the comfort and safety of our chairs) the chance to see the incredible rewards of big wall climbing. 
However, Valley Uprising does not just document the climbers and their journeys up these impressive cliffs. It also examines their, often fractious, relationship with the Yosemite National Park authorities. In this way, the documentary becomes more than just a climbing film. It looks at the development of counterculture. The clashes between the climbers and the authorities is fascinating - a real microcosm of society.
Valley Uprising is an enjoyable and entertaining documentary made with love and respect by filmmakers who clearly know their stuff. A hit of nostalgia for climbers, the documentary is also easily accessible for climbing novices (like me). 
Climbing Documentary Recommendations
Valley Uprising is part of the Climbing sub-genre of Documentary 7.
If you enjoyed this movie, I would also recommend:
Do you have any climbing documentaries that you would like to recommend? If so, do let us know in the comments section below or over on Twitter. You can find me @500DaysOfFilm.