500 Days Of Film Reviews 10 Utterly Gripping True Crime Documentaries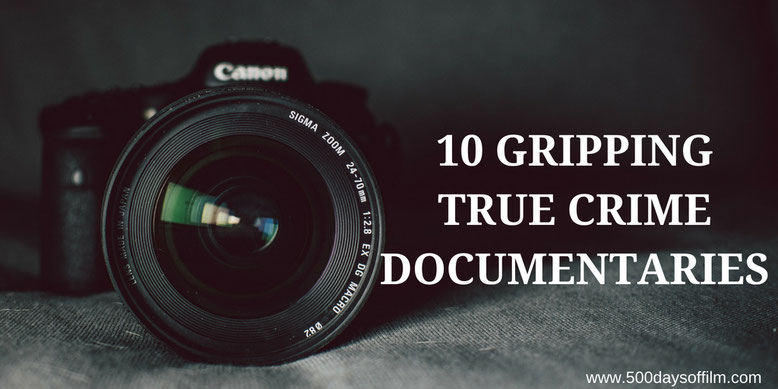 Every once in a while, I find myself completely and utterly addicted to true crime documentaries. Whether they be movies, Netflix documentary series (including Making A Murderer, The Staircase and Evil Genius) or true crime podcasts (such as Serial, Dirty John and Up And Vanished) I fall down, down, down the rabbit hole.
As a result, whenever I finish a true crime documentary I always feel a little lost. What am I supposed to do now? How can I fill this void? In case you feel the same way, here are ten superb and utterly gripping true crime documentaries...
10. Amanda Knox
Story:
Meredith Susanna Cara Kercher was a 21 year old British exchange student who on 1st November 2007 was brutally murdered in a house in Perugia, Italy. Kercher's roommate Amanda Knox, a 20 year old student from Seattle, had spent that night with her new boyfriend, Raffaele Sollecito. On returning to her house the next morning, she noticed that something was wrong - very wrong.
Knox's subsequent behaviour raised the suspicions of public prosecutor, Giuliano Mignini. He became convinced that Knox and Sollecito had murdered Kercher. And so began a case that would captivate the world. 
Verdict:
There is nothing new in Netflix original documentary, Amanda Knox. There are no stunning revelations about Meredith Kercher's murder or the prolonged case against Amanda Knox and Raffaele Sollecito. In addition, Rod Blackhurst and Brian McGinn's movie offers no real insight into Knox's experience of prison nor does it shed much light on her life post release.
What this documentary does offer, however, is an opportunity to hear Amanda Knox talk at length about what happened in Perugia. This - alongside testimony from Sollecito and Mignini and other key players involved in the case - is gripping and undeniably fascinating.
Click here for my full review of Amanda Knox 
9. Cropsey
Story:
Growing up on Staten Island, New York, filmmakers Joshua Zeman and Barbara Brancaccio had often heard scary stories about the legend of Cropsey. For them and their friends, Cropsey was an escaped patient who had lived in the old abandoned Willowbrook Mental Institution. The Cropsey would come out at night and he would snatch children. They would never be seen again. 
As they grew older, Zeman and Brancaccio assumed that the Cropsey was just an urban legend - something used by parents to keep their kids in check. However, all that changed in the summer of 1987 when a 12 year old girl with Downs Syndrome disappeared. In that summer the Staten Island community began to wonder if the Cropsey was, in fact, real.
Verdict:
The legend of the Cropsey is probably the least interesting part of this documentary. Far more powerful is the film's examination of how the Staten Island community dealt with the shameful and horrific events of its past. Cropsey also poses an interesting question - just what exactly does a monster look like?
8. The Fear Of 13
Story:
After 23 years on Death Row, convicted murderer Nick Yarris requested that all appeals cease and his sentence of death be carried out. He agreed to be interviewed by filmmaker David Sington about his decision.
Verdict:
The Fear Of 13's story is told by Nick Yarris. There are no other voices in this compelling documentary. He starts by explaining what it feels like to be found guilty and imprisoned on death row. He describes the eerie silence in a world without sunlight.
Yarris is a soft spoken and fluent storyteller. Before long, I found myself mesmerised - not only by his story but also by his delivery. And then I felt uncomfortable - should I allow myself to feel this way? He is a convicted murderer after all. 
However, nothing is as it first appears. This is a film that is best viewed with as little prior knowledge of the case as possible. The Fear Of 13 is a gripping, shocking and ultimately uplifting documentary. 
7. Capturing The Friedmans
Story:
In 1987, the US Postal Service intercepted a child pornography magazine that was being sent to Arnold Friedman, a husband and father of three boys and a respected teacher. The subsequent police investigation found that this magazine was far from a one-off purchase.
Deeply concerned, the police began to interview the children that Friedman taught and were horrified by what they found.
Verdict:
In many true crime documentaries, you get an idea of how you are supposed to feel about a case. With Capturing The Friedmans there is no such certainty. Are they innocent? Are they guilty? Are they guilty of some charges, innocent of others? I have no idea - and that is strange because this documentary takes you into the heart of the Friedman family. 
Filmmaker, Andrew Jarecki, is allowed quite astonishing access to the Friedmans.
Remarkably, he didn't set out to make a documentary about Arnold Friedman. While making a film about children's party entertainers in New York, he met Arnold's son, David Friedman.
From talking to David, Jarecki learned about the charges against Arnold and that the family had an archive of home movies filmed before, during and after Arnold's arrest. Using this footage and interviews with the family and others connected to the case, the director tells his story without bias. And the more I saw and heard, the less certain I became of anything. 
Capturing The Friedmans also sheds light on a deeply uncomfortable phenomenon that occurred around many child abuse allegations at the time. The hysteria that followed such revelations caused some families to compete against each other as to whose child had suffered the most abuse.
Families that did not believe their child had been abused were bullied and then shunned if they didn't follow the pack. As a result, Capturing The Friedmans is a fascinating and disturbing documentary on many levels. 
6. Strong Island
Story:
Strong Island chronicles the arc of a family across history, geography and tragedy - from the racial segregation of the Jim Crow South to the promise of New York City; from the presumed safety of middle class suburbs, to the maelstrom of an unexpected, violent death. 
This is the story of the Ford family: Barbara Dunmore, William Ford and their three children and how their lives were shaped by the enduring shadow of race in America. In April 1992, on Long Island NY, William Jr., the Ford's eldest child, a black 24 year-old teacher, was killed by Mark Reilly, a white 19-year-old mechanic. Although Ford was unarmed, he became the prime suspect in his own murder. 
Strong Island asks what one can do when the grief of loss is entwined with historical injustice, and how one grapples with the complicity of silence, which can bind a family in an imitation of life, and a nation with a false sense of justice.
Verdict:
I defy anyone not to be gripped by Yance Ford's documentary. Within minutes, I certainly was. While films exploring racism and injustice are (sadly) far from rare, this feels different. Strong Island's raw emotional intensity (driven by Ford's uncompromising to camera interviews) is incredibly powerful, thought-provoking and deeply moving.
Click Here For My Full Review Of Strong Island
5. Murder On A Sunday Morning
Story:
On Sunday 7th May 2000 in Jacksonville Florida, Mary Ann Stephens was shot in the head at point blank range in front of her husband. 
Two hours later, 15-year old black American, Brenton Butler, was arrested while out walking near his home. Placed inside a police car, Butler was driven back to the murder scene and identified as the killer by the victim's husband.
Jean-Xavier De Lestrade's Academy Award-winning film follows the remarkable events that unfolded after Butler's arrest and during his trial. When everyone - from the police to the media - had decided that Butler was guilty, it fell to his tenacious lawyer, Patrick McGuiness to try to prove his innocence. 
Verdict:
Murder On A Sunday Morning is a chilling, jaw dropping and disturbing story. Told without narration via interviews and news footage, the film follows McGuiness as he builds Butler's defense.
We don't hear from Butler himself, but still get to know him and his family. He looks like a child lost in a system that is determined to lock him away (because that's what he is). As a result, when the documentary moves to the trial, the tension is powerful indeed.
In the same way as in The Central Park Five (see below), this documentary really makes you question police interview confessions. How can a confession, made under such suspicious circumstances, have any value? 
4. The Central Park Five
Story:
In 1989, a white woman was raped and left for dead whilst out jogging in New York's Central Park. Five young black and Latino teenagers, who happened to be in Central Park that night, were accused of the vicious attack and then charged.
There was no physical evidence to support the allegations. There was only a series of deeply unconvincing confessions (which were later withdrawn) and an atmosphere of utter hysteria whipped up by both the police and the media.  
However, that proved enough for all five to be found guilty.
Verdict:
This documentary, by filmmaker Ken Burns, is as frightening as any fictional horror story. The lives of five young men were ruined simply because they were in the wrong place at the wrong time. They were then tried and found guilty in the court of public opinion.
All five men tell their dreadful stories - often looking directly into the camera. From this we see (in all but one, that of Antron McCray who asked not to be filmed but whose voice we hear) and really feel what a profound impact the case has had on all of them.
The Central Park Five is a powerful and moving film. It is truly shocking to watch the media's reaction to the case and I just couldn't understand how the police got everything so terribly wrong - a mistake that allowed the real culprit to attack again.
3. West Of Memphis
Story:
In 1993, three young boys from the small town of West Memphis, Arkansas, went missing. The next day they were found, murdered, in a muddy creek. The gruesome nature of this discovery led police to believe that the killer or killers belonged to a satanic cult.
This particular revelation frightened the West Memphis community so much that they were willing to believe any police theory - no matter how tenuous. So, when three teenagers (one of whom wore black and was into heavy metal) were found guilty of the murders, many people in West Memphis demanded they be executed. There was really no punishment terrible enough. 
However, as the suspects were so young (Jessie Misskelley, Jr. was 17, Jason Baldwin was 16) only one was eligible for this punishment - Damien Echols. Echols was 18 years old.
Apart from a suspect confession (oh yes, one of those again) from Misskelley, there was no physical evidence and all three boys maintained their innocence. In time, many others started to believe them.
West Of Memphis tells the story of the fight to free the West Memphis Three.
Verdict:
West Of Memphis was inspired by Paradise Lost - a trilogy of films about the case by filmmakers Joe Berlinger and Bruce Sinofsky. Having watched these films, Peter Jackson (Lord Of The Rings) and Fran Walsh wanted to do something to help free the three wrongfully convicted men.
Jackson and Walsh decided to make a film - focusing on Echols' time on Death Row and his fight to save his own life. They asked Academy award nominee (for Deliver Us From Evil) Amy Berg to direct the documentary.
Of all the ten documentaries featured in this post, West Of Memphis feels the most horrific. Perhaps this is because we see the moment when a mother learns about her son's murder. It is such a deeply upsetting scene and a moment of monumental grief.  
The documentary also shows footage from the discovery of the three boys and some of their deeply upsetting autopsy photographs. Berg leaves us in no doubt that these were utterly horrendous murders.
When the documentary moves on to tell Echols' story, it becomes less visually upsetting but no less disturbing. The three teenagers were locked away for little more than not fitting in. And, once again, the real killer or killers were left free. Utterly chilling.      
2. Dear Zachary
Story:
After the death of his good friend, Andrew Bagby, filmmaker Kurt Kuenne discovered that Bagby's ex-girlfriend was expecting Andrew's child. Kuenne then decided to make a film so that Andrew's son, Zachary, could see what his father was like and understand just how much he was loved by his friends and family.
Verdict:
Dear Zachary is a superb, deeply personal and absolutely heartbreaking documentary. I had not heard about this film before it was recommended to me by fellow film blogger MovieRob. 
Not long into this film, I found myself in tears. I was just so deeply moved by the story - largely as a result of how it was being told. Kuenne traveled far and wide to interview the people who knew his friend best. He then edited his film and, along with some poignant home video footage, pieced the story together.
And his editing in this film is superb. Little by little, anecdote by anecdote, Kuenne allows us, the audience, to get to know Andrew Bagby. However, the devastating truth is that no one will ever know Andrew again.
No one will know how his life would have developed or what type of father he would have been. No one will know this because Andrew was murdered. Kuenne's wonderful storytelling makes for an extremely powerful, deeply personal and heartbreaking documentary.
1. The Thin Blue Line
Story:
In November 1976, Dallas police officer, Robert W Wood was shot and killed after stopping a stolen car. The murder sent shock waves throughout the US putting the Texas police service under huge pressure to make an arrest and ensure that an appropriate level of justice was served.
Before long. all the evidence pointed to a troubled 16 year old called David Ray Harris. After the crime, Harris told his friends that he was the one who shot Wood. When questioned, however, Harris told the police that a man he had given a lift to that night, Randall Dale Adams, had killed Wood.
Despite the overwhelming amount of evidence that suggested Harris was guilty, the police charged Adams with murder. Adams was later found guilty and sentenced to death.
Verdict:  
The Thin Blue Line is a truly remarkable documentary. Director, Errol Morris, set out to prove the innocence of Adams and highlight the fact that he not received a fair trial. It is a gripping film as Morris (who had worked as a private investigator) uncovers new evidence and pieces the true story together.
The fact that the evidence presented in The Thin Blue Line led to Adams had such an impact on the case, makes this film (and the documentary genre as a whole) feel immensely powerful. 
(Click here to see my full review of The Thin Blue Line).
Over To You...
Have you watched any of these true crime documentaries? If so, I would love to know what you think of these films.
Meanwhile, do you have a favourite true crime documentary not on this list that you would recommend? 
Whatever the case, do let me know - just leave me a comment in the box below or let's talk true crime docs over on Twitter. You can find me @500DaysOfFilm.