500 Days Of Film Reviews Five Of 2018's Best Films Based On A True Story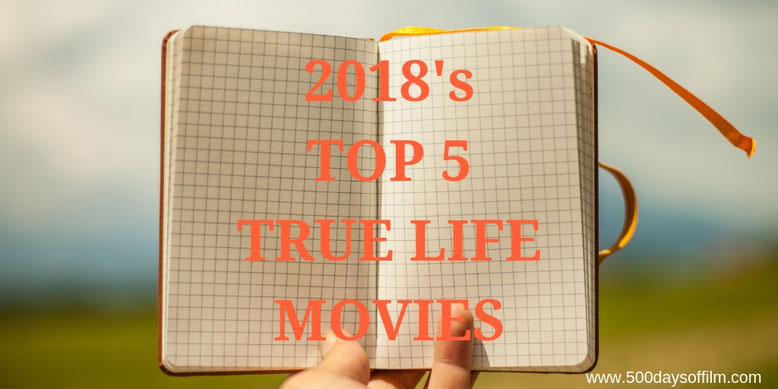 There is nothing cinema likes more than a true story. How many times have we seen the words "based on a real story" or "inspired by actual events" before the start of a film? Many, many (many) times I suspect.
2018 has, so far, been no exception to this movie rule. There have been a number of gripping and fascinating films based on true events this year.
Here are my top five films (based on 2018 UK releases) inspired by real life situations and experiences.
I, Tonya
Despite being the first American woman to complete a triple axel in competition, Tonya Harding's legacy was forever defined by her association with an infamous, ill-conceived and even more poorly executed attack on fellow Olympic competitor, Nancy Kerrigan. 
I, Tonya is not the film that you may think it is - particularly from watching the movie's trailer. You might expect a quirky, humorous tale about an infamous "incident" in the world of figure skating. What you get from director Craig Gillespie (and thanks to a superb performance from Margot Robbie) is something far darker.
That is not to suggest that I, Tonya is deadly serious. This film is extremely entertaining and there are many funny moments. However, at its heart, I, Tonya is an unsettling study of prejudice and domestic violence - a movie that certainly doesn't pull its punches.
Click Here For My Full Review...
American Animals
Spencer (Barry Keoghan) is determined to become an artist but feels he lacks the essential ingredient that unites all great artists – suffering. His closest friend, Warren (Evan Peters), has also been raised to believe that his life will be special and that he will be unique in some way. 
Determined to live lives that are out of the ordinary, they plan the brazen theft of some of the world's most valuable books from the special collections room of Spencer's college library. Enlisting two more friends, accounting major Eric (Jared Abrahamson) and fitness fanatic Chas (Blake Jenner), and taking their cues from heist movies, the gang meticulously plots the theft and subsequent fence of the stolen artworks. 
American Animals tells the unbelievable but absolutely true story of an audacious art heist. This is a gripping and suspenseful tale about a crime so ludicrous and so ill judged that it should be laughable.
And, indeed, it would be if this story didn't have such a disturbing heart - revealing unsettling truths about disaffection and entitlement.
Click Here For My Full Review…
BlacKkKlansman
It's the early 1970s, a time of great social upheaval as the struggle for civil rights rages on. Ron Stallworth (John David Washington) becomes the first African-American detective at the Colorado Springs Police Department, but his arrival is greeted with open skepticism and hostility by the department's rank and file.
Undaunted by his treatment, Stallworth resolves to make a name for himself and a difference in his community. He sets out on a dangerous mission - to infiltrate and expose the Klu Klux Klan.
Featuring powerful performances from its entire cast (John David Washington and Adam Driver are superb), Spike Lee's film portrays a key moment in history, while also exposing issues that are (tragically) still so relevant today. 
As Lee tells Ron Stallworth's remarkable (barely believable) story, BlacKkKlansman does include elements of fiction. However, the most incredible parts of the story are actually (and incredibly) true.
Click Here For My Full Review…
Adrift
Journeying across the ocean from Tahiti to San Diego, Tami Oldham (Shailene Woodley) and Richard Sharp (Sam Claflin) find themselves sailing directly into one of the most catastrophic hurricanes in recorded history.  
In the aftermath of the storm, Tami awakens to find the boat in ruins and hundreds of miles off course. With no hope for rescue, Tami must find the strength and determination to survive - spurred on by her deep feelings for Richard, the only man she has ever loved.
Much like his previous movie, 2015's Everest, Baltasar Kormákur's Adrift is an incredibly intense film based on a powerful and moving true story. Beautifully portrayed by Shailene Woodley and Sam Claflin, this tale of love and survival is one of the most immersive cinematic experiences of 2018.
Click Here For My Full Review…
My Friend Dahmer
Jeffrey Dahmer (Ross Lynch) is an awkward teenager struggling to make it through high school while his family life lies in ruins. His bizarre behaviour at school attracts unexpected friends, a group of band-nerds who form The Dahmer Fan Club, headed by Derf Backderf (Alex Wolff). 
However, as they near graduation, Jeff's depravity continues to take hold and he spirals further out of control.
My Friend Dahmer is a slow burning but nonetheless thought-provoking account of Jeffrey Dahmer's high school experience. The film (based on Derf Backderf's 2012 graphic novel) features a brave and potentially breakthrough performance from Ross Lynch (all dead eyes and intense social awkwardness).
Marc Meyers's movie examines how one man can emerge from a troubled childhood to become one of the world's most infamous serial killers (Dahmer confessed to killing 17 men and boys). It is fascinating and chilling in equal measure.
Click Here For My Full Review…
Over To You...
What has been your favourite true life story this year?
Let me know by leaving me a comment in the box below or do feel free to get in touch over on Twitter. You can find me @500DaysOfFilm.