500 Days Of Film Reviews My Friend Dahmer Starring Ross Lynch And Alex Wolff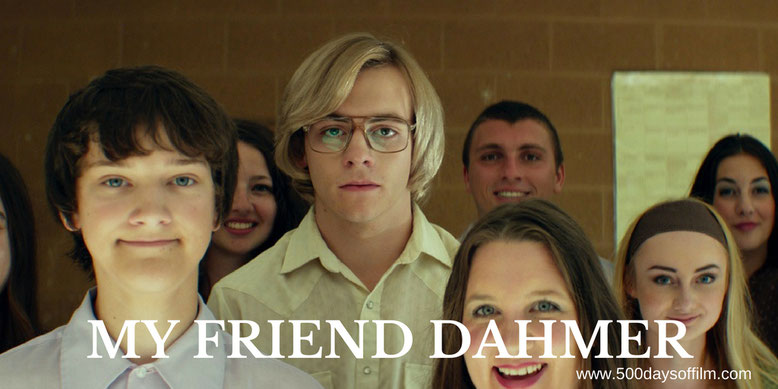 Jeffrey Dahmer (Ross Lynch) is an awkward teenager struggling to make it through high school while his family life lies in ruins. His bizarre behavior at school attracts unexpected friends, a group of band-nerds who form The Dahmer Fan Club, headed by Derf Backderf (Alex Wolff). 
However, as they near graduation, Jeff's depravity continues to take hold and he spirals further out of control. 
Is It Any Good?
My Friend Dahmer is a slow burning but nonetheless thought-provoking account of Jeffrey Dahmer's high school experience. The film (based on Derf Backderf's 2012 graphic novel) features a brave and potentially breakthrough performance from Ross Lynch (all dead eyes and intense social awkwardness).
Marc Meyers's movie examines how one man can emerge from a troubled childhood to become one of the world's most infamous serial killers (Dahmer confessed to killing 17 men and boys).
Society has an unsettling fascination with serial killers. Why are we so endlessly intrigued by these atrocious humans - people who commit utterly horrific and unspeakable acts? Perhaps we seek to understand. Perhaps our interest is simply driven by morbid curiosity. Whatever the reason, the attention these killers attract is disturbing to say the least - particularly when the stories of their victims remain largely untold.
As a result, a serial killer origin story is troubling. Will Marc Meyers ask us to understand and even sympathise with Dahmer? Thankfully, this is not the case. My Friend Dahmer does not ask for our sympathy or seek to justify the killer's actions. 
Instead, Meyers explores the broader themes at the centre of this story. What are the forces in life that sculpt and define us? How do we become who we become? How much is nature, how much nurture? How well do you know your friends?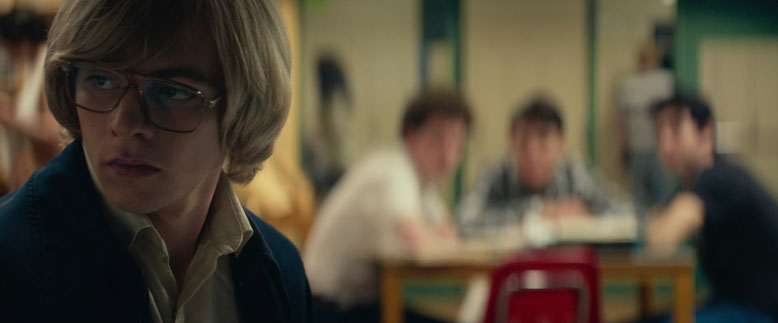 While careful to avoid apportioning blame, My Friend Dahmer does highlight the many, many occasions when Dahmer's disturbing behaviour could have been picked up by those around him. The film questions whether, had he not been so neglected (and exploited), Dahmer could perhaps have been helped and, far more importantly, 17 lives could have been saved.
Guilt pervades this film - Backderf's regret at how he treated Dahmer is clear in every scene. To his credit, Backderf does not shy away from recalling his own cruel and dubious actions. Portrayed by the increasingly impressive Alex Wolff (Hereditary, Jumanji, Patriot's Day), Derf manipulates Dahmer for his own amusement and high school kudos. 
"I was committed to adapting Derf's tale as faithfully as possible," explains Myers. "The author's personal narrative is horrifyingly honest, and for me it was of utmost importance to maintain that candidness in my interpretation."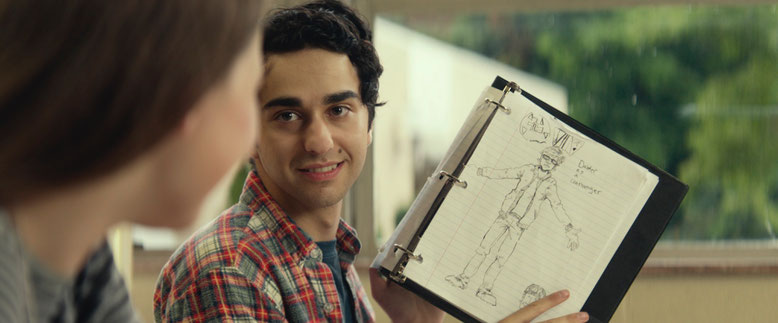 In scene after scene, My Friend Dahmer depicts Jeffrey's descent into horror. Despite being the class clown, his obvious difference (and unhealthy interest in bones) ensured that he could never fit in at school. Meanwhile, his home life was equally troubled. His parents (well played by Anne Heche and Dallas Roberts) are both too consumed by their own issues to see their son's deterioration.
While My Friend Dahmer suffers from, at times frustrating, pacing issues, the film certainly pulls together during its third act. We finally see just how dangerous Dahmer has become and it is genuinely chilling. 
"Nature versus nurture is one of our most fundamental debates," says Meyers. "In my film I don't promise to provide answers, but I hope that by sharing this story, audiences might ask these questions for themselves, hopefully through a more compassionate lens."
Random Observations
Yep that is that kid from Disney. A brave choice one might think and it is… however, Meyers does not ask him to indulge in anything particularly sickening.
Parts of My Friend Dahmer were shot in Jeffrey Dahmer's actual Ohio home. Meyers states that he was "immediately steadfast on filming at that house. One could assume filming at the actual Dahmer home was creepy, but I found the place rather inspiring. It's a serene home perched on a hill. The sounds of bird and crickets at night reminded me of my youth. And, most importantly, the spot gave myself, the cast and crew a deeper connection to the actual events in our story." 
While My Friend Dahmer is driven by Derf Backderf's 2012 graphic novel, the film also benefits from Dahmer's own recollections. After his capture and subsequent confession, Dahmer gave many incredibly frank interviews about his life and dreadful crimes - taking full responsibility for his actions.
Have you seen My Friend Dahmer? 
If you have, what did you think of this movie? Let me know by leaving me a comment in the section below or getting in touch via Twitter. You can find me @500DaysOfFilm.