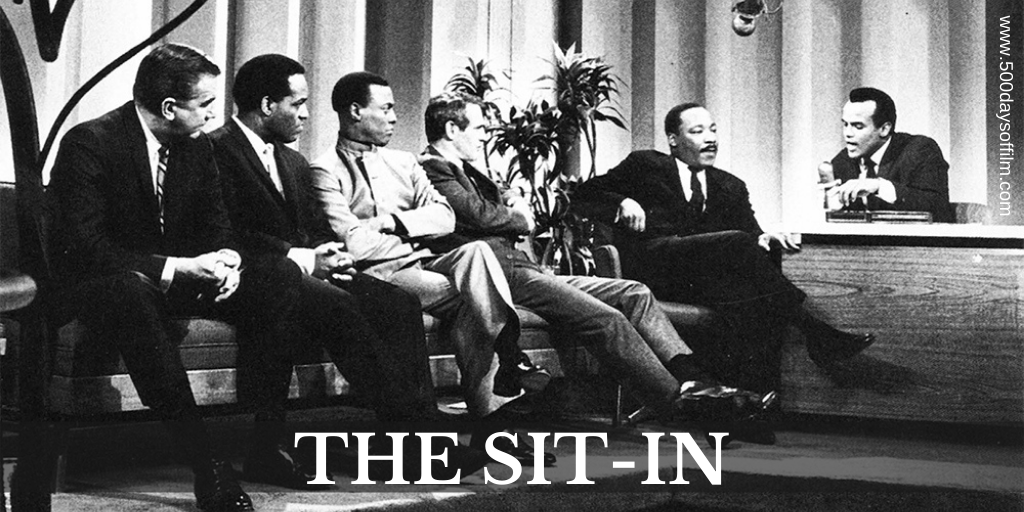 In 1968, for the very first time, The Tonight Show's Johnny Carson invited a guest to host his show for one full week. Carson wanted The Tonight Show to explore some of the issues around civil rights and race that were dominating America. However, Carson also understood two things. First, he was not the right person to host such discussions. Second, the right person was iconic musician, actor and activist, Harry Belafonte. 
For his part, Belafonte understood the potential of examining such issues in front of The Tonight Show's huge mainstream audience. As a result, he set about creating a truly astonishing guestlist. His time on The Tonight Show featured appearances from actors, musicians, politicians and activists including Aretha Franklin, Sidney Poitier, Lena Horn, Dionne Warwick, Robert Kennedy and Martin Luther King Jr.
Using archive materials and fascinating interviews, The Sit-In explores the significance of Belafonte's time on The Tonight Show. Yoruba Richen's wonderful documentary both celebrates and contextualises the moment. 1968 was, of course, a time of significant upheaval in America.
It was also a time when the television talk show host's chair was largely reserved for white men. Indeed, television in general was predominantly white with very little black representation. In The Sit-In, Richen examines the artists and performers who, like Belafonte, attempted to make change. However, diversity remained incredibly rare. As Ahmir 'Questlove' Thompson, The Tonight Show musican and director of Summer Of Soul (...Or When The Revolution Could Not Be Televised), explains in the film, inviting Belafonte to guest host The Tonight Show was "probably the most revolutionary move that mainstream television could have done at the time". 
Belafonte, of course, was a household name in 1968. Richen's film features a poignant interview with his daughter, Gina Belafonte. She talks about her father's life, his far reaching appeal and explains that he was "a political person before he was an artist". 
It is also a joy to hear Belafonte talk about his experience as host. "The Tonight Show was one of the most powerful platforms of communication in the world," he explains in The Sit-In. Later in the film he adds that "as performers, we had felt the need to begin to do more than just sing - we had to have a point of view and began to speak out." After all, as Belafonte reminds us, "art without content is not art".
The "content" of Belafonte's week as host of The Tonight Show is incredibly powerful. It is a pleasure to hear him read his brilliantly curated guestlist in the documentary. He had a powerful agenda and was able to invite a range of talented and influential figures. Many sat down with Belafonte and discussed the key issues of the day - issues that are still so relevant.   
How wonderful to see both Martin Luther King Jr. and Robert Kennedy sitting on the sofa across from Belafonte. Their appearances, mere months before both were assassinated, are fascinating and deeply moving. It is amazing to see Martin Luther King Jr. looking so relaxed (even making jokes). It is, as a result, even more devastating to hear his response when Belafonte asks him if he fears for his life.
Belafonte understood the potential, the opportunity and the responsibility of his week as host of The Tonight Show. Not only was he inspiring those watching at the time, but he was also making history. Tragically, however, much of this week has been lost - and it really feels like such a tremendous loss. Like many television stations, NBC routinely recorded over its tapes and, as a result, only two episodes have been saved.
My mind went immediately to the vast archive of television recordings preserved by Marion Stokes (and explored in Matt Wolf's superb documentary, Recorder: The Marion Stokes Project). In her film, Richen finds another archivist, Phil Gries. He recorded the audio of the first two nights of Belafonte's week. 
Thank goodness for archivists. This audio is so incredibly powerful and important. I desperately want to watch more footage (and am still holding out hope that more episodes might be discovered in another archive somewhere). However, thanks to Richen's moving, insightful and entertaining film, Harry Belafonte's week on The Tonight Show can be both remembered and celebrated.