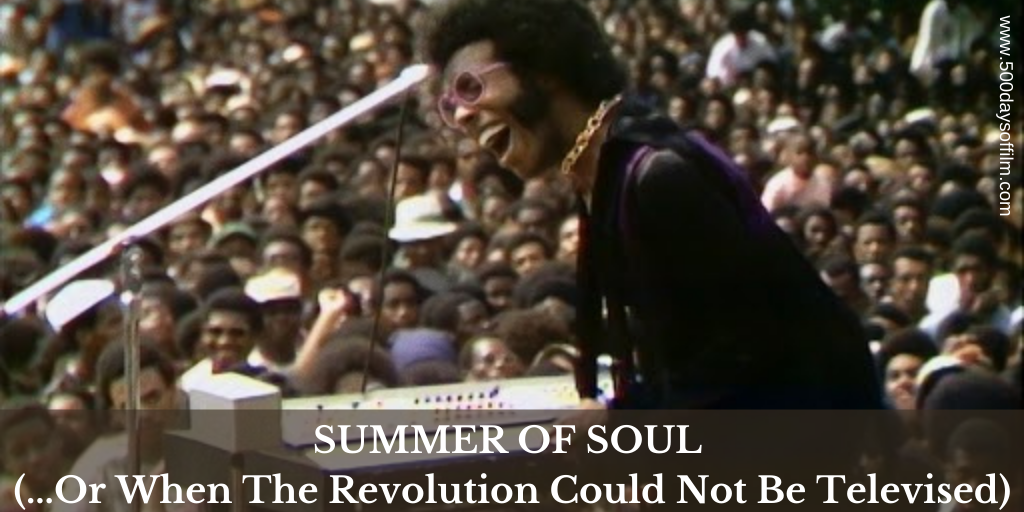 Ahmir 'Questlove' Thompson's debut film, Summer of Soul (...Or When The Revolution Could Not Be Televised), is an absolute joy. It tells the story of The Harlem Cultural Festival, that took place over six weekends in Mount Morris Park (now Marcus Garvey Park), just 100 miles south of Woodstock.
The event celebrated Black history, culture and fashion, which Summer Of Soul both documents and celebrates. Crucially, Thompson also places the festival within the social and political context of its time. As Gladys Knight explains in the film, "It wasn't just about the music".
The festival was captured on film but (unbelievably) after that summer the footage was never seen and largely forgotten. 
Until now. 
Summer Of Soul features a wondrous treasure trove of never-before-seen concert performances from the likes of Stevie Wonder, Nina Simone, Sly & the Family Stone, Gladys Knight & the Pips, Ray Baretto, Mavis Staples and more - so much more.
I cannot emphasise enough the incredible talent featured in this film. It is breathtaking from start to finish. Highlights for me are Stevie Wonder (check out his drum solo), Mahalia Jackson, Gladys Knight & The Pips (the dancing!), David Ruffin (post The Temptations) and Sly & the Family Stone. Who am I kidding? I loved all of the performances in Summer Of Soul.
However, the standout of the documentary for me, the performance that radiates pure power and gravitas, is Nina Simone. She came to play, but she did not come to play. I love Nina Simone anyway but she is on fire here - she is fierce, she speaks her mind (controversially at times) and she gives an astounding performance deserving of many, many repeat viewings.
I would love to watch Summer Of Soul at an open air cinema as this film demands an audience (I actually watched this film in my sitting room, thank you pandemic). However, wherever you view this documentary, I dare you to remain seated while watching these incredibly talented musicians. Summer Of Soul is full of energy - reminding us of the power of communal experience. 
Thompson and his editor, Joshua L. Pearson, take care to include as much footage of the festival's crowd (The Harlem Cultural Festival had over 300,000 attendees) as the performers themselves. We also hear what the festival meant to those who were there. This documentary is not just about a festival - it is also about an important moment in time... and the power of music.