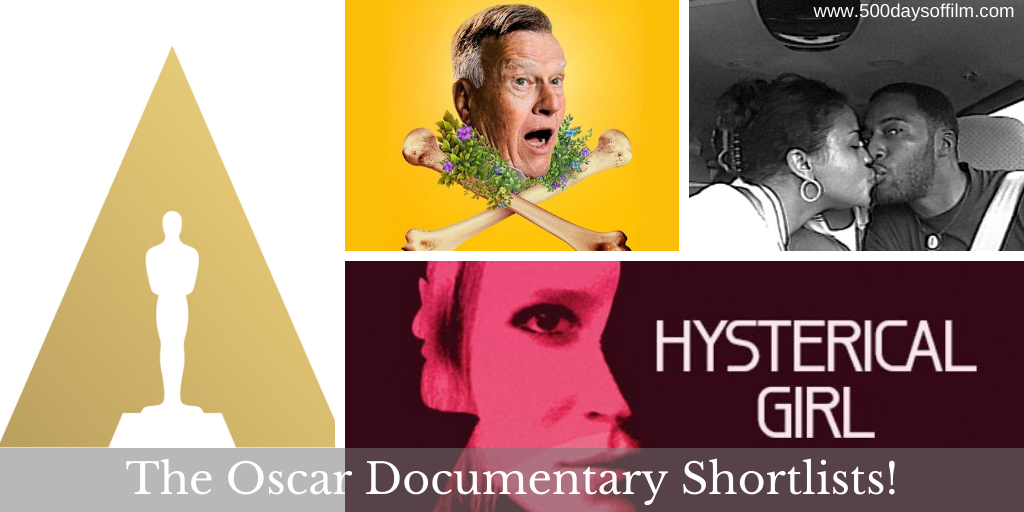 Exciting news… the Oscar documentary shortlists have been announced! 
The lists for best documentary feature and best documentary short subject reveal the incredibly high standard (and all round awesomeness) of the non-fiction film genre. Proof, if it were needed, that the Academy should increase its number of nominees in these categories from five to ten.
The final Oscar nominees will be announced on 15th March and the Academy Awards take place on 25 April 2021. Meanwhile, let's take a look at the shortlisted films and find out exactly where you can fill your eyeballs with them…
Oscars Shortlist - Documentary Feature
All In: The Fight For Democracy
All In: The Fight For Democracy tells the powerful story of Stacey Abrams, the former Minority Leader of the Georgia House of Representatives, and explores the vital importance of democracy and the right to vote.
Watch on Amazon
Dick Johnson Is Dead
In order to celebrate her father's life and process his devastating dementia diagnosis, director and cinematographer, Kirsten Johnson, decided to make a film. However, as its title suggests, this is no ordinary bio pic. In Dick Johnson Is Dead, Johnson stages many inventive and fantastical ways to kill her dad - in order to bring him back to life. 
This documentary is a joy - full of humour and warmth. Dick Johnson is endearing, insightful and wholly supportive of his daughter's project. As a result, this is a stunning portrait of a loving and respectful relationship - and a beautiful exploration of mortality.
Watch on Netflix
Collective
Collective is a gripping, real-time docu-thriller that follows a heroic team of journalists as they expose shocking corruption in the Romanian national health-care system. Collective also made the Oscar shortlist for Best International Feature Film (Romania).
Watch on Dogwoof On Demand
Crip Camp
Down the road from Woodstock, a revolution blossomed in a ramshackle summer camp for teenagers with disabilities, transforming their lives and igniting a landmark movement. 
Watch on Netflix
Gunda
Beautifully shot in crisp black and white, Gunda chronicles the unfiltered lives of a mother pig, a flock of chickens and a herd of cows. By focusing on the animals as individuals, we begin to understand just how disconnected we have become from those creatures with whom we share this world.
Released in the UK on 30th April 2021
MLK/FBI
MLK/FBI uncovers the extent of the FBI's surveillance and harassment of Martin Luther King, Jr. Based on newly discovered and declassified files, the documentary explores the US government's history of targeting Black activists.
Watch on Dogwoof On Demand
My Octopus Teacher
My Octopus Teacher is more than just a documentary about cephalopods. The film is a beautiful story about love, nature and the healing power of connection. 
Watch on Netflix
Notturno
Notturno is a powerful and immersive collection of vignettes examining the reality of life in a place of violence and conflict.
Released in the UK on 5th March
Time
In this intimate yet epic love story filmed over two decades, indomitable matriarch Fox Rich raises her six sons and keeps her family together as she fights for her husband's release from the Louisiana State Penitentiary. 
Watch on Amazon
The Truffle Hunters
The Truffle Hunters follows a group of men in their seventies and eighties as they hunt, with their beloved dogs, the forests of Piedmont, Italy for the rare and expensive white Alba truffle. The truffles are highly prized, having (so far) resisted all human attempts at mass cultivation. 
Released in the UK on 9th April 2021
The Mole Agent
Part charming film noir, part heartbreaking portrait of loneliness and old age, The Mole Agent is a tender and deeply moving film that expands he boundaries of traditional documentary storytelling. The Mole Agent also made the Oscar shortlist for Best International Feature Film (Chile).
Watch on Dogwoof On Demand
Welcome to Chechnya
Welcome to Chechnya follows a group of activists who risk their lives to confront the ongoing anti-LGBTQ campaign in the Russian republic of Chechnya. With unfettered access and a commitment to protecting anonymity, the documentary exposes these underreported atrocities, while highlighting an extraordinary group of people confronting deadly brutality. Welcome to Chechnya also made the Oscar shortlist for Best Visual Effects. 
Watch on BBC iPlayer
76 Days
76 Days is a shocking and compassionate portrait of life in a hospital in Wuhan, China during the early days of Covid 19. 
Watch on Dogwoof on Demand
Oscar Shortlist - Documentary Short Subject
Abortion Helpline, This Is Lisa
At an abortion helpline in Philadelphia counselors (who are all given the name of Lisa) answer nonstop calls from women who seek to end pregnancies but can't afford to pay for them. Janet Goldwater, Mike Attie and Barbara Attie's film exposes the toxic effects of the Hyde Amendment in the US and reveals how economic stigma and cruel legislation determine who has access to abortion.
Call Centre Blues
Call Centre Blues follows four deportees living in Tijuana whose work as call centre operators keeps them connected to the US. However, their American Dream grow increasingly distant.
Colette
On the anniversary of the start of the Nuremberg trials, 90 year old Colette Marin-Catherine confronts her past by visiting the Nazi concentration camp in Germany where her brother was killed. 
Watch via The Guardian documentaries 
A Concerto Is A Conversation
A virtuoso jazz pianist and film composer tracks his family's lineage through his 91 year old grandfather from Jim Crow Florida to the Walt Disney Concert Hall.
Do Not Split
In 2019, a proposed bill allowing the Chinese government to extradite criminal suspects to mainland China sparked protests throughout Hong Kong. Told over the course of a year, Do Not Split captures the determination and sacrifices of the protesters, the government's backlash and the passage of the new Beijing-backed national security law.
Hunger Ward
A powerful and unflinching look at hunger's toll on the children of war-torn Yemen 
Skye Fitzgerald, director of Hunger Ward, and his team are in talks with distributors regarding the film's distribution. Meanwhile, they are organising virtual screenings for global audiences. For more information, visit www.hungerward.org. 
Hysterical Girl
Hysterical Girl re-examines one of Sigmund Freud's five major psychological case histories - the only one he produced of a female patient. This stunning film uses a feminist lens to imagine Dora, the name Freud used to protect his subject's identity, as a girl today.
A Love Song For Latasha
Who was Latasha Harlins? Nearly three decades after her death (after being fatally shot in 1991 by Soon Ja Du, the owner of a South Central Los Angeles convenience store), director Sophia Nahli Allison's brilliant documentary short, A Love Song for Latasha, explores Harlins' story and builds a powerful and moving archive of the promising life that was lost. 
Watch on Netflix
The Speed Cubers
The Speed Cubers is less concerned with solving rubik's cubes than you might expect. Don't get me wrong, Sue Kim's film is set deep within this quirky and competitive world and full of extraordinary examples of speedcubing. However, this gorgeous documentary short is more interested in capturing a truly heartwarming friendship. This is the story of the rivalry/friendship between two of best rubiks cubers in the world - 17 year old Max Park and 23 year old Feliks Zemdegs.
Watch on Netflix
What Would Sophia Loren Do?
What Would Sophia Loren Do? follows Nancy "Vincenza" Kulik, an Italian-American mother and grandmother living in Fort Lee, New Jersey. Nancy has seen her share of life's challenges, but has been able to stay joyful and resilient - inspired in part by another Italian mother, the movie star Sophia Loren.
Watch on Netflix