500 Days Of Film Reviews The Best Horror Films In 2017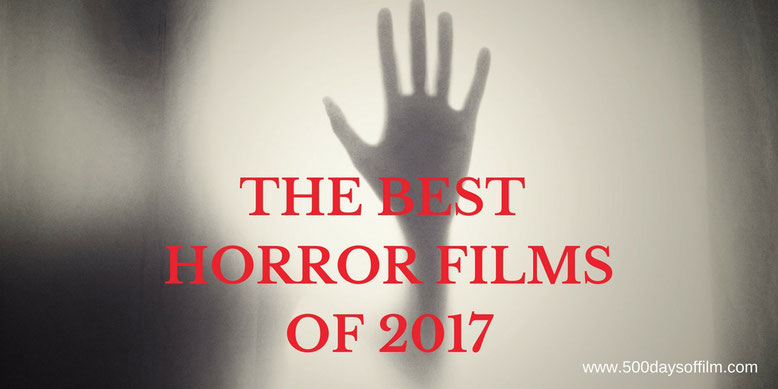 This year has been such a brilliant year for horror fans. There have been a range of exciting and thought-provoking scary movies... what has been your favourite?
Here are my top five...
5. Prevenge
Synopsis: 
Ruth is a pregnant woman on a killing spree. Manipulated by the voice of her misanthropic unborn child, Ruth seeks bloody vengeance for the absence of her baby's father.
Struggling with her conscience, loneliness, and a strange strain of prepartum madness, Ruth must ultimately choose between redemption and destruction at the moment of motherhood. 
What I Said:
The blackest of black horror comedies, Prevenge (written and starring Lowe who was also pregnant at the time) is both startlingly nasty and wonderfully wry - reminding me of Ben Wheatley's Sightseers (which of course starred and was co-written by Lowe).  
4. It Comes At Night
Synopsis: 
Traumatised in the aftermath of an apocalyptic virus, 17 year-old Travis (Kelvin Harrison Jr.) exists in a state of grief and fear in a remote home with his vigilant, protective and heavily armed parents, Paul and Sarah (Joel Edgerton and Carmen Ejogo). 
When desperate young couple, Will and Kim (Christopher Abbott and Riley Keough), come seeking refuge with their young child, Travis and his parents - believing that there is strength in numbers - let them into their home.  
Despite the best intentions of both families, panic and mistrust boil over as the horrors of the outside world creep ever closer. However, Travis discovers that the horrors within are far worse and that his father's commitment to protecting the family may cost him his soul. 
What I Said:
I loved every tension-fuelled minute of It Comes At Night. This is an intelligent, thought provoking movie - a film that leaves you with a lingering sense of unease.  
3. Raw
Synopsis: 
Everyone in Justine (Garance Marillier)'s family is a vet - and a vegetarian. At 16, she's a brilliant and promising student. However, when she starts at veterinary school, she enters a decadent, merciless and dangerously seductive world. 
During the first week of horrific hazing rituals, desperate to fit in whatever the cost, Justine strays from her family principles and eats raw meat for the first time. The consequences of her actions are shocking as her true self begins to emerge. 
What I Said:
This shocking, visceral and darkly funny film witnesses the awakening of a young girl's true desires. 
2. IT
Synopsis: 
While investigating the suspiciously high number of child disappearances in their hometown of Derry, Maine, a group of young kids have to face their biggest fears and confront an evil clown named Pennywise (Bill Skarsgård), whose history of murder and violence dates back for centuries.  
What I Said:
IT is a thoroughly entertaining and satisfying film - up there with some of the best Stephen King adaptations. 
1. Get Out
Synopsis: 
Five months into his relationship with Rose (Allison Williams), Chris (Daniel Kaluuya) is about to meet her parents Missy (Catherine Keener) and Dean (Bradley Whitford) during a weekend visit to their rural home.  
Despite Rose's assurances, Chris is nervous about her family's reaction to their interracial relationship - an anxiety that only grows as the weekend progresses, especially after Chris makes some disturbing discoveries.
What I Said:
Get Out is an entertaining, intelligent and layered film - a thrilling movie that will make you think and provoke much debate. Jordan Peele has created a new horror classic.
What Is Your Favourite Horror Film Of 2017?
What was your favourite horror film of 2017?
Let me know in the comments section below or via Facebook or Twitter (@500DaysOfFilm).