500 Days Of Film Reviews 2017's Family Films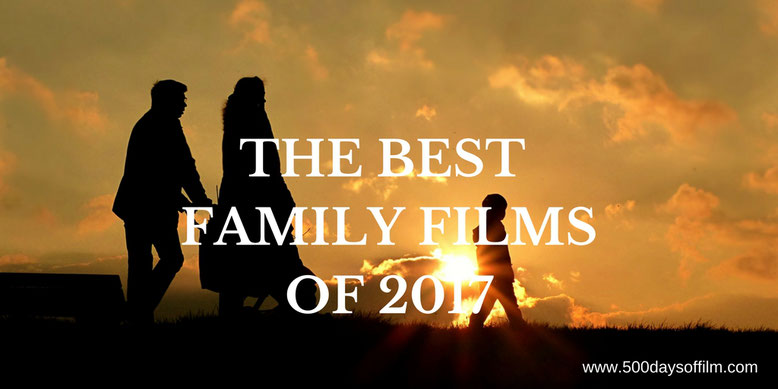 There's nothing like a trip to the cinema to bring the family together. Here are my favourite family films of 2017... 
5. The Lego Batman Movie
Synopsis: 
Major changes are happening within Gotham City. There is a new Commissioner in town and she has big plans to fight crime - plans that don't just involve pressing the Bat button. To the horror of our favourite caped crusader, Commissioner Barbara Gordon (Rosario Dawson) wants to work in partnership with Batman (Will Arnett).
Meanwhile, The Joker (Zach Galifianakis) has plans of his own and this time they might just succeed in tearing Gotham City apart. Can Batman put his fear of relationships aside and, working with his friends, save the day? 
What I Said:
There is just something wonderful about a film franchise (particularly one with such a long and varied history) being prepared to laugh at itself. Each Batman era provides fertile ground for comedy - from 2016's Batman Versus Superman to Adam West's 1960s incarnation. Indeed, there are so many visual gags, movie references and self aware jokes that a second viewing is essential to appreciate them fully.
4. Beauty And The Beast
Synopsis: 
An enchantress casts a powerful spell on a handsome yet arrogant prince, condemning him to lonely life as a terrifying beast and turning his loyal servants into household objects. Their only hope is for the Beast to fall in love and be loved in return before the last petal on a magical rose has fallen. 
What I Said:
While Bill Condon's Beauty And The Beast doesn't surpass the original, it sits respectfully alongside it - a loving adaptation that also feels fresh, taking the classic story into places new. 
3. Wonder
Synopsis: 
Born with facial differences that, up until now, have prevented him from going to a mainstream school, August Pullman becomes the most unlikely of heroes when he enters the local fifth grade. As his family, his new classmates, and the wider community all struggle with issues of compassion and acceptance, Auggie's extraordinary journey will unite them all and prove that you can't blend in when you were born to stand out.
What I Said:
While Wonder explores many emotionally powerful themes (acceptance and difference, friendship and bullying, joy and grief), at no point did I feel manipulated by ruthless, cynical storytelling. In addition to the more moving scenes, Chbosky's film is funny, entertaining and inspiring - it is a pleasure to be in Auggie's often hilarious and remarkably resilient company. 
2. My Life As A Courgette
Synopsis: 
Icare is nine years old. He prefers to be called Courgette, the nickname his mother gave him.
After her sudden death, Courgette meets a policeman called Raymond who takes him to a foster home. There, Courgette meets a group of children who, like him, believe they have nobody left to love them. Together they form a strong bond, supporting each other - becoming a family.
What I Said:
This is a movie with huge emotional power. I left the cinema deeply moved by My Life As A Courgette. However, while he does not shy away from many difficult issues, Barras aims to capture your heart not your tears. 
1. Paddington 2
Synopsis: 
When searching for a birthday present for his Aunt Lucy, Paddington discovers the perfect gift - a gorgeous pop-up book of London. As it is very expensive, Paddington decides to get a job in order to raise the necessary funds.
However, before he is able to buy the book it is stolen - and Paddington is the number one suspect... 
What I Said:
Paddington 2 is a charming film - brilliantly funny, endlessly entertaining and, at times, really very moving. After the original movie, the bar was set dangerously high for this sequel. However, Paddington 2 has more than risen to challenge. This is a truly magical film for all the family.
What Is Your Favourite Family Film Of 2017?
What was your favourite family film of 2017? Let me know in the comments section below or via Facebook or Twitter (@500DaysOfFilm).