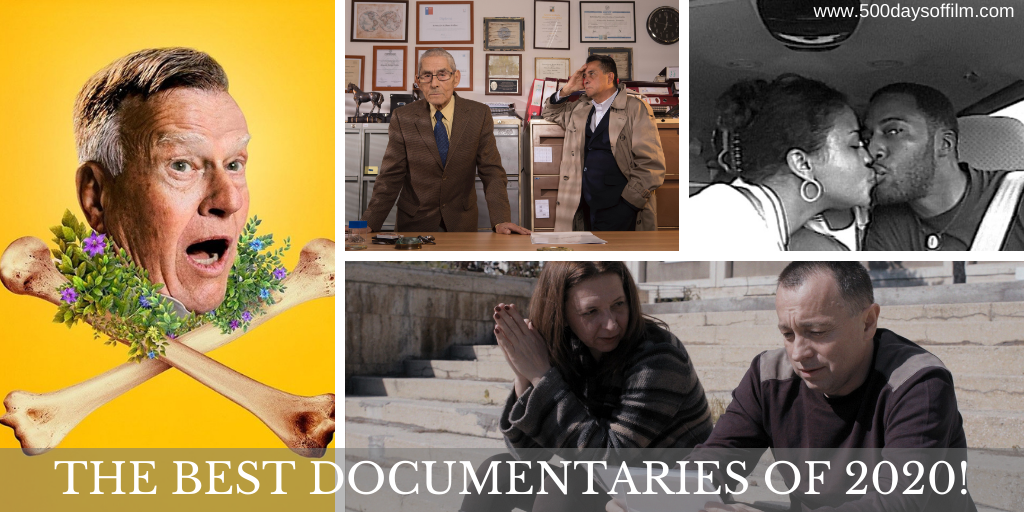 What a year this year has been. What a heartbreaking, anxiety-inducing and difficult year. I cannot wait to see the end of 2020... and I am sure that I am not alone. Are you listening 2021? We have high hopes for you… don't let us down!
While 2020 has been challenging in so many ways, one very welcome trend of the past 12 months has been the documentaries that have been released this year. There has been a consistent flow of beautiful, powerful and thought-provoking non-fiction films.
With that in mind, I am excited to share two lists. The first is my top ten documentaries of the year. The second is my review of 2020, which features my top 40 must-watch docs in chronological order of their UK release date.
Top 10 Documentaries Of 2020!
1. Dick Johnson Is Dead
In order to celebrate her father and process his devastating dementia diagnosis, Kirsten Johnson decided to make a documentary. However, as its title suggests, this is no ordinary bio pic. In Dick Johnson Is Dead, Johnson stages many inventive and fantastical ways to kill her dad. 
We watch as Dick Johnson is killed by a descending air conditioning unit, a fatal (and shocking) fall down some stairs and a deadly trip while walking the streets. On paper, the concept seems uncomfortably morbid and, perhaps, of questionable taste. 
On screen, however, this documentary is a joy - full of humour and warmth. Dick Johnson is endearing, insightful and wholly
supportive of his daughter's project. As a result, this is a stunning portrait of a loving and respectful relationship - and a beautiful exploration of mortality.
2. Collective
Powerful and disturbing, Collective examines the impact of a fire that devastated Bucharest's Colectiv nightclub in 2015. The horrific tragedy left 27 people dead and 180 injured and sparked massive nationwide protests. The unrest eventually forced Romania's ruling Social Democratic party to resign.
In an attempt to calm the country's anger, a politically independent government of technocrats was appointed and given a one-year mandate, until the next general election. Alexander Nanau's comprehensive and unflinching film documents the shocking revelations that were uncovered during that year.
As well as exploring the events in Romania, Collective is also a universal cautionary tale. Nanau explores the impact of loss, the human price of corruption, the importance of investigative journalism and the global threats facing democracy.
3. Time
How can you visualise the passage of time? How can you convey the significance of five, ten, twenty years of life? Garrett Bradley answers this question in her poetic and powerful documentary, Time.
The film tells the story of Fox Richardson, her husband Robert and their family as they cope with Robert's incarceration in Angola, Louisiana's State Penitentiary. In 1997, a lapse of judgement born out of financial desperation led Robert, his nephew, and Fox to commit armed bank robbery.
All three were caught and no one was physically hurt during the incident. Fox's punishment was a five-year jail term. Robert was sentenced to 60 years in prison with no possibility of probation, parole or chance of a suspension of sentence. 60 years - in the context of a human life - seems almost impossible to comprehend.
Time takes up the Richardson's story 20 years into Robert's incarceration. Beautifully shot in black and white and featuring a wonderful blues score, Bradley explores how the family has coped with Robert's long absence by combining clips from Fox's home videos with 'present day' footage. 
4. The Painter And The Thief
The opening moments of Benjamin Ree's documentary, The Painter and the Thief, almost feel like the beginning of a true crime documentary. CCTV footage captures two men as they break into an art gallery in Norway and steal two large paintings.
However, Ree is not as interested in the crime as he is in what happened next. The director introduces us to the Czech artist, Barbora Kysilkova, whose paintings were stolen and we follow her to the trial of one of the thieves responsible.
Kysilkova feels compelled to attend court because she is haunted by two questions. Why did the two men steal her paintings and what did they do with them? We know nothing of the thief in question and, as a result, are somewhat surprised by his response to her first question: "because they are beautiful".
This will not be the last time that the documentary wrong foots us.
Frustratingly for Kysilkova, the thief - whose name is Karl-Bertil Nordland - says that he cannot remember what he did with the paintings. Undeterred, she asks him to make amends by allowing her to paint his portrait. And so begins a fascinating and illuminating friendship.
5. Athlete A
Athlete A follows a group of incredibly talented and courageous athletes who, after suffering devastating abuse at USA Gymnastics (USAG), stood up, told their stories... and refused to be silenced. 
Bonni Cohen and Jon Shenk's powerful and inspiring film focuses on some of the hundreds of gymnasts who came forward. Meanwhile, Athlete A also explores the role of the reporters at The Indianapolis Star who investigated the allegations and the work of Angela Povilaitis, the lawyer who held Olympic doctor and sex offender, Larry Nassar, to account.
6. Recorder: The Marion Stokes Project
Marion Stokes recorded television twenty-four hours a day on multiple channels for thirty years. Yes, you read that correctly - twenty four hours a day, for thirty years. Matt Wolf's superb documentary, Recorder: The Marion Stokes Project, explores Marion's remarkable life and incredible legacy.
Marion's secret archive began in 1979, with taped televised coverage of the Iran hostage crisis at the dawn of the twenty-four hour news cycle. The recordings finally ended when Marion died, aged 83, on 14th December, 2012. Heartbreakingly, she passed away as devastating footage of the massacre at Sandy Hook played on the televisions surrounding her. 
In all, Marion's collection featured 70,000 VHS tapes. On important news days, eight VHS machines would be recording at once. On "normal days", only three-five recorders would be in constant use. As a result, Marion captured wars, revolutions, lies, triumphs, tragedies, catastrophes, documentaries, sitcoms, talk shows and commercials. Long before the concept of "fake news", Marion's archive shows us how television filters information, how it seeks to shape public opinion. 
7. The Mole Agent
Part charming film noir, part heartbreaking portrait of loneliness and old age, Maite Alberdi's The Mole Agent is a tender and deeply moving film that expands the boundaries of traditional documentary storytelling.
The story takes place in Chile. A private investigator called Romulo has been hired by a family to look into the care of their mother at a retirement home. Romulo needs a 'mole' to live inside the home for three months and investigate their concerns.
To find his mole, Romulo places an advert in a newspaper. He is seeking a retired man between 80 and 90 years old who is "independent, discrete and competent with technology". We join the search as Romulo begins his selection process. Alberdi includes snippets of these interviews in her film - highlighting the difficulties of finding work after a certain age. "You go somewhere for a job interview," says one man, "and as soon as you say how old you are it's over. It's an impediment".  
All candidates appear enthusiastic. However, one interviewee stands out from the crowd - 83 year-old Sergio. Recently widowed, he is endearing, amusing and fiercely independent. "If I get this job, I won't have any trouble," he explains " because I'm the one who makes decisions about myself." The camera loves him and, in no time at all, so do we.
8. Boys State
Boys State begins with a rather chilling quotation from George Washington in 1796: "[Political] parties are likely to become potent engines by which cunning, ambitious and unprincipled men will be enabled to subvert the power of the people and to usurp for themselves the reins of government."
Sadly, a glance at global politics today proves the enduring relevance of Washington's statement. Trust in politicians is disintegrating, societal issues feel more divisive than ever and inspirational leaders are few and far between. 
Documentarians, Jesse Moss and Amanda McBaine, were looking for a framework to explore this situation when they came upon Boys State. Sponsored by the American Legion, Boys State is a weeklong, selective educational programme for US high school students, teaching them all about the business of government. 
In the midst of such a low point in politics, Moss and McBaine were fascinated by Boys State (there is also a separate programme for girls). Could the next generation offer us an insight into the future of politics?
9. Midnight Family
Did you know that in Mexico City the government operates fewer than 45 emergency ambulances for a population of nine million? I certainly did not… not, that is, before watching Midnight Family. 
Luke Lorentzen's tense and gripping documentary explores the underground industry of for-profit ambulances that has arisen to fill the gap - many run by people with little or no training or certification.
Midnight Family follows the Ochoa family who operate one of these for-profit ambulances. Listening closely to police radio transmissions, their vehicle (a retired ambulance from Oklahoma) races to the scene - ready to treat and transport the ill and injured to hospital.
The family faces a daily struggle… one with a heartbreaking moral dilemma at its core. The people of Mexico City desperately need emergency care and transport. However, the Ochoa's also need money to survive (they barely have enough to buy food) and run their ambulance. 
Battling growing levels of corruption and fierce competition (this is a truly cutthroat industry), the family loses money when a passenger cannot - or will not - pay. As a result, when they travel further to reach a private hospital - where they will get financial compensation - it is hard to blame them... no matter how deeply troubling the entire situation feels. 
10. Welcome To Chechnya
David France's powerful and urgent documentary, Welcome To Chechnya, is an extremely tough but absolutely necessary watch. The film exposes the treatment of LGBTQI+ people in Chechnya who, since 2017, have been subject to an unbelievably violent campaign of persecution and extermination. 
Encouraged by the Russian republic's leader, Ramzan Kadyrov, LGBTQI+ Chechens have been detained, tortured and executed. Treated as a disgrace and seen as subhuman, their only hope is to escape. 
For that, they need the help of activists such as The Russian LGBT Network. This group helps them to flee the danger in Chechnya, offers them temporary shelter and tries to organise a place of long-term refuge. 
France follows The Russian LGBT Network as it saves lives and raises awareness of the atrocities taking place. David Isteev and Olga Baranova serve as our guides and offer us disturbing insights into life as a LGBTQI+ Chechen.
40 Of 2020's Best Documentaries
Here are my top 40 favourite documentaries of 2020 - released in the UK and listed in chronological order. 
I have also included information about where to watch these films - here is the key:
NF - Netflix
AP - Amazon Prime
BBC - BBC iPlayer
DW - Dogwoof On Demand
ATV  - Apple TV
RL - Online Rental
Midnight Traveller
After receiving death threats from the Taliban, a family is forced to leave their home and seek refugee status in Europe - travelling along the notorious and dangerous Balkan smuggling route. DW, RL
Midnight Family
Following the Ochoa family as they operate a for-profit ambulance service in Mexico City - where there are fewer than 45 government-operated emergency ambulances for a population of nine million. DW, RL
Cunningham
A beautiful portrait of the incredible career of legendary dancer, teacher and choreographer, Merce Cunningham. DW, RL
Crip Camp
The story of how Camp Jened, a ramshackle camp for teenagers with disabilities, changed the world. NF
Martin Margiela: In His Own Words
An intimate documentary portrait of iconic, enigmatic fashion designer, Martin Margiela. DW, RL 
Diana Kennedy: Nothing Fancy
Exploring the life and legacy of one of the leading experts on Mexican cuisine, Diana Kennedy. DW, RL
Becoming
Following Michelle Obama as she embarks upon a 34-city tour to promote her book, Becoming. NF
A Secret Love
A love letter to Terry Donahue and Pat Henschel who had to keep most of their seven decade relationship secret - during a time when it was extremely dangerous to be gay. NF
Mike Wallace Is Here
A look at the life and career of Mike Wallace who, for over 50 years, defined journalistic television - disrupting TV's traditional, cosy chats and introducing a new tough-talking style with insistent questioning and an investigative eye for the truth. DW, RL
Softie
An exploration of corruption and politics in Kenya and a moving portrait of the conflict between the personal and the political when the stakes are terrifyingly high.
BBC
The Australian Dream
An examination of racism in Australia focusing on the life and career of AFL player and Australian Of The Year, Adam Goodes. DW, RL
Welcome To Chechnya
Exposing the treatment of LGBTQI+ people in Chechnya who, since 2017, have been subject to an unbelievably violent campaign of persecution and extermination. BBC
Flint
The disturbing story of Flint, Michigan and what happened when a change in the city's water supply turned into a life-threatening environmental disaster. BBC
On The Record
A powerful examination of the risks of coming forward in the era of #MeToo - following former music executive, Drew Dixon, as she wrestles with the decision to go public and share her story with the New York Times. DW, RL
The Booksellers
An exploration of the world of antiquarian booksellers - a special place full of fascinating and wonderfully eccentric characters. RL
Spaceship Earth
The inside story of what happened in 1991 when eight people volunteered to spend two years quarantined inside Biosphere 2 - a self-engineered replica of Earth's ecosystem. DW, RL
Disclosure
A powerful and deeply moving examination of the representation of trans people on screen. NF
Mucho Mucho Amor
The remarkable story of extravagant Puerto Rican astrologer, psychic and gender nonconforming icon, Walter Mercado. NF
Athlete A
Following a group of incredibly talented and courageous athletes who, after suffering devastating abuse at USA Gymnastics, stood up, told their stories... and refused to be silenced. NF
The Fight
Examining the work of a team of American Civil Liberties Union lawyers as they fight against some of Donald Trump's most disturbing attacks on America's civil rights. DW, RL
My Rembrandt
Exploring the powerful and complex relationship between Rembrandt's paintings and the dealers, historians and collectors whose lives have been forever changed by his work. DW, RL
Father Soldier Son
Examining the reality of being in the military - in good times and in bad. NF
Max Richter's Sleep
Documenting the experience of Sleep, an eight hour overnight concert that explores the potential of the sleeping mind and was developed by composer, Max Richter, and artist and Bafta winning filmmaker, Yulia Mahr. DW, RL
The Social Dilemma
A disturbing journey through the evolution of social media. NF
Hope Frozen
Following one family's experience with unbearable loss and their exploration of science and religion in order to answer fundamental questions about life and death. NF
All In: The Fight For Democracy
A timely warning about a truly insidious issue that threatens democracy - voter suppression. AP
Dick Johnson Is Dead
Processing her father's dementia, Kirsten Johnson creates both a stunning and startling documentary portrait of a loving relationship and a beautiful exploration of mortality. NF
The Painter And The Thief
A gripping story about art theft inspires a beautiful and intimate examination of how we observe others and our own need to feel seen. DW, RL
Time
An exquisite portrait of the collateral damage of the US justice system and the resilience of love. AP
Boys State
What insights into the future of politics can we glean from the candidates taking part in Boys State - a weeklong, selective educational programme about the business of government for US high school students? ATV
One Man And His Shoes
Examining the impact of Nike's legendary collaboration with Michael Jordan. BBC
Ronnies
Charting the 60 year history of Ronnie Scott's Jazz Club. BBC
Recorder: The Marion Stokes Project
The incredible and moving story of Marion Stokes who recorded television twenty-four hours a day on multiple channels for thirty years. 
I Am Greta
The story of teenage climate activist, GretaThunberg. DW, RL
Feels Good Man
The fascinating, disturbing and, ultimately, heartwarming tale of Pepe the Frog. BBC
Love Child
An Iranian couple are forced to flee Tehran where their secret affair and illegitimate son are both considered crimes punishable by death. RL
Collective
Exploring the impact of loss, the human price of corruption, the importance of investigative journalism and the global threats facing democracy following a devastating fire in Romania. DW, RL
Totally Under Control
Examining America's initial response to Covid-19. BBC
Locked In: Breaking The Silence
An intimate story of one man's journey to come to terms with an illness that he has, for years, been unable to confront. BBC
My Octopus Teacher
A beautiful story about love, the healing power of connection and what we can learn from the natural world. NF
The Mole Agent
Part charming film noir, part heartbreaking portrait of loneliness and old age - a tender and deeply moving film that expands the boundaries of traditional documentary storytelling. DW, RL