500 Days Of Film Reviews The Best Comedy Films In 2017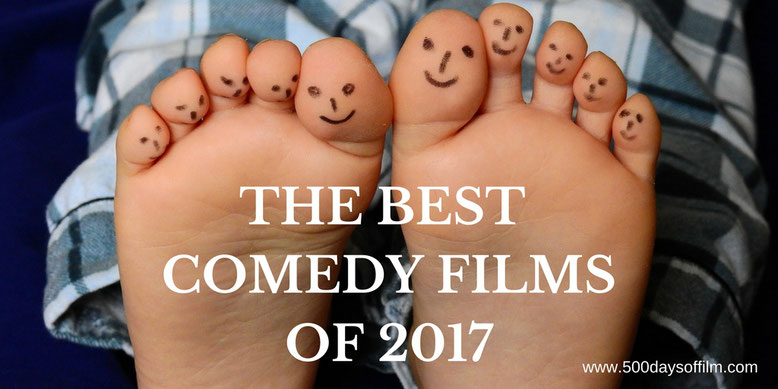 What films have made you laugh this year? Here are my top five comedy films of 2017...
5. Girls Trip
Synopsis: 
When four lifelong friends (played by Regina Hall, Queen Latifah, Jada Pinkett Smith and Tiffany Haddish) travel to New Orleans for the annual Essence Festival, sisterhoods are rekindled, wild sides are rediscovered, and there's enough dancing, drinking, brawling and romancing to make the Big Easy blush. 
What I Said:
An often outrageous comedy with a brilliant cast that has chemistry to spare. Tiffany Haddish is superb.  
4. Brigsby Bear
Synopsis: 
Superfan, James (Kyle Mooney), is obsessed with the clever if quaintly goofy kids' show Brigsby Bear. A bright, sensitive young adult still living at home, he has grown up with this fantasy series and the programme has grown with him too - getting ever more complex over the years. 
One dramatic night, James' insular world is upended. During the disorienting and often hilarious transition to a new life that follows, Brigsby remains James' security blanket and, upon learning the series has been cancelled, he adopts the old adage that the show must go on.  
What I Said:
Brigsby Bear is a charming, original and unexpectedly moving film about family and friendship, acceptance and the power of shared experience. It is heartwarming, thoroughly entertaining and (laugh out loud) funny.  
3. The Meyerowitz Stories
Synopsis: 
Family grudges and bitter rivalries erupt when Danny (Adam Sandler), Jean (Elizabeth Marvel) and Matthew (Ben Stiller) meet in New York. Each Meyerowitz sibling lives a very different life. However, they are united by their challenging relationship with difficult father, Harold (Dustin Hoffman).
An artist struggling to accept his fading legacy, Harold sacrifices the fragile self worth of his children on the altar of his own insufferable ego. Completely ignoring Jean, he belittles Danny by actively favouring his youngest son, Matthew. Meanwhile, despite being the 
preferred child, Matthew also feels at odds with his father.
As a result, when Harold needs the help of his three emotionally damaged children, just how will they respond? 
What I Said:
The Meyerowitz Stories is an incredibly smart, thoroughly enjoyable bittersweet comedy. However, watch out - those Meyerowitz stories have some pretty sharp edges. 
2. The Death Of Stalin
Synopsis: 
In the days following Stalin's death, his core team of ministers begin their devious fight to take control. Some desire positive change in the Soviet Union, others have far more sinister motives. Their one common trait? They're all just desperately trying to stay alive. 
What I Said:
Prepare to laugh out loud from the first scene of The Death Of Stalin to the last. However, beneath all the hilarity lies something dark and deeply unsettling. 
1. The Big Sick
Synopsis: 
Pakistan-born aspiring comedian, Kumail (Nanjiani), connects with grad student Emily (Zoe Kazan) after one of his stand-up sets. However, what they thought would be just a one-night stand blossoms into the real thing, which complicates the life that is expected of Kumail by his traditional Muslim parents. 
When Emily is beset with a mystery illness, Kumail has to navigate the medical crisis with her parents, Beth and Terry (Holly Hunter and Ray Romano), while dealing with the emotional tug-of-war between family obligations and his heart. 
What I Said:
The Big Sick is an utterly charming, brilliantly funny film based on the real-life courtship between Kumail Nanjiani and Emily V. Gordon. Directed by Michael Showalter, the movie was written by Nanjiani and Gordon with the assistance of producer, Judd Apatow. The result is one of the most satisfying and heartfelt romantic comedies that I have seen in years.   
What Is Your Favourite Comedy Film Of 2017?
What was your favourite comedy film of 2017?
Let me know in the comments section below or via Facebook or Twitter (@500DaysOfFilm).