500 Days Of Film Reviews Horror Drama, The Bad Batch, starring Suki Waterhouse, Jason Momoa, Jim Carrey And Keanu Reeves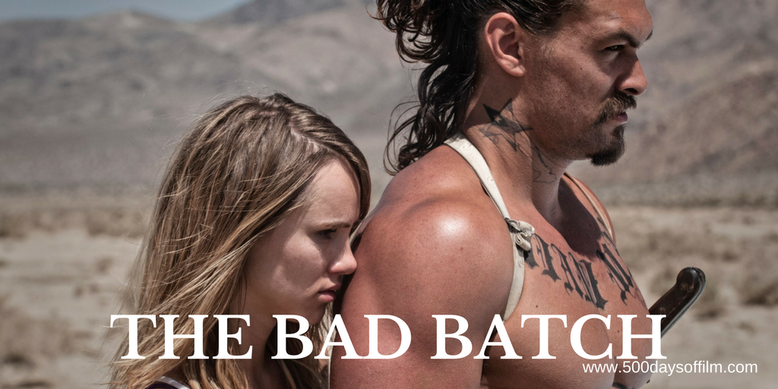 Exiled to a Texan wasteland fenced off from civilization, Arlen (Suki Waterhouse) struggles to adjust to her new, unforgiving landscape. Things go from bad to worse when she is captured by a savage band of cannibals led by the mysterious Miami Man (Jason Momoa). 
With her life on the line, she escapes and makes her way to The Dream (Keanu Reeves) and his colony of outcasts in the desert. As she adjusts to life in 'the bad batch' Arlen discovers that being good or bad is often a matter of perspective.
Is It Any Good?
How to describe The Bad Batch? Well, you could call it a cannibal fairytale, a savage satire, a psychedelic western or a (dark) romantic adventure. However you characterise it, one thing is for sure: Ana Lily Amirpour's film is one crazy ride. 
Having loved her debut movie (A Girl Walks Home Alone At Night), I was eager to see The Bad Batch once it was released on Netflix. How would Amirpour follow her superb and atmospheric Iranian vampire tale?
By focusing on cannibalism, of course. In the first scenes of the film, Arlen finds herself cast out, labelled as one of the 'bad batch' of undesirables no longer wanted in America. Before she is able to process her new circumstances, Arlen is kidnapped. 
Chained up in a desolate shanty town full of formidable cannibal body builders, she is destined to become dinner - limb by limb. In these early powerful scenes, Amirpour shows us the reality of her situation and it is brutal.
Arlen manages to escape, but where can she go? How can she find meaning in her new life? Vengeance seems an option and one that leads her into the path (via a strange drug-fuelled hallucination) of Jason Momoa's Miami Man. The film then teases us with an unlikely and dangerous romance. 
After its powerful and startlingly savage opening scenes, I began to lose interest in The Bad Batch. I couldn't figure out if I was enjoying Amirpour's movie or just tolerating it because of how much I had loved her previous film. 
Midway through and I wasn't enjoying this movie. While I understood what the film was trying to do, I became increasingly frustrated and disappointed that The Bad Batch had failed to engage me in its storytelling. 
Then something strange happened. The Bad Batch began to grow on me, to grip me and, by the end, I realised that I had loved my experience of watching this film. I warmed to the characters, enjoyed the score and could almost feel the arid heat of the Texan desert - thanks to Lyle Vincent's superb cinematography.
Now knowing where this film is headed, I want to go back and watch it all over again.
The Bad Batch depends on our appreciation of Arlen's journey. I was impressed by Suki Waterhouse's physical performance and found her surprisingly engaging. "I told her she was going to suffer, physically, mentally, suffer, more than she could imagine," Amirpour recalls. 
"It's an action movie, with stunts, and prosthetics, shooting in a decayed hot desert, no frills, all pain. And I told her this right up front, to see if she would commit all the way, and she did. She's a true warrior. And beyond that she has a magic about her that can hold your attention no matter what she's doing."
Meanwhile, the rest of the cast have fun with their roles. I enjoyed Jason Momoa's performance, Jim Carrey is brilliant (and borderline unrecognisable) and Keanu Reeves pitches his seedy saviour, The Dream, to perfection.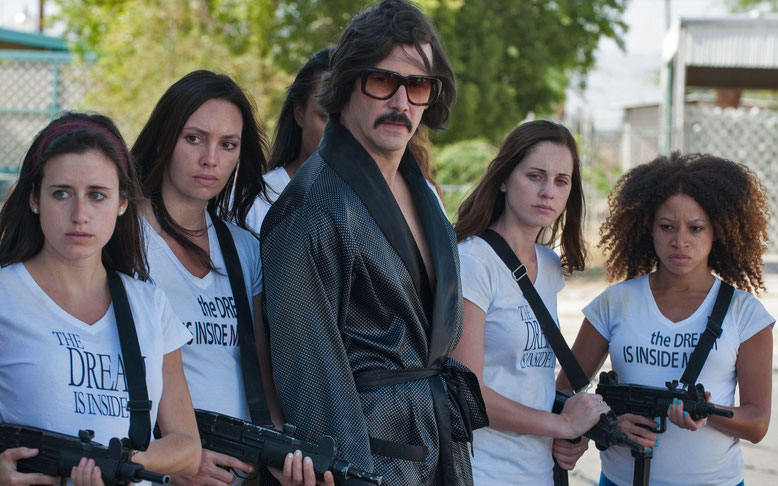 As with her previous film, A Girl Walks Home Alone At Night, music is key to The Bad Batch. Amirpour explains that music is "such a crucial element to being creative for me, or just being a human being.
"I think for a movie, a song feels like a character or a place or a scene, and, sometimes I hear a song, and I just want to create a moment in a film for it to exist, so I think it's almost kind of like scoring the film to the music, and most people kind of do it the other way around."
And that's the exciting thing about Ana Lily Amirpour - she is not afraid to do things differently. The Bad Batch may not be for everyone but it certainly won my heart.
Random Observations
Amirpour sent many of her crew members Westerns to study (including El Topo, and Once Upon A Time in the West) before production on The Bad Batch began to give them an idea of what she wanted her film to look like.  
If you enjoyed The Bad Batch or not, I would really recommend Ana Lily Amirpour's debut feature, A Girl Walks Home Alone At Night.
Have you seen The Bad Batch?
If you have, what did you think of Ana Lily Amirpour's film? Let me know by leaving me a comment in the section below or let's chat over on Facebook or Twitter (@500DaysOfFilm).