500 Days Of Film Reviews A Girl Walks Home Alone At Night, Starring Sheila Vand, Arash Marandi, Mozhan Marnó and Marshall Manesh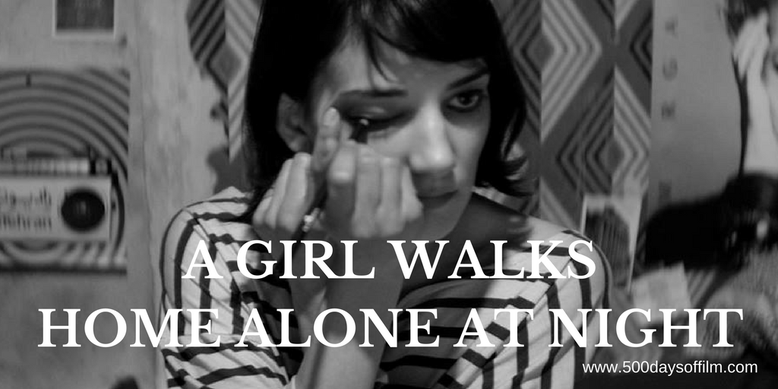 In a desolate city in Iran a woman stalks the streets. Dressed in a traditional black veil she is enigmatic and does not appear threatening - at least not at first. However, before long she demonstrates an otherworldly threat, feeding on local residents and dishing out vengeance.
Despite this, the girl longs for a connection, to be part of something - to no longer be alone.
Is It Any Good?
Movies can shock, they can scare and they can amuse. Movies can change the way you look at the world. They can make you feel better about life and they can leave you feeling unsettled.
It is a rare thing, however, to find a film that makes you feel all of these things. A Girl Walks Home Alone At Night manages to tick all of these boxes and I enjoyed every minute of this film. 
For a start, it just looks wonderful - shot in atmospheric black and white - and the pulsating score is perfectly pitched. In addition, every line of script lands with precision, loaded with tension and meaning.
So much is conveyed by way of a look or a long moment of silence.
While not a particularly scary or unnecessarily gory film, there is a pervasive and unsettling sense of threat throughout. However, the film's heart (beating or otherwise) lies in the unfolding story between its two central characters.  
Sheila Vand is superb as The Girl. The way she looks, the way she moves (the way she applies eyeliner) is loaded with tension and atmosphere. Hers is a brilliant and powerful performance.
Meanwhile, Arash Marandi is brilliant as Arash. His has a lot of emotion to convey and he also provides much of the film's dark and surprising humour. His relationship with The Girl had me gripped from start to finish. 
A Girl Walks Home Alone At Night reminded me in some ways of Let The Right One In. That, of course, is high praise indeed. I loved it and would really recommend this film.
Random Observations
A Girl Walks Home Alone At Night is set in Iran. However, director Ana Lily Amirpour soon realised that she could not make her film in this location. As a result, the film was made in California.
Have you seen A Girl Walks Home Alone At Night?
What did you think? Did you love it as much as I did? Let me know in the comments section below!