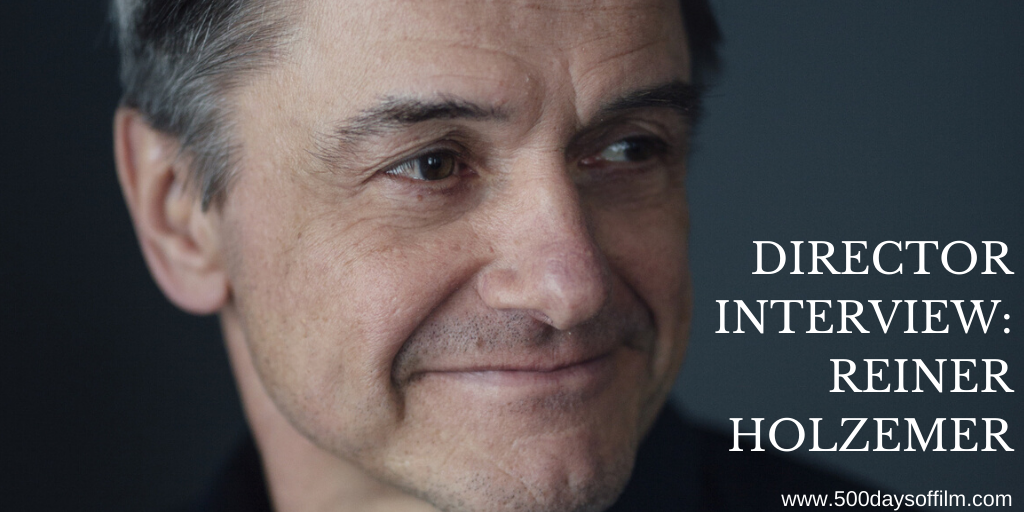 Reiner Holzemer is a German documentary director known for his film portraits of photographers and, more recently, fashion designers. 
Following 2017's Dries - Holzemer's visually stunning and intimate portrait of Dries Van Noten - he has turned his attention to the iconic, enigmatic designer Martin Margiela in Martin Margiela: In His Own Words.
I was lucky enough to speak to Reiner Holzemer about his film. 
What inspired you to make a film about Martin Margiela?
Dries was the first movie that I made about the fashion world. This world is very interesting to me - it is a very visual world, a creative world and the people who work there are very dramatic and interesting.
So, I thought that I would make a second movie and began looking for a new protagonist - someone who was on the same level as Dries. Then, in 2017, I attended a Dries screening in a cinema where, on the same day, there was an exhibition opening at the ModeMuseum fashion museum in Antwerp. It was based on Martin Margiela's work at Hermes. 
I was fascinated by his garments, the looks, the collections. They were 15 years old but they were timeless - so pure and so elegant. Next to the exhibition were some outfits from Margiela's own brand. These were totally different - irritating, radical, avant garde fashion. The veiled face, the transparent tops. I thought that's the same person? Incredible. Most creative people have one iconic idea and they recreate it throughout their lives.
I wanted to find out more so I bought the catalogue from the exhibition. I liked the idea that the faces of the models were covered by veils. I thought this was, on the one hand, very surrealistic and, on the other hand, his way of encouraging people to look at the designs, at the collections. I loved that whole approach.
I said to my co-producer, Aminata Sambe, who is very well connected in the world of fashion, I think I've found my next protagonist. She said: "Go on dreaming this will never happen". Margiela was never filmed or photographed and he has refused to give interviews for 30 years. 
I thought that was a pity and decided to forget about the idea. But I kept looking through that exhibition catalogue and I thought that there must be a way to get in touch with him and then the whole idea of a Martin Margiela documentary was born.

How did you persuade Margiela to agree to this documentary?
We were lucky because he was preparing for an exhibition in Paris. I wrote an email to the curator of the exhibition and asked him if he could pass an email on to Martin. I didn't get an answer for a couple of months. 
So I asked again. Margiela gets a lot of emails like this - many filmmakers wanted to make a movie about him. My email was passed to him a second time and also a number of other people got in touch with him - people who he trusted and who had seen Dries. They told Margiela that this would be a perfect match.  
Finally, an email came - six months after my first message. Margiela said that, if I was still interested in making a movie, we could meet.
I was, of course, very nervous. We arranged to meet in Paris. There were three people in the room - a woman and two men. I had no idea how Margiela looks because there are only a few images of him (and these show him as a very young man).  
Margiela quickly opened the conversation and it was as if we had met before. He said yes you can make something about the exhibition. So the next week we started with some shooting preparation in the museum's basement with all the garments. For me, it was a test. How far can I go? It was clear that he did not want to talk about a portrait documentary - he just wanted someone to shoot the exhibition.
However, I was always hoping that once we started working together, once we got to know each other and once he saw how I work, he would feel that he could trust me. It was very important for me to involve him in every decision that we took and that he felt comfortable and safe.
I was always suggesting that a documentary would be great. Margiela started to ask how we could do that if he didn't want to talk and he didn't want to show his face. So we started discussing things and testing things.
I asked him some questions while I was shooting and he started explaining things. This was the starting point for the movie and, finally, he said yes. He gave me a little handwritten note saying yes I agree to make a documentary. That was wonderful.
There is a clear sense of trust and respect in both Martin Margiela: In His Own Words and Dries. How did you get your protagonists to trust you?
It is a long process. You have to be very honest with people. I tell them what I would like to do and I try to convince them that they can trust me. That is very important. I also tell them, from the very beginning, that they will have a chance to see the cut before it goes public. If there is something that they dislike, they have an option to change it.
However, I am not blindly following all the wishes of the protagonists. If I am convinced that something is important in the movie, I will argue for that to remain. For example, in the case of Dries there were two sequences that he did not like so much - he felt they were too private. I was totally convinced that these sequences were very important for people to see him as a human being. Dries trusted me and we left the sequences in the movie.
You have to create intimacy and a sense of trust. You have to be very honest. There is never a trick. I know so many filmmakers, from the more journalistic side, that play a certain role and then, on the last day of shooting, they ask the real questions. I don't do that. I am a very honest person.
Also, when you are trying to establish trust, you don't want to use a big crew. You have to be as small as possible - particularly with a shy person or a person that does not want to appear in public. The smallest crew is simply myself.
How did you protect Margiela's desire for anonymity while making your film?
The biggest challenge with Martin was to get him to talk. Time helps you a lot. I spent a lot of time with both Martin and Dries and I always had my camera on my shoulder. At some point they don't realise anymore if it is just Reiner who is there or Reiner with the camera. 
I am always close. I don't hide and I have a huge camera, which gives me a good quality, cinematic  image. There are many people in the industry who prefer to use a small camera with the idea that you can maybe hide a little bit better - I think the hiding process comes from how you behave and not the size of your camera. 
With Martin, I did the same thing as with Dries: shooting, shooting, shooting. I was always there with the camera. Not disturbing anyone or drawing attention to myself - allowing them to work and if they want to talk, they can talk.
I was very aware of not wanting to appear to give an "interview" in this case because, of course, Martin never gave interviews. At a certain point, he felt comfortable with me, after two to three days, and then we started shooting in his studio at his home in Paris. We thought we would start by talking about his career and his childhood.
The painting of his grandmother is very important to Martin. He prepared it for the film and, the night before, he also prepared the text of what he wanted to say. He wanted to read that text on camera. I told him that is difficult because when you read something it rarely sounds natural - it always feels like something that is being read. 
Martin asked me to let him try. Then he asked me, what do you think? How was it? I said, I think that it is read - it is not free, open, spontaneous speech. He asked to hear it and he agreed. He then asked to record another version saying "I can do better". Again, he asked what I thought and, again, I told him that, for me, it is still 'read'. 
He agreed and asked what can we do? He was almost feeling a bit desperate. I told Martin that it was very simple in my opinion. I explained that that morning, when I came into his studio, we had talked for one and a half hours in a very normal, relaxed way about what he wanted to tell me. I suggested that the next day we should put a wireless microphone on him and then it is recording all of the time. And that is how it worked. 
Initially he was still a little bit anxious but he soon forgot about it and then, two days later, he had something interesting in his mind to say and he asked me: is it rolling, is it rolling? It was such a wonderful experience. 
I heard through the earphones the strength of his voice and that was a very happy moment for me and also for him. He has such a beautiful voice.
Despite not being able to see his face, the documentary feels very intimate. Why did you decide to focus on Margiela's hands?
From the very beginning, Martin did not want me to shoot his face so I needed other images. It was easier for him to talk when he had something in his hands. I was shooting and watching his hands as he was showing me the paintings, Barbies and sketches of his designs. I very quickly discovered a certain elegance in the movement of his hands.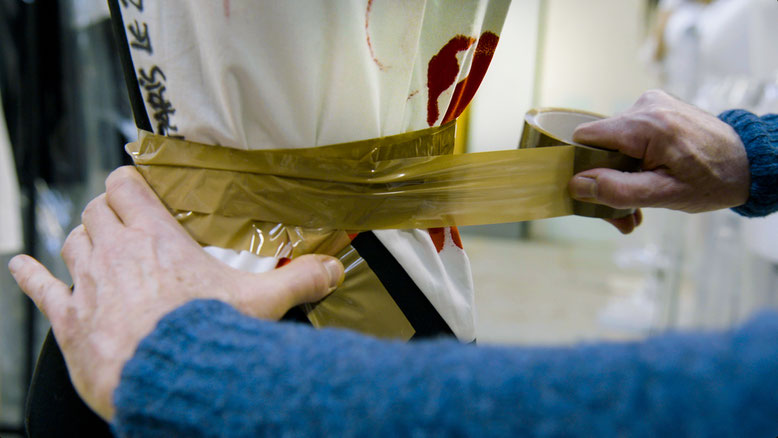 It was a very brave step for Margiela to agree to a documentary profile. 
He took some big risks. In the beginning he was struggling with the idea of talking in the film. He said that he was not used to talking. He never gave interviews, never talked about his work.
From the beginning, I was convinced that he could talk because when we had lunch together and during our other conversations he was very good at explaining things. I don't think he will ever do this, but I often said that he should teach young designers at a fashion school because he is brilliant at explaining his ideas. 
Was the editing process a challenge?
In the end, we had approximately 200 hours of footage. Martin was involved in the production from the very beginning and in all the decisions and he, of course, also wanted to be involved in the editing process. 
However, I said that I needed this time for myself. I needed to step back and develop my own ideas about what the movie should look like. So I told him that I needed time with the footage to see how to structure the movie. 
I worked on the footage for four months and I was not in touch with Martin at all - no phone calls, no emails. However, I knew from other people that he was very nervous. They asked me, why don't you involve him in the edit? I said no it would be too confusing. I really needed this time because, of course, Martin is the protagonist and not the filmmaker. It was very hard for him to step aside - he thinks he can but nobody can in my opinion. 
Does Margiela like the finished film?
After four months, I invited him to come in and see the rough cut. That was a very exciting moment. Martin arrived in Munich the day before and we had dinner together. I'll never forget the moment he asked me how I wanted him to watch the rough cut. 
He wondered if we would stop and talk about things or watch the film from beginning to end. I always prefer watching from the beginning until the end because you have to follow the structure.
So he sat there in front of my monitor - a little bit like a school boy: very straight and very silent. When it was over, he hugged me and he was very emotional and very thankful. He expressed how he was deeply touched and moved by what he saw. That was very nice and very emotional for me too.
However, typically for Martin, he then said okay now we have to go into detail and to talk about what I think should be changed. There was a list - minute by minute through the film - of around 120 things that he wanted to change. But he always said that I didn't have to make the changes. 
Of course, this was only the rough cut so I was not at the end of the editing process anyway.
We met another time a couple of weeks later and, step by step, we came to the final cut. It was a good collaborative process. 
You have to fight for your ideas as a filmmaker but, at the same time, you have to take care of your protagonist. In the end you want that person to say, yes, that is a true portrait of me and my life.
How much of an impact has the coronavirus had on the film?
If it hadn't been for the coronavirus this movie would be in cinemas all over the world right now. We sold to many distributors and nobody knows when or where the movie will be screened. That is a little bit of a terrible situation. 
This is why I am happy that Dogwoof decided to offer on demand streaming in the UK because now people will have the time to watch the movie at home. But, of course, I would have loved to have watched the movie in the cinema and maybe done some Q&As afterwards.
The good thing about this movie is that it will not date - because it is about a career, a biography, and this career ended 11 years ago. So you could screen it in cinemas next year and in ten years.
What are you working on next?
The crisis has also been good because I have been able to develop my ideas. I would like to do another fashion documentary - another portrait of a fashion designer. I have some ideas and some names in mind. However, right now it would be too early to talk about it. 
My next project will remain in portraits - it will be a movie about a creative person. I am also looking outside of the fashion world. I have a project in mind about photography - in the past I made a lot of movies about photographers . I am now thinking about making a series - perhaps for Netflix - about a group of photographers who I think are interesting. However, at this point this is just an idea. There is a long way to go - proposals, meetings and, of course, funding!
---
I would like to thank Reiner Holzemer for being so generous with his time. It really was a pleasure to talk to him about Dries, Martin Margiela: In His Own Words and I am very much looking forward to his next project.
You can watch both Martin Margiela: In His Own Words and Dries on demand. 
Click here for my review of Martin Margiela: In His Own Words.