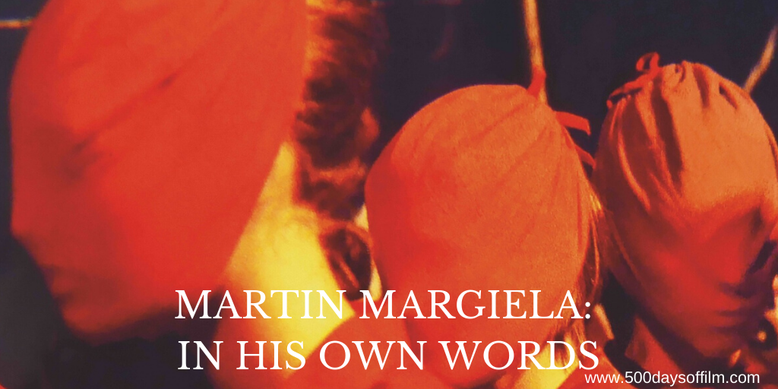 In Reiner Holzemer's intimate documentary portrait, Martin Margiela: In His Own Words, the first remarks you hear do not come from the iconic, enigmatic designer. Instead, key figures in the fashion world describe and contextualise the lasting impact of Margiela's remarkable and impressive career. 
"Margiela was the last revolution we had in fashion," says Carla Sozzani, founder of 10 Corso Como. "He is in the top ten," states Cathy Horyn, fashion critic at The New York Times. "He was way ahead of his time - the show, the format, the clothes… he is definitely one of the most influential designers of the last 30 years - without a question," concludes Pierre Rougier, Margiela's press attache, 1989-1991.
His legacy established, Holzemer explores the designer's famous - and largely successful - desire for anonymity. While Margiela continues to fascinate fashion experts and inspire young designers, nobody knows his face.
"Obviously, there was that moment when his clothes, his style shocked people," recalls Jean-Paul Gaultier. "But also the fact that he didn't show himself." The documentary explains that this was not a "stunt" or a marketing strategy. Margiela wanted to protect himself from the relentless demands of the fashion industry.
"I don't like the idea of being a celebrity," the designer reveals. "Anonymity is very important to me and it balances me that I am like everybody else. I always wanted to have my name linked to the product I have created and not to the face I have." 
As a result, Margiela did not engage in post-fashion show walk-ons. He did not conduct interviews with journalists. Participating in Holzemer's film about his life and career, therefore, feels like an extremely brave decision. A decision that imbues Martin Margiela: In His Own Words with anticipation and significance.
What then, in the worlds of Jean-Paul Gaultier, encouraged Margiela to "emerge from his shell"? The answer, according to Holzemer, is a combination of timing and trust. When the director first mentioned the idea of making a documentary about the designer, his producer, Aminata Sambe, had few words of encouragement. "Go on dreaming," she said. "This will never happen."
Undeterred, Holzemer sent an email to the curator of a forthcoming exhibition of Margiela's work in Paris. The designer, of course, had received a large number of similar requests. However, he wanted to document the exhibition and Holzemer's previous film, Dries (about fellow Belgian fashion designer, Dries Van Noten), proved to be another deciding factor.
Thanks to Holzemer's respectful and honest approach, what started as an exhibition documentary slowly and collaboratively transformed into an intimate portrait of the designer known as the "Banksy of Fashion".
We do not see Margiela's face in the film. However, he has a wonderful voice. As Margiela talks about his childhood, his influences and his career, we see stunning archive footage of his collections and his shows. Images are accompanied by a brilliant score composed by Belgian rock band dEUS. Margiela newcomer or devotee, it is a captivating cinematic journey. 
Holzemer's camera often focuses on Margiela's hands. Always busy, always elegant, his hands tell a beautiful story of their own. These are the hands that created the stunning and innovative collections shown in the documentary. These are the hands that revolutionised the fashion world.
Of course, a shot of Margiela's face would have been an attention grabbing coup. However, the careful preservation of his anonymity is far more powerful. In the same way that the covered faces of his catwalk models concentrates our eye on the collections themselves, so our attention is focused on his engaging, softly spoken words and the fascinating story of his life.
Click here to read my interview with Reiner Holzemer about the making of Martin Margiela: In His Own Words