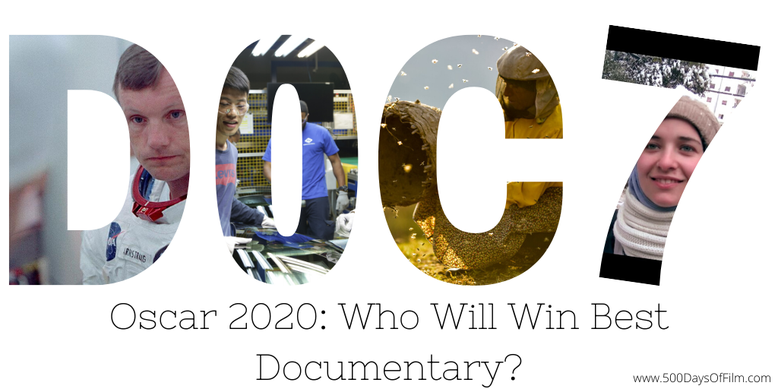 Awards season is now in full swing. As one film association and critics group after another announces their documentary award winners, a picture begins to emerge… and that picture looks golden in more ways than one.
Yes, I am partly thinking about the 2020 Academy Awards (which take place on 9 February next year). It is always fun to predict Oscar nominees and winners. However, I am also referencing the status of documentary film as a whole.
We have been spoilt for choice this year - with everything from an incredible iconic moon landing (Apollo 11), to a stunning study of a wild beekeeper (Honeyland). 2019 has brought us such disturbing political dramas as For Sama, American Factory and The Edge Of Democracy and inspirational against all odds tales like The Biggest Little Farm and Maiden. 
However, the Oscar category for best documentary feature only allows the entry of five films.  While subject to change, my predictions so far are:
Honeyland
Apollo 11
American Factory
For Sama
Maiden
Honourable mentions should also go to One Child Nation, The Edge Of Democracy, The Biggest Little Farm and The Cave (among many others… it really has been a brilliant year for documentaries).
Also of note is how the documentary genre is, once again, leading the way in its celebration of female subjects and women filmmakers. 
Taking my prediction list as a small sample, three out of the five films are directed (or co-directed) by women and three of the five films tell engaging and powerful stories about women.
So let's take a look at the five potential contenders...
Honeyland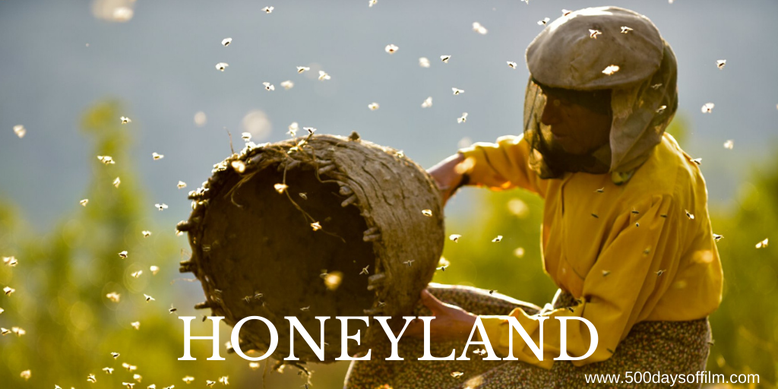 Honeyland started with one simple idea - to capture the life of Hatidze Muratova, a traditional beekeeper in the remote mountains of North Macedonia, and her elderly mother. However, as often happens in the world of documentaries, Honeyland had its own story to tell.
The catalyst for change was the arrival of an itinerant Turkish family and their herd of cattle. They set up home next door to Hatidze's cottage and disrupt her peaceful - if challenging - existence. What was once calm and quiet is now chaotic and noisy.
We fear for Hatidze and her ailing mother because, barely 15 minutes into Honeyland, we have already grown to care about them. Honeyland possesses a magical quality - helped in no small part by its captivating score - that draws you in and immerses you in Hatidze's environment and way of life.
It is fascinating to watch - not least because Honeyland's cinematography has epic sweep and is utterly breathtaking. However, there is also sadness here. This is a way of life that is dying. Hatidze is the last female wild beekeeper in Europe. 
Honeyland - Awards Story So Far
Best first documentary feature award at the Critics Choice Association's Critics' Choice Documentary Awards
Best documentary at the New York Film Critics Circle Awards
Runner up in the Women Film Critics Circle Awards for best documentary by or about a woman
Best cinematography award at the International Documentary Association Awards (IDA) and the recipient of the IDA's Pare Lorentz Award, which recognises films that demonstrate exemplary filmmaking while focusing on the appropriate use of the natural environment, justice for all and the illumination of pressing social problems
Click here for my review of Honeyland
American Factory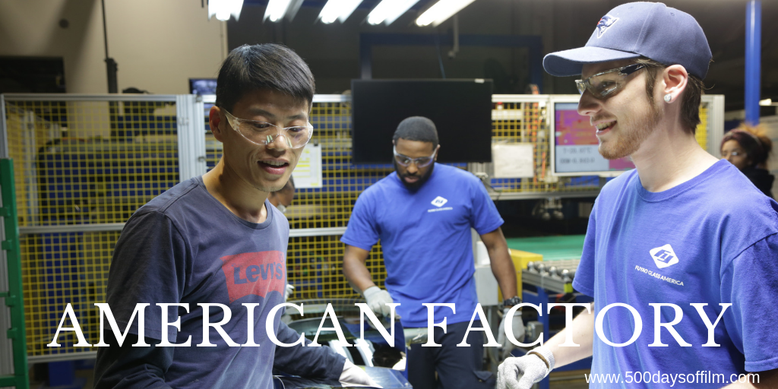 On 3 October 2008, workers at the General Motors factory in Dayton, Ohio received the news they had all been dreading. Their plant was to close for good by the end of the year, with the loss of 2400 jobs. 
Local filmmakers, Julia Reichert and Steven Bognar, were deeply moved by the situation and decided to tell the story of the factory's closure. They were particularly interested in the impact on their community - a community whose lives and livelihoods were intrinsically linked to their place of work.
After speaking to several hundred of the factory's employees, Reichert and Bognar released a documentary short called The Last Truck: Closing of a GM Plant. The film was widely acclaimed and nominated for an Academy Award.
The story did not stop there, however. In 2014, Chinese billionaire Cao Dewang reopened the Ohio plant for his new Fuyao factory, producing glass for the car industry. Suddenly, jobs were there for the taking.
The air was filled with hope, at first. Sadly, all too soon cultures clashed, frustrations mounted and tensions rose to boiling point - the community of Dayton faced an uncertain future once again.
This story is told in Reichert and Bognar's feature documentary, American Factory (now available on Netflix). Created from over 1,200 hours of footage, the film is generous and funny, shocking and emotionally engaging. It is also beautiful to look at - the documentary's opening shots of factories at work are mesmerising.
American Factory - Awards Story So Far
US documentary directing award at the 2019 Sundance Film Festival
Best director (Steven Bognar and Julia Reichert) at the Independent Documentary Association Awards
Runner up for best documentary at the 2019 Southern Eastern Film Critics Association Awards
Best documentary at the Gotham Independent Film Awards
Best documentary at the LA Film Critics Association Awards
Given the Allan King Documentary Film Award at the Toronto Film Critics Association Awards
Best director (tied with Peter Jackson's They Shall Not Grow Old) and best political documentary at the Critics Choice Association's Critics' Choice Documentary Awards
Click here for my review of American Factory
For Sama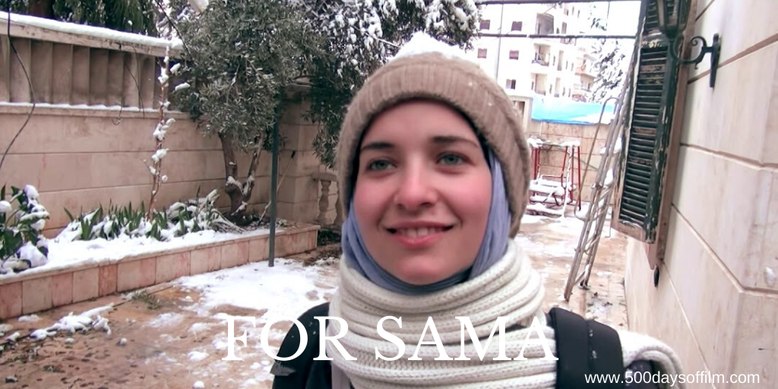 For Sama isn't the first documentary that I have watched about the devastating conflict in Syria. Over the last few years, there has been a steady influx of films - including The White Helmets, City Of Ghosts and Last Men in Aleppo - depicting the war and the battle for Aleppo. 
However, Waad al-Kateab's documentary is the one I feel will stay with me the most. 
It is For Sama's mix of powerful journalism and intimate storytelling that makes this film an unforgettable experience. The documentary is an uncompromising and important account of life in Aleppo between 2012 and 2016 and offers us immersive access to a family under siege.
For Sama's depiction of family life is deeply affecting - this is a mother's heartfelt message to her baby daughter. Waad narrates her own story, explaining to Sama why she and Sama's father decided to stay in such a dangerous place, what it was really like and why, in the end, they had to leave.
For Sama's Awards Story So Far
BIFA's award for Best British independent film - the first documentary to win that award. It also won BIFA awards for best director, best documentary and best editing
Best documentary winner at the International Documentary Association (IDA) Awards. Director Waad al-Kateab also won the IDA's Courage Under Fire Award
Best Documentary - European Film Awards
Freedom Of Expression Award - National Board Of Review
Click here for my review of For Sama
Maiden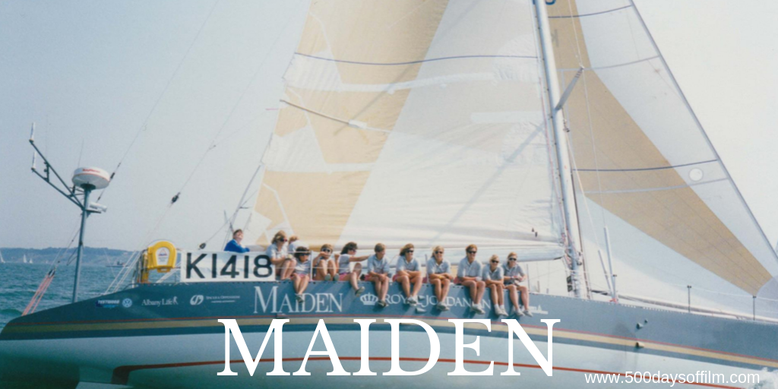 Watching Maiden, I experienced a wide range of emotions - fascination, horror, admiration, frustration, rage, relief and pride to name but seven. There were moments when I just wanted to punch something and moments when I couldn't stop the happy tears from falling.
Alex Holmes's documentary tells the epic story of how in 1989 Tracy Edwards became the skipper of the first ever all-female crew to enter the Whitbread Round the World Race. This is an inspirational tale of strength in the face of adversity - both on land and at sea.
Maiden begins with huge rolling waves. Monstrous, breathtaking waves. Voice-over narration tells us that the ocean is always trying to kill you and that in certain locations, whatever happens, you are completely on your own.
In these effective opening scenes, Holmes shows us what round the world sailors have to contend with - it is sobering to say the least. Not since Free Solo (last year's Oscar winner) have I felt so anxious whilst watching a documentary.
Thankfully, we are then given a respite as Maiden moves on land to tell us Tracy Edwards's life story - from her idyllic early childhood where she was inspired by her independent mother, to her troubled teenage years where she was suspended from school 26 times before finally being expelled.
Unable to find her place in the world and seeking escape, Edwards found herself aboard a boat. It was here that she finally felt at home and it was here that she found out about the Whitbread race - a discovery that would change her life forever.
Maiden's Awards Story So Far 
Best documentary - National Board Of Review
Best sports documentary - Critics Choice Association's Critics' Choice Documentary Awards
Click here to read my review of Maiden
Apollo 11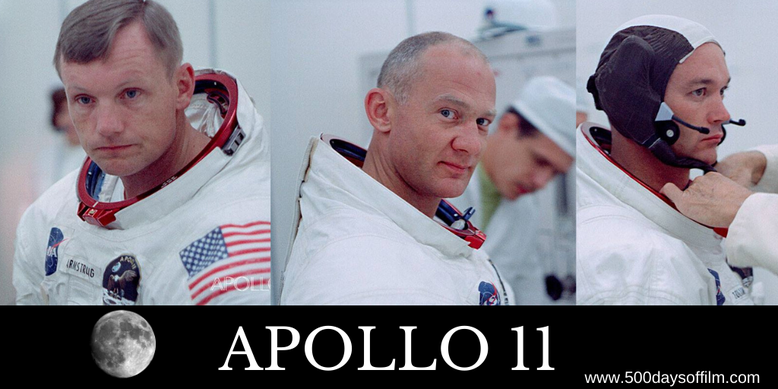 I wasn't alive when Apollo 11 made its way to the moon. However, thanks to Todd Douglas Miller's superb documentary, I feel like I experienced this iconic event firsthand. Meticulously created from carefully restored, never before seen footage Apollo 11 is an incredibly immersive film for both the eyes and the ears.
Worth seeing on the biggest screen (with the best sound system) possible, Apollo 11 doesn't feature present day narration or the 'talking head' interviews often used in documentaries. Instead, this film is like a time machine that takes you back to 1969 and gives you a front row seat in mission control.
It is no small feat to make such a familiar moment in history feel so fresh. There have, after all, been many documentaries about Apollo 11 and the US space programme and many fictionalised films have depicted this astounding achievement (including, of course, Damien Chazelle's First Man).
From its very opening seconds, Apollo 11 is stunning to look at - the detail in the film's 70mm footage is wonderful, utterly breathtaking. The colours are amazingly crisp, the scale is epic (particularly in the opening scene when a man walks alongside a vehicle transporting the Saturn rocket to its dock) and incredibly cinematic. This documentary just wants to leap off the screen. 
Apollo 11's Awards Story So Far
Best documentary - the Southern Eastern Film Critics Association Awards
Best editing - LA Film Critics Association Awards
Best documentary - Atlanta Film Critics Circle Awards
Best documentary, best editing, best score, best archival documentary and best science and nature documentary - Critics Choice Association's Critics' Choice Documentary Awards
Best documentary - The New York Film Critics Online Awards
Best documentary - The Detroit Film Critics Society Awards
Best documentary - The Philadelphia Film Critics Circle Awards
Best documentary - The Washington DC Area Film Critics Association Awards
Click here for my review of Apollo 11
Over to you...
Have you seen any of my five predictions for 2020's best documentary feature? If so, what did you think of these films? 
Meanwhile, do you agree with my list? What documentary do you think will win at next year's Academy Awards? 
Let me know in the comments section below or over on Twitter. You can find me @500DaysOfFilm.