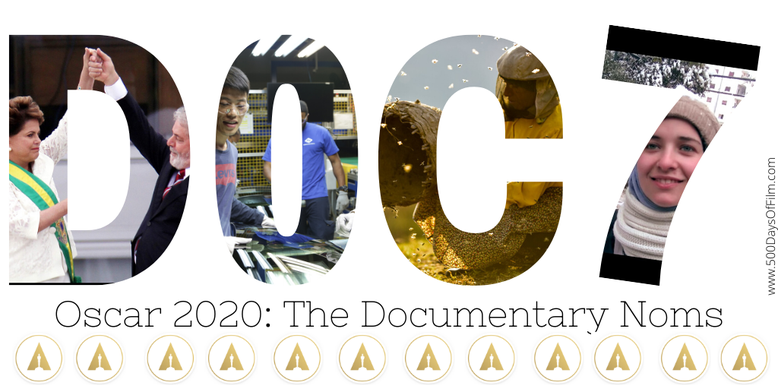 The nominations for this year's Academy Awards were - as they often are - problematic. Many categories featured the obligatory "snubs" and "surprises" and were criticised for lacking diversity. 
However, as the dust settles on those nomination disappointments, a silver lining appears. For better or worse, the Oscars get us talking about film - and, as I think we can all agree, that has to be a good thing. 
Once again, the nominations for Best Documentary Feature and Best Documentary Short Subject have bucked the trend favouring white male recognition. For example, four out of the five films nominated for best documentary feature were directed or co-directed by women.
Before we take a closer look at this year's nominees, a small complaint. While the Best Picture category features nine movies, the Best Documentary Feature category only recognises five films.
No fair. 
I wish that there were nine slots available in Best Documentary Feature. My extra four films would be: Hail Satan?, Apollo 11, Maiden and One Child Nation.
That being noted, let's look at the Academy Award nominations for Best Documentary Feature:
American Factory
On 3 October 2008, workers at the General Motors factory in Dayton, Ohio received the news they had all been dreading. Their plant was to close for good by the end of the year, with the loss of 2400 jobs. 
Local filmmakers, Julia Reichert and Steven Bognar, were deeply moved by the situation and decided to tell the story of the factory's closure. They were particularly interested in the impact on their community - a community whose lives and livelihoods were intrinsically linked to their place of work.
After speaking to several hundred of the factory's employees, Reichert and Bognar released a documentary short called The Last Truck: Closing of a GM Plant. The film was widely acclaimed and nominated for an Academy Award.
The story did not stop there, however. In 2014, Chinese billionaire Cao Dewang reopened the Ohio plant for his new Fuyao factory, in order to produce glass for the car industry. Suddenly, jobs were there for the taking.
The air was filled with hope, at first. Sadly, all too soon cultures clashed, frustrations mounted and tensions rose to boiling point - the community of Dayton faced an uncertain future once again.
This story is told in Reichert and Bognar's feature documentary, American Factory (available on Netflix). Created from over 1,200 hours of footage, the film is generous and funny, shocking and emotionally engaging
Click here for more about American Factory
The Cave
Oscar nominee Feras Fayyad (Last Men in Aleppo) tells another powerful story about the Syrian war in his documentary, The Cave. For besieged civilians, hope and safety lie underground inside the subterranean hospital known as the Cave, where pediatrician and managing physician Dr. Amani Ballour and her colleagues Samaher and Dr. Alaa have claimed their right to work as equals alongside their male counterparts, doing their jobs in a way that would be unthinkable in the oppressively patriarchal culture that exists above. 
The Edge Of Democracy
In 2016, director Petra Costa started filming a protest calling for the impeachment of President Dilma (Brazil's first female president). She recorded thousands of people, dressed in the colours of the Brazilian flag, singing the national anthem. Some were asking for the return of the military, others wanted the imprisonment of anyone wearing the colour red.
Costa wasn't sure why she was filming, but instinctively she understood that this was a wake-up call - a warning about the ephemeral nature of democracy. Watching the crowds, a sentence came into her mind: "Brazilian democracy and I are almost the same age."
This sentence is repeated early on in The Edge Of Democracy - a film that explores the personal and the political and examines a citizen's relationship to their own democracy in a moment of political crisis.
Click here for more about The Edge Of Democracy
For Sama
Waad al-Kateab and Edward Watts's documentary does not shy away from the chaos, carnage and death caused by the bombing of Aleppo. For Sama contains many incredibly upsetting and heartbreaking scenes. 
It is far from easy to watch but so important. We need to see this extremely distressing footage to understand. What happened in this place at this time was not just a series of startling headlines but the very real everyday existence for the men, women and children of Aleppo. 
Click here for more about For Sama
Honeyland
Honeyland started with one simple idea - to capture the life of Hatidze Muratova, a traditional beekeeper in the remote mountains of North Macedonia, and her elderly mother, Nazife. However, as often happens in the world of documentaries, Honeyland had its own stunning story to tell.
The catalyst for change was the arrival of an itinerant Turkish family and their herd of cattle. They set up home next door to Hatidze's cottage and disrupt her peaceful - if challenging - existence. What was once calm and quiet is now chaotic and noisy.
We fear for Hatidze and her ailing mother because, barely 15 minutes into Honeyland, we have already grown to care about them and become deeply invested in their lives. Honeyland possesses a magical quality - helped in no small part by its captivating score - that draws you in and immerses you in their environment and way of life.
Click here for more about Honeyland 
Nominees For Best Documentary Short Subject
The category for Best Documentary Short Subject is just as impressive as that of Best Documentary Feature. Here are the nominees:
In The Absence
When the passenger ferry MV Sewol sank off the coast of South Korea in 2014, over three hundred people lost their lives, most of them schoolchildren. Years later, the victims' families and survivors are still demanding justice from national authorities. This is a disturbing and utterly gripping documentary - as heartbreaking as it is enraging.
Learning To Skateboard In A Warzone (If You're A Girl)
Kabul is a difficult and dangerous place to live - particularly if you are female. This story of girls learning to read, write - and skateboard - is wonderful, heartwarming and inspiring. The documentary follows a class of young girls from disadvantaged neighbourhoods, growing in confidence through the joy of skateboarding and the warmth of the women who teach them. 
Life Overtakes Me
Facing deportation, hundreds of refugee children in Sweden have become afflicted with resignation syndrome, withdrawing from the world into a coma-like state as if frozen for months, or even years. Available on Netflix, Life Overtakes Me is a heartbreaking documentary that follows the anguished parents who are struggling to care for their sick children.
St. Louis Superman
Bruce Franks Jr., a Ferguson activist and battle rapper who was elected to the overwhelmingly white and Republican Missouri House of Representatives, must overcome both personal trauma and political obstacles to pass a critical bill for his community.
Walk Run Cha-Cha
Paul and Millie Cao lost their youth to the aftermath of the Vietnam War. Forty years later, they have become successful professionals in Southern California and are rediscovering themselves on the dance floor.
Over To You...
What did you think about the 2020 Oscar nominations? Do you agree with the Academy's picks for Best Documentary Feature and Best Documentary Short Subject?
Let me know in the comments section below or over on Twitter. You can find me @500DaysOfFilm.