500 Days Of Film Reviews May's Must-See Films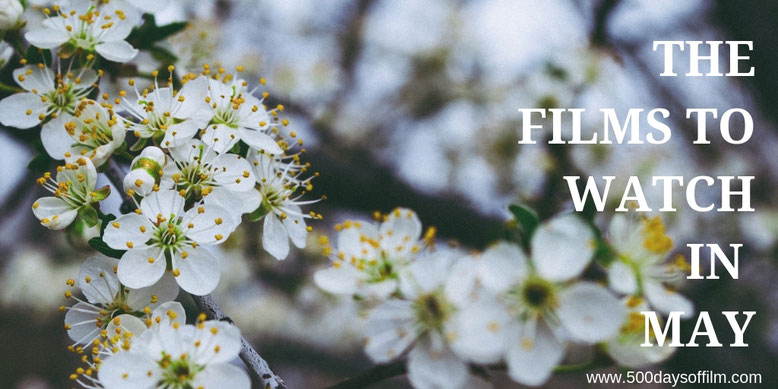 Post-Avengers: Endgame, I now really need to look forward. Having been anticipating the last chapter in the Infinity Saga for so long, I now feel rather lost on the cinema front. What else is there to look forward to…?
However, before we get into May's film offerings, how was your April? Have you seen Endgame yet? Did you love it (here's my spoiler-free Avengers: Endgame review)? What other movies did you enjoy watching during this month?  
My April at the cinema started with a trip to see Tim Burton's remake of Dumbo. While this film had lots of enjoyable spectacle (and Dumbo is very cute), it just didn't connect with me emotionally.
A complete change of pace followed with The Sisters Brothers. I love the book on which this film is based and really enjoyed the film. The casting (featuring John C. Reilly, Joaquin Phoenix, Riz Ahmed and Jake Gyllenhaal) is superb.
Next up was the fun fest that is Shazam! I had a blast with this movie, which stars Zachary Levi as the titular superhero. In addition to all the silly fun, I also appreciated some of the film's horror touches.
During April, I re-read Pet Sematary in readiness for the new adaptation of the (darker than dark) story by Stephen King. While the film looked good and the cast was strong, Pet Sematary was a disappointment (you can click the link to find out why).
The next film was far from a disappointment. I really enjoyed Wild Rose - largely down to the (often unlikeable, never unloveable) performance from Jessie Buckley. Julie Walters is also wonderful in this movie… not that we would expect anything else.
Avengers: Endgame followed… thanks to my brilliant cinema audience, this film experience will be a tough one to beat. All three hours and one minute flew by and I loved every second. I will need to see it again… and again!
Last but by no means least is Eighth Grade. It seems such a shame that this film is being eclipsed by the Marvel juggernaut. However, if it is showing on a screen near you, do go and see it… films such as this need our support :)
May's Must Watch Movies!
FRIDAY 3 MAY 2019
Long Shot 
Director: Jonathan Levine 
Starring: Seth Rogen, Charlize Theron, O'Shea Jackson Jr., Andy Serkis, June Diane Raphael, Bob Odenkirk, Alexander Skarsgard
Vox Lux 
Director: Brady Corbet 
Starring: Natalie Portman, Jude Law, Stavey Martin, Christopher Abbott, Raffey Cassidy 
Amazing Grace 
Director: Alan Elliott, Sydney Pollack 
Starring: Aretha Franklin, Reverand James Cleveland, C.L.Franklin
High Life 
Director: Claire Denis 
Starring: Robert Pattinson, Juliette Binoche, Mia Goth, Andre Benjamin
Pokemon Detective Pikachu 
Director: Rob Letterman 
Starring: Ryan Reynolds, Justice Smith, Kathryn Newton, Suki Waterhouse, Omar Chaparro, Chris Geere, Ken Watanabe, Bill Nighy
Where Hands Touch 
Director: Amma Asante 
Starring: Amanda Stenberg, George Mackay, Abbie Cornish, Christopher Eccleston
FRIDAY 17 MAY 2019
John Wick: Chapter 3 – Parabellum 
Director: Chad Stahelski 
Starring: Keanu Reeves, Halel Berry, Laurence Fishburne, Marck Dacascos, Asia Kate Dillon, Lance Reddick
WEDNESDAY 22 MAY 2019
Ad Astra
Director: James Gray
Starring: Brad Pitt, Ruth Negga, Tommy Lee Jones, Jamie Kennedy and Donald Sutherland
Aladdin 
Director: Guy Ritchie
Starring: Will Smith, Naomi Scott, Billy Magnussen
Rocketman 
Director: Dexter Fletcher 
Starring: Taron Egerton, Jamie Bell, Richard Madden, Gemma Jones and Bryce Dallas Howard
FRIDAY 24 MAY 2019
John McEnroe: In The Realm Of Perfection 
Director: Julien Faraud Starring: John McEnroe, Ivan Lendl, Mathieu Amalric
The Secret Life Of Pets 2
Director: Chris Renaud, Jonathan Del Val 
Starring: Patton Oswalt, Eric Stonestreet, Kevin Hart
XY Chelsea 
Director: Tim Travers Hawkins
MONDAY 27 MAY 2019
Booksmart 
Director: Olivia Wilde 
Starring: Kaitlyn Dever, Beanie Feldstein, Jason Sudeikis, Billie Lourd
WEDNESDAY 29 MAY 2019
Godzilla: King Of The Monsters 
Director: Michael Dougherty
Starring: Kyle Chandler, Vera Farmiga, Milly Bobby Brown, Charles Dance, Sally Hawkins, Bradley Whitford, Thomas Middleditch, Aisha Hinds 
FRIDAY 31 MAY 2019
A Vigilante 
Director: Sarah Dagger-Nickson 
Starring: Olivia Wilde, Morgan Specktor
Ma 
Director: Tate Taylor 
Starring: Octavia Spencer, Luke Evans, Missi Pyle, Juliette Lewis
Over To You…
What movies did you most enjoy in April? What films are you planning to see in May?
Let me know in the comments section below or over on Twitter. You can find me @500DaysOfFilm.