500 Days Of Film Reviews Wild Rose Starring Jessie Buckley, Julie Walters And Sophie Okonedo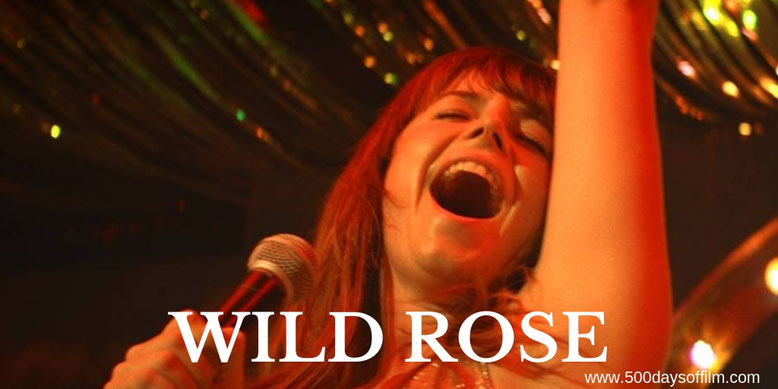 Rose-Lynn Harlan (Jessie Buckley) is bursting with raw talent, charisma and cheek. Fresh out of jail and with two young kids, all she wants is to get out of Glasgow and make it as a country singer. Her mum Marion (Julie Walters) has had a bellyful of Rose-Lynn's Nashville nonsense. Forced to take responsibility, Rose-Lynn gets a cleaning job, only to find an unlikely champion in the middle-class lady of the house. 
Is It Any Good?
I thought I knew what to expect from Wild Rose. Truth be told, I was a little concerned that Tom Harper's coming of age film would feel all too familiar. However, I needn't have worried. While Wild Rose follows a well trodden narrative path, there are plenty of surprises along the way.
Chief among these surprises is just how unlikeable Rose-Lynn Harlan is when we first meet her. This film is called Wild Rose for good reason. She is selfish and immature, ungrateful and aggressive, arrogant and cruel.
Thank goodness. Cinema needs more complex, uncompromising and, yes, unlikeable women. 
What comes as no surprise in Wild Rose is Jessie Buckley's powerful performance. After her superb portrayal in Beast, she brings Rose to life - giving her depth, heart and soul. She may be hard to like at times, but it would take a hard heart not to fall in love with Rose by the end of this story.
Many of Wild Rose's more emotionally moving scenes take place between Rose and her mother, Marion. Julie Walters is absolutely superb in this role. I believed in and loved their relationship.
Meanwhile, the movie just about crackles with energy and excitement whenever Rose takes to the stage. This is clearly the place that she was born to be (and the music is toe-tappingly brilliant).   
However, Wild Rose is not a film about making it big as a country music singer. We've all seen that movie before. Instead it is an entertaining and affecting film about a woman finding her place in the world. 
Wild Rose is an entertaining and enjoyable film - exploring the harsh realities of life and the importance of following our dreams.
Random Observations
If you enjoyed Jessie Buckley in Wild Rose, I would really recommend her superb performance in Beast. 
Have you seen Wild Rose? If you have, what did you think of this film? Let me know in the comments section below or let's chat over on Twitter. You can find me @500DaysOfFilm.