500 Days Of Film Reviews The Must-See Films Of March 2019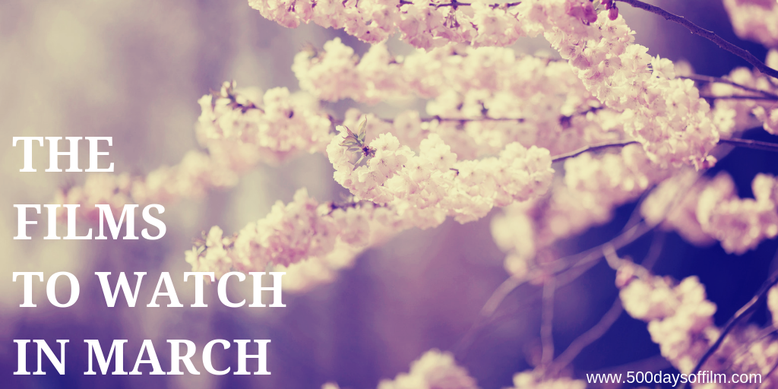 March looks set to be a very exciting month for film. However, before we look at the month's must-watch movies, lets review February (UK releases), which really wasn't too shabby all in all.
The month started, for me at least, with a screening of Vice. While Adam McKay's film didn't quite work for me, I did enjoy the performances… particularly from the practically unrecognisable Christian Bale and a pitch perfect (is she ever anything else?) Amy Adams.
My film of the month followed. I was fortunate enough to see If Beale Street Could Talk at 2018's London Film Festival, but I will never tire of watching this beautiful, powerful film from Barry Jenkins. I am so glad that Regina King won the Best Supporting Actress Oscar for her wonderful performance.
Next came a Netflix Original. Velvet Buzzsaw saw the post-Nightcrawler reunion of director Dan Gilroy, Jake Gyllenhaal and Rene Russo. More than enough to set my anticipation level on high… and then the trailer dropped. 
Gilroy's film looked gorgeous, it looked fun, it looked dark and twisty and, well, it looked utterly bonkers. I was in… oh yes, I was all in. My excitement only intensified when early reviews described Velvet Buzzsaw as Ruben Östlund's The Square meets the Final Destination franchise.
It was, perhaps, foolish to allow myself to build such high expectations. Velvet Buzzsaw is a good looking film and an entertaining and interesting take on art and criticism. It features a number of brilliant performances - the aforementioned Gyllenhaal and Russo particularly. However, Gilroy's movie is seriously lacking in thrills and, crucially, scares.  
February also contained 2019's Best Picture Oscar winner - Green Book. If you watch this film knowing nothing of its production history and nothing about the "true story" on which it is based, well you'll probably find an entertaining enough film with two powerful lead performances.
However, the more you know the less this Best Picture winner makes sense. Not the Academy's finest hour.
After a slew of family friendly movies (Lego Movie 2, The Kid Who Would Be King, Alita: Battle Angel) came Instant Family. I have to admit that, after watching its first trailer, I wasn't all that interested in Instant Family. It looked for all the world like a cheesy comedy about clueless parents and competing nanas. I'll pass…
However, as Sean Anders's film neared its UK release, I began to hear some rather surprising reviews. Instant Family was actually good - funny, engaging and poignantly good. So, keeping an open mind, I booked my ticket.  
Well, I can confirm that Instant Family is an entertaining and moving film - inspired by a true story about the process of adopting children. I laughed pretty much all the way through when, that is, I wasn't shedding the odd tear (or two).
The Movies To Watch In March
Friday 1st March
Alien 
Director: Ridley Scott 
Starring: Sigourney Weaver, Tom Skerritt, Harry Dean Stanton, John Hurt 
(Original UK Release Date: 1979)
Sauvage
Director: Camille Vidal-Naquet
Starring: Felix Maitaud
Serenity
The Aftermath 
Director: James Kent 
Starring: Keira Knightley, Alexander Skarsgard, Jason Clarke
What They Had 
Director: Elizabeth Chomko 
Starring: Hilary Swank, Michael Shannon, Robert Forster
Friday 8th March
Captain Marvel 
Director: Anna Boden, Ryan Fleck 
Starring: Brie Larson, Samuel L. Jackson, Ben Mendelsohn, Djimon Hounsou, Lee Pace, Lashana Lynch, Gemma Chan, Rune Temte, Algenis Perez Soto, Mckenna Grace, with Annette Bening, with Clark Gregg, and Jude Law
Maiden
Director: Alex Holmes
Ray & Liz
Director: Richard Billingham
Starring: Ella Smith, Justin Salinger, Patrick Romer, Tony Way
Everybody Knows 
Director: Asghar Farhadi 
Starring: Penelope Cruz, Javier Bardem, Ricardo Darin
Friday 15th March
Ben Is Back
Director: Peter Hedges 
Starring: Julia Roberts, Lucas Hedges, Courtney Vance
Benjamin
Director: Simon Amstell
Starring: Colin Morgan, Phenix Brossard, Anna Chancellor
Under The Silver Lake 
Director: David Robert Mitchell 
Starring: Andrew Garfield, Riley Keough, Topher Grace
What Men Want 
Director: Adam Shankman 
Starring: Taraji P. Henson, Aldis Hodge, Josh Brener, Erykah Badu, Richard Roundtree, Wendi McLendon-Covey, Tamala Jones, Phoebe Robinson, Max Greenfield, Jason Jones, Chris Witaske, Brian Bosworth, Kellan Lutz and Tracy Morgan
Friday 22nd March
Minding The Gap 
Director: Bing Liu
Us 
Director: Jordan Peele 
Starring: Anna Diop, Elisabeth Moss, Lupita Nyong'o, Winston Duke
Friday 29 March 
At Eternity's Gate 
Director: Julian Schnabel 
Starring: Willem Dafoe, Rupert Friend, Oscar Isaac
Dumbo 
Lord Of Chaos 
Director: Jonas Akerlund 
Starring: Rory Culkin, Jon Oigarden, Emery Cohen, Jack Kilmer
Out Of Blue 
Director: Carol Morley 
Starring: Patricia Clarkson, Toby Jones, Jacki Weaver, James Caan
DVD Releases In March
4th March
Bohemian Rhapsody
The House That Jack Built
11th March
Free Solo
Peterloo
The Grinch
Slaughterhouse Rulez
The Wild Pear Tree
18th March
Widows
Fantastic Beasts: The Crimes Of Grindlewald
Wildlife
25th March
Creed 2
Shoplifters
Netflix Original Film Releases
1st March
The Boy Who Harnessed The Wind
13th March
Triple Frontier
29th March
The Highwaymen
What Films Will You Watch In March?
What films are on your must-see list for March?
Let me know in the comments section below or over on Twitter. You can find me @500DaysOfFilm.