500 Days Of Film Reviews The 2018 BFI London Film Festival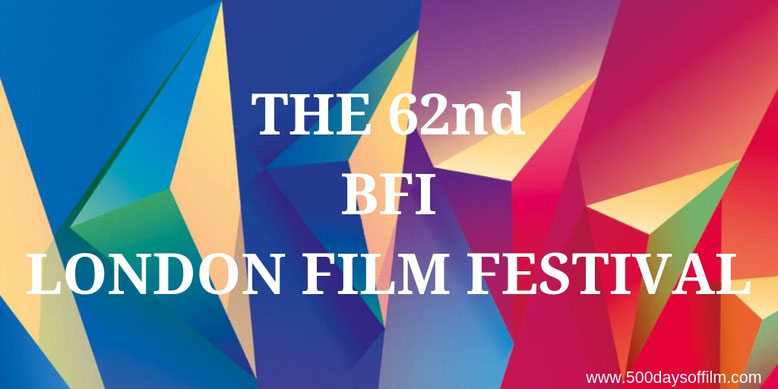 After 12 days and hundreds of fabulous film screenings, the 62nd BFI London Film Festival ended for another year on Sunday. Having kicked off with Steve McQueen's Widows, the event concluded with Jon S. Baird's Stan & Ollie (starring Steve Coogan and John C Reilly).  
According to BFI, this year's line-up "showcased the enormous depth and diversity of talent working in the global film industry today, with female directors or co-directors making up at least half of the films in Official Competition and Short Film Competition and 60% female directors in the First Feature Competition category".
There were so many wonderful films at LFF this year (click here to see my top ten must see films). The films that I saw at the festival were absolutely wonderful. If I had to choose, my favourite is Barry Jenkins's If Beale Street Could Talk.
The Awards
This year's Jury Presidents were: Lenny Abrahamson (Official Competition), Francis Lee (First Feature Competition), Simon Chinn (Documentary Competition) and Rungano Nyoni (Short Film Competition).
Here are the winners:
Official Competition Best Film Award: JOY – Sudabeh Mortezai
"Joy is a provocative and unique film offering a devastating portrait of human resilience in the most inhuman of environments," says Lenny Abrahamson. "A raw, fresh view on sex trafficking with a sharp feminist perspective sewn in throughout - director Sudabeh Mortezai successfully immerses us in the women's lives with her documentarist approach exploring the traps of abuse and extortion without ever becoming exploitative itself. A vital beautifully made film that my fellow jurors and I urge you to watch."
The film follows the life of Joy, a young Nigerian woman, who works the streets to pay off debts to her exploiter Madame, while supporting her family in Nigeria and hoping for a better life for her young daughter in Vienna.
Winner of both the first ever Hearst Film Award 2018 for Best Female Direction and the 2018 Europa Cinemas Label at the 75th Venice International Film Festival, Sudabeh Mortezai (whose debut feature Macondo competed for the LFF's Sutherland Award in 2014), presents what BFI calls "a vital and hugely affecting drama that tackles the vicious cycle of sex trafficking in modern Europe". 
The Official Competition jury also gave a Special Commendation to Birds Of Passage (Pájaros de Verano) directed by Cristina Gallego and Ciro Guerra.
First Feature Competition (Sutherland Award): GIRL – Lukas Dhont
Lukas Dhont's (Headlong, Boys on Film X) feature debut also won the Camera d'Or and Queer Palm at the Cannes Film Festival, and has been selected as the Belgian entry for the Best Foreign Language Film at the 91st Academy Awards. 
Girl is the story of Lara, a transgender teenager who dreams of becoming a ballet dancer. "Girl is an extraordinary coming of age story featuring a truly remarkable central performance," comments Francis Lee. "Iit is not afraid to tackle a number of difficult subject matters which are dramatically effective and fully believable. Throughout there's a complex balance between heartbreak and hope that keeps the audience absorbed – this is an imaginative and original directorial debut and my fellow jurors and I are excited to see what director, Lukas Dhont does next." 
Documentary Competition (Grierson Award): What You Gonna Do When The World's On Fire - Roberto Minervini
Selected for the main competition section of the 75th Venice International Film Festival, Roberto Minervini's thought-provoking and all-too-relevant documentary follows a Louisiana community during the summer of 2017, in the aftermath of a string of brutal police shootings of black men that sent shockwaves throughout the country. 
"A truly thought-provoking and all too urgent documentary -  through stunning and unflinching black and white frames we're offered a raw and emotional snapshot of African-American life in the Deep South in the aftermath of a police shooting," says Simon Chinn. "It reveals, with both intimacy and empathy, the lives of those still fighting for dignity and respect at a time of enduring racial division and injustice nearly 6 decades after the birth of the civil rights movement. The powerful and subtle storytelling made the film a unanimous winner for the Jury."
Short Film Competition (Short Film Award): Lasting Marks – Charlie Lyne
Charlie Lyne's short documentary charts the story of 16 men put on trial for sadomasochism in the dying days of Thatcher's Britain. Men with shared sexual desires, lucky to have found each other, yet unfortunate to be considered criminal for expressing them.
"In a strong and diverse Shorts selection, Charlie Lyne's Lasting Marks fascinated us all by resurrecting forgotten history," explains Rungano Nyoni. "Uniquely presented as a slideshow of court documents and organised via an oral history by the prosecuted Roland Jaggard, Lyne recounts the story of a group of men put on trial for sadomasochism in the 1980s. A must watch."
For the first time this year, the winners were revealed in front of a public audience. The Best Film, Sutherland and Grierson Award-winning films were presented as surprise screenings, and all presentations of the festival's official award, the bronze Star of London, were made on stage, by LFF Artistic Director Tricia Tuttle and the President of each Jury to the winning filmmaker. 
Did You Visit LFF?
Did you see any films at LFF this year? If so, what did you watch and would you recommend any must see movies? Let me know by leaving a comment in the section below. Alternatively, pop by on Twitter. You can find me @500DaysOfFilm.