500 Days Of Film Reviews The Must See Films Of June 2018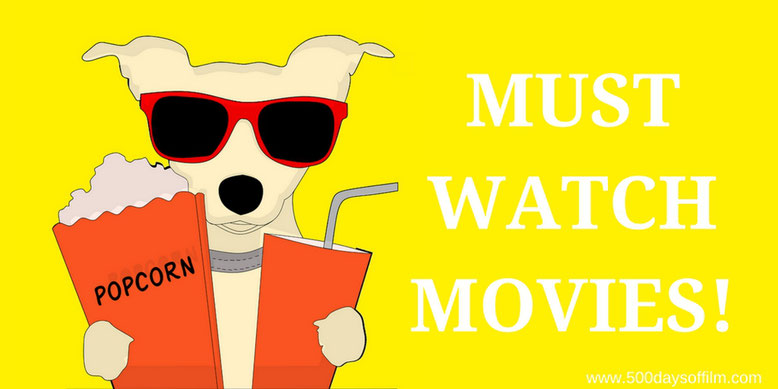 It is hard to believe that we are in the sixth month of 2018 already. Where has the time gone? Okay... admittedly, some of it has been spent in the cinema but time is flying nonetheless.
May was a good month for movies. We had Andrew Haigh's wonderful Lean On Pete, Tony Zierra's fascinating documentary about Leon Vitali, Filmworker, and the mind scrabble that was Tully. I loved Charlize Theron's performance in this film but I'm still not sure what I think of that ending. 
May also gave us two entertaining zombie dramas - Netflix's Cargo, starring Martin Freeman and David Freyne's The Cured.
One of my favourite performances of the month came from Léonor Serraille's Jeune Femme. Laetitia Dosch is superb as Paula, a spirited yet lost woman struggling to make her way in Paris.
Meanwhile, May also supplied two blockbusters - Deadpool 2 and Solo: A Star Wars Story. I had a great time with Wade Wilson. Ryan Reynolds is so, so good in this role. Sadly, however, Solo left me underwhelmed.
So, what's next? What are the must watch films of June 2018? Let's take a look (dates based on UK film releases).
Friday 1st June
Book Club
Director: Bill Holderman Starring: Diane Keaton, Jane Fonda, Candice Bergen, Mary Steenburgen, Don Johnson, Andy Garcia, Craig T. Nelson, Richard Dreyfuss, Wallace Shawn and Ed Begley Jr.
Okay so we are all over the literary phenomenon that was 50 Shades. However, who could resist this cast? 
Wednesday 6th June
Jurassic World: Fallen Kingdom 
Director: J.A. Bayona 
Starring: Chris Pratt, Bryce Dallas Howard, Toby Jones, Ted Levine, Rafe Spall, BD Wong and Jeff Goldblum
As much as I love watching dinosaurs on the big screen, it is hard not to feel just a little jaded by this franchise. Short of firing dinosaurs into space, what more can be added to this "life finds a way" adventure series? However, J.A. Bayona is an accomplished filmmaker (he directed The Orphanage - one of my favourite horror films) with an impressive visual style - if anyone could inject life into this old fossil, he can.
Friday 8th June
McQueen
Director: Ian Bonhote and Peter Ettedgui
While this documentary about fashion designer, Alexander McQueen, is getting a limited UK release, I am still excited to watch McQueen - a film Variety called "supremely elegant and engrossing".
Friday 15th June
The Happy Prince
Director: Rupert Everett
Starring: Rupert Everett, Colin Firth and Emily Watson
Rupert Everett directs and stars as Oscar Wilde in The Happy Prince - the untold story of the writer's tragic final days. This is the part Everett was born to play and I am very much looking forward to his performance in this film.
Hereditary
Director: Ari Aster 
Starring: Toni Collette, Milly Shapiro, Gabriel Byrne, Alex Wolff, Ann Dowd. 
I cannot wait to watch Ari Aster's horror film, Hereditary. Cannot wait. From all accounts, Toni Collette gives an (Oscar-worthy) incredible performance in this film. Meanwhile, early reviews have called Hereditary the "singularly most terrifying film in years" (The Independent), the most "traumatically terrifying horror movie in ages" (The AV Club) and "emotionally and intellectually terrifying" (Vanity Fair). Sign me up!
Monday 18th June
Ocean's 8 
Director: Gary Ross 
Starring: Sandra Bullock, Cate Blanchett, Anne Hathaway, Mindy Kaling, Sarah Paulson, Awkwafina, Rihanna and Helena Bonham Carter
With a cast this stellar, who could resist Ocean's 8? I just hope that it has a story smart enough to do these brilliant women justice. 
. 
Friday 29th June
Adrift 
Director: Baltasar Kormakur 
Starring: Shailene Woodley, Sam Claflin
I very much enjoyed Baltasar Kormakur's Everest and so am interested to see Adrift - another true story that takes the director from the top of Everest to the equally unforgiving ocean.
Leave No Trace
Director: Debra Granik 
Starring: Ben Foster, Thomasin Harcourt McKenzie, Jeff Kober, Dale Dickey
I love Debra Granik's work (Winter's Bone is superb) and cannot wait to watch this story of a man (played by the brilliant Ben Foster) and his daughter who, after living off grid, are suddenly forced back into traditional housing. 
Sicario 2: Soldado
Director: Stefano Sollima 
Starring: Josh Brolin, Isabela Moner, Benicio Del Toro
I wasn't as big a fan of Sicario as some (I preferred Matthew Heineman's documentary, Cartel Land), but Denis Villeneuve's  2015 film was still an absolute masterclass in stunning (thanks to Oscar-winning cinematographer, Roger Deakins), tension-fuelled storytelling.
Did we need a sequel? Possibly not, but the good news is that Josh Brolin and Benicio Del Toro are back and, thankfully, so is writer Taylor Sheridan.
Tag
Director: Jeff Tomsic 
Starring: Ed Helms, Jake Johnson, Annabelle Wallis, Hannibal Buress, Isla Fisher, Rashida Jones, Leslie Bibb, Jon Hamm and Jeremy Renner
Something light to round off the month. Based on a true story, Tag follows five highly competitive friends who for one month every year play a no-holds-barred game of tag - a game that they have been playing since the first grade. Featuring a strong ensemble cast (Ed Helms, Jake Johnson, Jon Hamm and Jeremy Renner) Tag could be fun! 
What Movies Are You Looking Forward To Watching?
June is shaping up nicely with an interesting blend of drama, horror, comedy and adventure. What movies are you most looking forward to watching? Let me know in the comments section below or let's talk cinema over on Twitter… I'm @500DaysOfFilm.