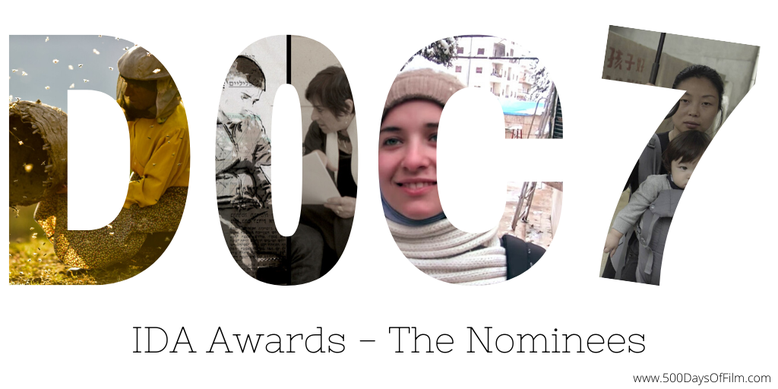 Celebrating this year's best nonfiction films and programmes, the International Documentary Association (IDA) Awards take place on 7th December.
IDA received 785 submissions this year - including 375 documentary features, 153 documentary shorts, 124 documentary series, 89 student films, 48 music documentaries and 44 podcasts. 
The ten nominees for best feature were announced on 23rd October. The list of films is impressive - ranging from a legendary moon landing to a portrait of the last female wild beekeeper in Europe.
Each one would make a worthy winner, each one is more than worth your time.
IDA Nominees
Advocate
Rachel Leah Jones and Philippe Bellaïche's documentary follows Israeli human-rights lawyer Lea Tsemel as she defends Palastinian clients in Israeli courts. Tsemel is a force to be reckoned with - she may not agree with her client's actions but she believes in their right to fair treatment within the legal system.
However, as a result of the decades old conflict between Israelis and Palastinians, justice is not always found in the courts. That does not stop Tsemel from trying. She has made this her life's work - sometimes at great personal cost.
Advocate is a stunning documentary that raises some complicated and yet vitally important questions. We watch as Tsemel battles a system that does not want to acknowledge the humanity and historical context behind the alleged crimes. 
Tsemel is a relentless warrior for human rights and justice. Meanwhile, her interactions with clients (who remain anonymous thanks to rotoscope animation) are warm and supportive - even when a legal win is the exception rather than the rule.
Apollo 11
I wasn't alive when Apollo 11 made its way to the moon. However, thanks to Todd Douglas Miller's superb documentary, I feel like I experienced this iconic event firsthand. Meticulously created from carefully restored, never before seen footage, Apollo 11 is an incredibly immersive film for the eyes and for the ears.
Worth seeing on the biggest screen (with the best sound) possible, Apollo 11 doesn't feature narration or the 'talking head' interviews often used in documentaries. Instead, the film is like a time machine that takes you back to 1969 and gives you a front row seat in mission control.
It is only on leaving the cinema that I started to think about the incredible task of making Apollo 11. Working with Nasa and the US National Archives, Miller and his team went though an astounding 11,000 hours of uncatalogued audio and restored huge amounts of original film - including 70mm forgotten footage.
Apollo 11 is a true event documentary and one for viewers of all ages. It is impressive not just because of its construction but also because it offers us a breathtaking experience of an incredible moment in history.
For Sama
For Sama isn't the first documentary that I have watched about the devastating conflict in Syria. Over the last few years, there has been a steady influx of films - including The White Helmets, City Of Ghosts and Last Men in Aleppo - depicting the war and the battle for Aleppo. 
However, Waad al-Kateab's documentary is the one I feel will stay with me the most. 
It is For Sama's mix of powerful journalism and intimate storytelling that makes this film an unforgettable experience. The documentary offers both an uncompromising and important account of life in Aleppo between 2012 and 2016 and immersive access to a family under siege.
For Sama's depiction of family life is deeply affecting - this is a mother's heartfelt message to her baby daughter. Waad narrates her own story, explaining to Sama why she and Sama's father decided to stay in such a dangerous place, what it was really like and why, in the end, they had to leave.
Honeyland
Honeyland started with one simple idea - to capture the life of Hatidze Muratova, a traditional beekeeper in the remote mountains of North Macedonia, and her elderly mother, Nazife. However, as often happens in the world of documentaries, Honeyland had its own stunning story to tell.
The catalyst for change was the arrival of an itinerant Turkish family and their herd of cattle. They set up home next door to Hatidze's cottage and disrupt her peaceful - if challenging - existence. What was once calm and quiet is now chaotic and noisy.
We fear for Hatidze and her ailing mother because, barely 15 minutes into Honeyland, we have already grown to care about them and become deeply invested in their lives. Honeyland possesses a magical quality - helped in no small part by its captivating score - that draws you in and immerses you in their environment and way of life.
Hatidze and Nazife live lives that are completely removed from my own. They live in a village without roads, electricity or running water. They survive by farming honey in small batches and selling it in the closest city - a four hour walk away for Hatidze. 
It is fascinating to watch - not least because Honeyland's cinematography has epic sweep and is utterly breathtaking. However, there is also sadness here. This is a way of life that is dying. Hatidze is the last female wild beekeeper in Europe. 
Midnight Family
Did you know that in Mexico City the government operates fewer than 45 emergency ambulances for a population of nine million? I did not before watching Midnight Family. This tense and gripping documentary explores the underground industry of for-profit ambulances - often run by people with little or no training or certification.
We follow the Ochoa family who face a daily struggle with a heartbreaking moral dilemma. They need money to survive and to run their ambulance service. Battling corruption and fierce competition, the family often loses money when a passenger cannot or will not pay for their care and transport.
As a result, it is hard to blame them when they decide to travel further and take a patient to a private hospital where they will get financial compensation. 
Midnight Family tells an astonishing story. Intimate access to the lives of the Ochoa family shows us just how complicated this problem is and how a solution is literally a matter of life or death.
One Child Nation
Nanfu Wang's documentary examines the lasting impact of China's One Child Policy. What she discovers on her journey is as heartbreaking as it is horrific. The policy may have ended in 2015 but its brutal legacy lives on as we discover one shocking human rights violation after another.
What makes Wang's film all the more powerful is just what a personal story this is for her and her family. Having left China, she returns following the birth of her first child to record the firsthand accounts of the policy from her family members. 
One Child Nation is unafraid to explore the most chilling and disturbing aspects of this nightmarish episode in China's recent history. It is often incredibly tough to watch and hard to fathom the mindset that unquestioningly prioritises the national agenda over human life.
As a new mother, Wang cannot imagine being forced to abandon her child. Thanks to her brave and intimate storytelling, the tragedy becomes personal to us too - it is as hard to comprehend that these events took place so recently as it is important to remember. Hopefully, by learning from history, we will not be doomed to repeat it.
Sea Of Shadows
When Mexican drug cartels and Chinese traffickers join forces to poach the rare totoaba fish in the Sea of Cortez, their methods threaten to destroy virtually all marine life in the region, including the most elusive and endangered whale species on Earth, the vaquita porpoise.
Sea Of Shadows follows a team of scientists, conservationists, investigative journalists and undercover agents as well as the Mexican Navy as they try to save the last remaining vaquitas.
The Biggest Little Farm
I knew that I was going to love The Biggest Little Farm… I just didn't know how much. Let's face it,  I was hooked the moment I read the film's tagline: "it all started with a promise to a dog". 
The documentary follows the eight-year quest of John and Molly Chester as they trade city living for 200 acres of barren farmland and a dream to harvest in harmony with nature. The journey is not always easy, but John and Molly persevere - following nature's path of balance and always aiming to be a sustainable farm with a biodiverse design.  
The Biggest Little Farm is charming and fascinating, informative and moving. The film's cinematography is utterly breathtaking (unsurprising, perhaps, as John Chester is an award-winning filmmaker and television director). 
We go on an wonderful, thought provoking adventure with John and Molly and it is a joy.
The Edge Of Democracy
The Edge Of Democracy is an important and hugely impressive documentary about Brazil's adoption of a democratic political system.
Featuring incredible access to many of the key players, Petra Costa's film mixes her own personal experiences with a compelling account of the political turmoil in her country. 
The Edge Of Democracy is a gripping and compelling film. Costa tells a deeply troubling (and increasingly global) story and asks questions for which there really are no easy answers.
So... Who Will Win?
I have a love hate relationship with film awards. On the one hand, such lists never wholly satisfy (where's Maiden, where's Knock Down The House? Where's Ask Dr. Ruth?). It often feels impossible - ridiculous even - to compare documentaries.
However, on the other hand, awards inspire debate and that has to be a good thing. The more we discuss nominees and who should and, perhaps, should not have been recognised, the more oxygen documentaries get, hopefully boosting audience numbers.
I am a member of the IDA and, as a result, will get the opportunity to vote for the winner of best feature (and also best short doc). I am not taking this responsibility lightly. Having watched all of these films at least once, I have narrowed my list of contenders down to… five. 
It is just so hard to choose between them - every time I think I have my winner I feel like I have betrayed a documentary that I absolutely love.
In the next few days (voting closes on 2nd December) I will have to make my final decision. While I am still going back and forth, one thing is certain - in a category with such powerful and thought provoking contenders, documentary film is the clear winner.