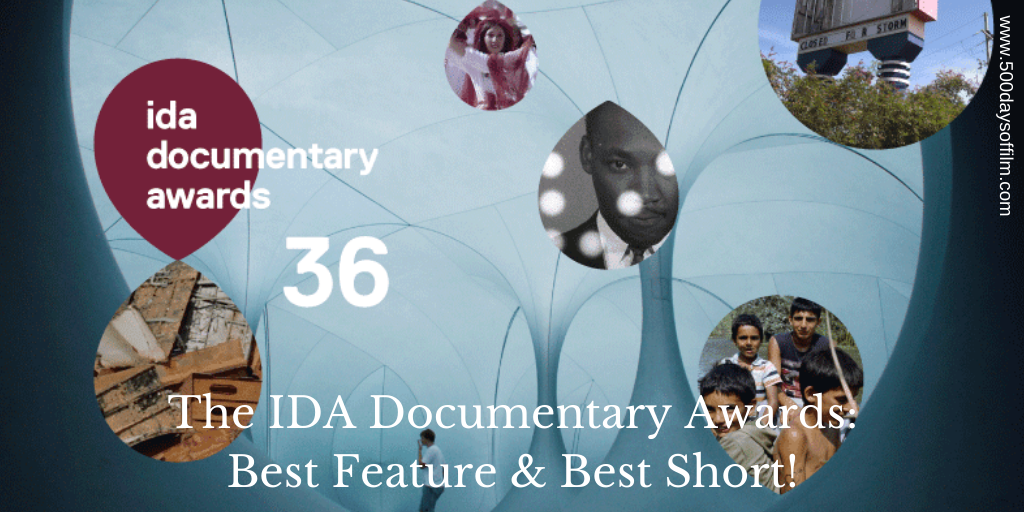 The 36th International Documentary Association (IDA) Awards take place on 16th January this year, at a virtual ceremony hosted by Willie Garson. The event celebrates the best nonfiction films and programmes of the past year - curated from an impressive 1056 documentary submissions (including 365 documentary features, 153 documentary shorts, 153 documentary series, 52 student films, 39 music documentaries and 33 audio documentaries and podcasts).
Click here to see all the categories and nominees!
As a member of the IDA, I was able to submit my vote for best documentary feature and best documentary short film. Let me tell you, this was no easy task (oh how I agonised over my eventual decision). The quality in both categories is stunning. All of these films are well worth your time.
IDA Awards - Best Documentary Film
The category for best documentary features ten powerful films. I can honestly say that I love each and every one of these films - all are incredibly impressive and all have stayed with me since my first watch.
In the end, I voted for Alexander Nanau's Collective. This is a gripping, horrifying and heartbreaking film. Nanau secures stunning access to all of the key figures involved - placing us at the centre of this devastating story.
In addition, Collective explores not one but three universal and timely issues. It examines the value of the press freedom by documenting the work of journalist Catalin Tolontan and his colleagues at Gazeta Sporturilor, Romania's largest daily sports newspaper.
Nanau also explores the responsibility of government when dealing with a health crisis. As we watch Romania struggle after a horrendous fire devastated Bucharest's Colectiv nightclub in 2015, we cannot help but consider the world's response to Covid 19. What price do we pay for incompetence, for the lies of those in charge?
Collective's final act looks at the global threats facing democracy. "When I started working on this film in early 2016, I never imagined that the year would be a major turning point for democracy all around the world," says Nanau. "I never suspected that, by the end of the production, most of what could be said about Romanian society would be equally relevant for older, more established democracies, be it the UK, the US, Italy, Brazil, Hungary, Poland, Turkey etc.
"There was a pattern of populists taking over, lying and attacking the free press, misusing state institutions in their own interest and perverting the very meaning of liberal values and social structures. 2016 tested democracies worldwide, but it also tested each and every one of us."
Here are the nominees for IDA's best documentary award…
Collective
(Romania / Magnolia Pictures, Participant. Director/Producer: Alexander Nanau. Producer: Bianca Oana)
Collective is a gripping, real-time docu-thriller that follows a heroic team of journalists as they expose shocking corruption in the Romanian national health-care system.
Crip Camp
(USA / Netflix. Directors/Producers: Nicole Newnham, Jim LeBrecht. Producer: Sara Bolder)
Down the road from Woodstock, a revolution blossomed in a ramshackle summer camp for teenagers with disabilities, transforming their lives and igniting a landmark movement. 
Gunda
(Norway, USA / NEON. Director: Victor Kossakovsky. Producer: Anita Rehoff Larsen)
Beautifully shot in crisp black and white, Gunda chronicles the unfiltered lives of a mother pig, a flock of chickens and a herd of cows. By focusing on the animals as individuals, we begin to understand just how disconnected we have become from those creatures with whom we share this world.
MLK/FBI
(USA / IFC Films. Director: Sam Pollard. Producer: Benjamin Hedin)
MLK/FBI uncovers the extent of the FBI's surveillance and harassment of Martin Luther King, Jr. Based on newly discovered and declassified files, the documentary explores the government's history of targeting Black activists and the contested meaning behind some of our most cherished ideals.
The Reason I Jump
(USA, UK / Kino Lorber. Director: Jerry Rothwell. Producers: Jeremy Dear, Stevie Lee, Al Morrow)
The Reason I Jump is based on the bestselling book written by Naoki Higashida, a non-speaking autistic Japanese boy. The film weaves Naoki's writings around stories of non-speaking autistic people across the globe, immersing us in their unique sensory worlds, full of intensity, richness and beauty and, sometimes, shadows and terror.
Reunited
(Denmark. Director: Mira Jargil. Producer: Kirstine Barfod)
Having fled from Syria, two doctors and their children become separated. The children - aged 17 and 11 - live on their own in Turkey, while their parents make it to Canada and Denmark. However, they are now stuck in a nightmarish system that reduces their family life to online video calls. Will they manage to reunite?
Softie
(Kenya / POV. Director/Producer: Sam Soko. Producer: Toni Kamau)
Boniface "Softie" Mwangi has long fought injustices in his country as a political activist. Now he's taking the next step by running for office in a Kenyan election. From the moment Boniface decides to run, telling his wife, Njeri, in passing with a hesitant laugh, he responds to each challenge with optimism. But Boniface soon finds that challenging political dynasties is putting his family at risk. Should country really come before family, as he's always believed?
Time
(USA / Amazon Studios, Concordia Studio, The New York Times. Director/Producer: Garrett Bradley. Producers: Lauren Domino, Kellen Quinn) 
In this intimate yet epic love story filmed over two decades, indomitable matriarch Fox Rich strives to raise her six sons and keep her family together as she fights for her husband's release from the Louisiana State Penitentiary. 
The Truffle Hunters
(USA, Italy, Greece / Sony Pictures Classics. Directors/Producers: Michael Dweck, Gregory Kershaw)
The Truffle Hunters follows a group of men in their seventies and eighties as they hunt the forests of Piedmont, Italy for the rare and expensive white Alba truffle. The truffles are highly prized, having (so far) resisted all human attempts at mass cultivation. 
Welcome to Chechnya
(USA / HBO. Director/Producer: David France. Producers: Alice Henty, Joy A. Tomchin, and Askold Kurov)
Welcome to Chechnya follows a group of activists who risk their lives to confront the ongoing anti-LGBTQ campaign in the Russian republic of Chechnya. With unfettered access and a commitment to protecting anonymity, the documentary exposes these underreported atrocities, while highlighting an extraordinary group of people confronting deadly brutality.
IDA Awards - Best Documentary Short
The IDA category for best documentary short is also incredibly impressive. Once again, I really struggled to choose which film to vote for and I would wholeheartedly recommend all of these nominees. 
I voted for Hysterical Girl. Mixing fact and fiction in a deeply effective and honest way, Kate Novak's film is extremely powerful. It left me feeling stunned and I haven't stopped thinking about this documentary since my first watch. 
Hysterical Girl
Hysterical Girl re-examines one of Sigmund Freud's five major psychological case histories - the only one he produced of a female patient. The film uses a feminist lens to imagine Dora, the name Freud used at the turn of the 20th century to protect his subject's identity, as a girl today.
(13 mins)
Abortion Helpline, This is Lisa
At an abortion helpline in Philadelphia counselors (who are all given the name of Lisa) answer nonstop calls from women who seek to end pregnancies but can't afford to pay for them. Janet Goldwater, Mike Attie and Barbara Attie's film exposes the toxic effects of the Hyde Amendment in the US and reveals how economic stigma and cruel legislation determine who has access to abortion.
(13 mins)
All That Perishes at the Edge of Land
In this cinematic and poetic film, Ocean Master, a decommissioned container vessel, enters into a dialogue with several workers at the Gadani shipbreaking yards in Pakistan. The conversation moves between dreams and desires and explores the violence and danger inherent in dismantling a ship. 
In powerful scenes, the workers recall the homes and families they have left behind. Their working conditions are shocking - as is the revelation that they are being paid just enough not to starve by not enough to actually live.
(30 mins)
Huntsville Station
Every weekday, dozens of inmates are released on parole from Huntsville State Penitentiary, the largest prison release centre in Texas. With a bus ticket voucher and a $100 release cheque, most of them take in their first moments out of prison with phone calls, cigarettes and quiet reflection at the nearby Greyhound bus station. 
Huntsville Station documents this pivotal moment between incarceration and freedom - capturing the inmates as they grapple with their experiences and the devastating passage of time, before the bus arrives to take them home.
(14 mins)
John Was Trying to Contact Aliens
John Shepherd spent 30 years trying to contact extraterrestrials by broadcasting music millions of miles into space. Matthew Killip's film tells his story and reveals how, after giving up the search, Shepherd made a different connection here on Earth.
John Was Trying To Contact Aliens is fascinating - the technology Shepherd used in his search for signs of alien life is incredible. Killip's documentary is also extremely poignant. This film certainly packs a lot of heart into its 16 minutes.
The Lost Astronaut
In 1963, Ed Dwight Jr. was poised to be NASA's first African-American astronaut. Until suddenly he wasn't. The Lost Astronaut tells an inspiring and, at times, heartbreaking and chilling story.  Ed Dwight Jr. is such an engaging and compelling documentary subject… I could listen to him tell stories for hours.
(13 mins)
Mizuko
In Japanese, there is a special word for an unborn life. Mizuko, which means "water child," is used to refer to both miscarried and aborted pregnancies. In addition to this word, there's a Buddhist ritual for grief called mizuko kuyo that allows women to metaphorically return their water children to the sea. Told through the Japanese American filmmaker's personal story of abortion in the US and featuring gorgeous animation, Mizuko is beautiful, intimate and deeply moving.
(15 mins)
To Calm the Pig Inside (Ang Pagpakalma sa Unos)
Featuring devastating accounts, photos and footage, To Calm the Pig Inside examines the effects a typhoon leaves on a seaside city. Myths are created in order to understand just how people can cope with the devastation and trauma.
(19 mins)
sống ở đây
Exploring the intimacy of the mundane, the mesmerising sống ở đây focuses on the lives of Vietnamese shrimpers and elderly farmers in New Orleans, understanding the reverberations of the past that are present in their day to day labour.
(21 mins)
Unforgivable
A ruthless hitman for the 18th Street gang serves his sentence in an isolation cell in El Salvador. In prison, Geovanny is not just guilty of crimes, but of an unforgivable sin under God and gang: being gay. 
With impressive and intimate access, Unforgivable reveals the shocking conditions in the prison and the equally disturbing situation facing its gay inmates.
(36 mins)
All Winners… No Losers
Having watched all of these films, my lasting impression is that there are no losers here, only winners. 
The IDA awards will be live streamed and free for all to watch on the 16th January. Who do you hope will win?