500 Days Of Film Reviews The Must-See Movies In August.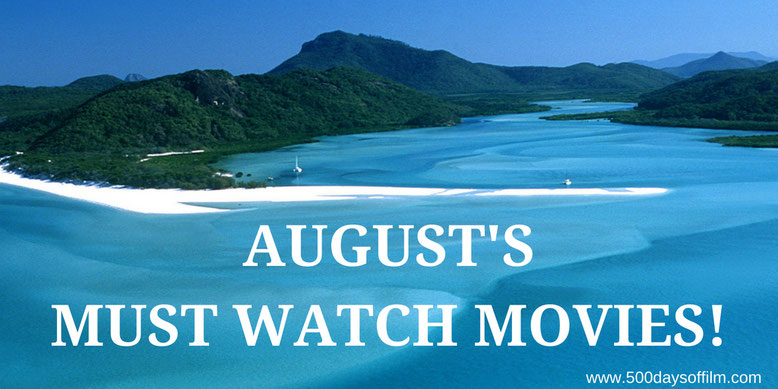 While the hot weather in the UK kept some audiences away from cinemas (but not us, of course!) there were still a number of brilliant films to watch. 
For me, the month started poorly with the misjudged Sicario 2: Soldado. However, things soon picked up with one of my favourite films of the year so far, Debra Granik's Leave No Trace.
Thought-provoking and unsettling horror thriller, The Endless, came next followed by powerful true life story, Adrift, and Kevin McDonald's documentary film about what happened to Whitney Houston - Whitney. 
By the middle of the month, we had landed firmly in blockbuster territory with Dwayne Johnson's entertaining Skyscraper and the welcome return of our favourite superhero family in Incredibles 2. 
Following a much needed vacation on a stunning Greek island with the endearing cast of Mama Mia! Here We Go Again, adrenalin-fuelled action ensued with the phenomenal
Not too shabby, July, not too shabby. Feeling the pressure August? Let's see what you have in store…
THURSDAY 2 AUGUST 2018
Ant-Man And The Wasp
Director: Peyton Reed
Stars: Paul Rudd, Evangeline Lilly, Michael Peña 
FRIDAY 3 AUGUST 2018
Hearts Beat Loud 
Director: Brett Haley 
Starring: Nick Offerman, Kiersey Clemons, Ted Danson, Sasha Lane
FRIDAY 10 AUGUST 2018
The Darkest Minds 
Director: Jennifer Yuh Nelson Starring: Amandla Stenberg, Mandy Moore, Bradley Whitford, Harris Dickinson, Patrick Gibson, Skylan Brooks, Miya Cech, and Gwendoline Christie  
The Meg 
Director: Jon Turteltaub
Starring: Jason Statham, Li Bingbing, Rainn Wilson, Ruby Rose, Winston Chao, Page Kennedy
FRIDAY 17 AUGUST 2018
Christopher Robin 
Director: Marc Foster 
Starring: Ewan McGregor, Hayley Atwell, Bronte Carmichael, Jim Cummings, Brad Garrett, Chris O'Dowd, Toby Jones, Mark Gatiss, Nich Mohammed, Peter Capaldi, Sophie Okenedo 
The Equalizer 2 
Director: Antoine Fuqua 
Starring: Denzel Washington, Pedro Pscal, Ashton Sanders, Bill Pullman, Melissa Leo
The Eyes Of Orson Welles 
Director: Mark Cousins 
WEDNESDAY 22 AUGUST 2018
The Spy Who Dumped Me
Director: Susanna Fogel
Starring: Mila Kunis, Sam Heughan, Kate McKinnon
FRIDAY 24 AUGUST 2018
BlacKKKlansman
Director: Spike Lee
Starring: John David Washington, Adam Driver, Topher Grace, Laura Harrier Locations: 300+ Universal Pictures
The Children Act
Director: Richard Eyre
Starring: Emma Thompson, Stanley Tucci, Fionn Whitehead 
MONDAY 27 AUGUST 2018
The Happytime Murders
Director: Brian Henson
Starring: Melissa McCarthy, Elizabeth Banks, Joel McHale
FRIDAY 31 AUGUST 2018
Cold War 
Director: Pawel Pawlikowski Starring: Joanna Kulig, Tomasz Kot, Borys Szyc, Agata Kulesza, Cedric Kahn, Jeanne Balibar
Upgrade 
Director: Leigh Whannell 
Starring: Logan Marshall-Green, Betty Gabriel, Harrison Gilbertson
Yardie 
Director: Idris Elba
Starring: Amel Ameen, Shantol Jackson, Calvin Demba, Stephen Graham
What Films Are You Looking Forward To?
Some interesting films to look forward to in August... what are you most looking forward to watching? Let me know in the comments section below or over on Twitter. You can find me @500DaysOfFilm!